A Story about Not Making Lemonade:
Lemon & Sesame Seed Cupcakes
November 23, 2018
Winter is officially here – at least that's what the size of my jacket says. I can't say that I'm terribly upset. Fall was luxuriously long – an anomaly in Berlin – and I made good use of the weather to go on walks and eat more ice cream. But it's been a strange fall as well. I feel a little bit like I'm swimming underwater, like life is drifting by just somewhere over my left ear.
I haven't been a particularly good friend; I've been flaky and unreliable. Work-wise, it's been hard to focus; as evidenced by the two months that have gone by without a new post. My temper has been short, decisions seem more complex than they really are, and I feel self-conscious in social situations, cringing at every flat joke I make. I feel like I'm behind on everything, and putting out one fire only means the forest behind me is ablaze.
My therapist says: Why are you so afraid of disappointing people? And I think that includes myself.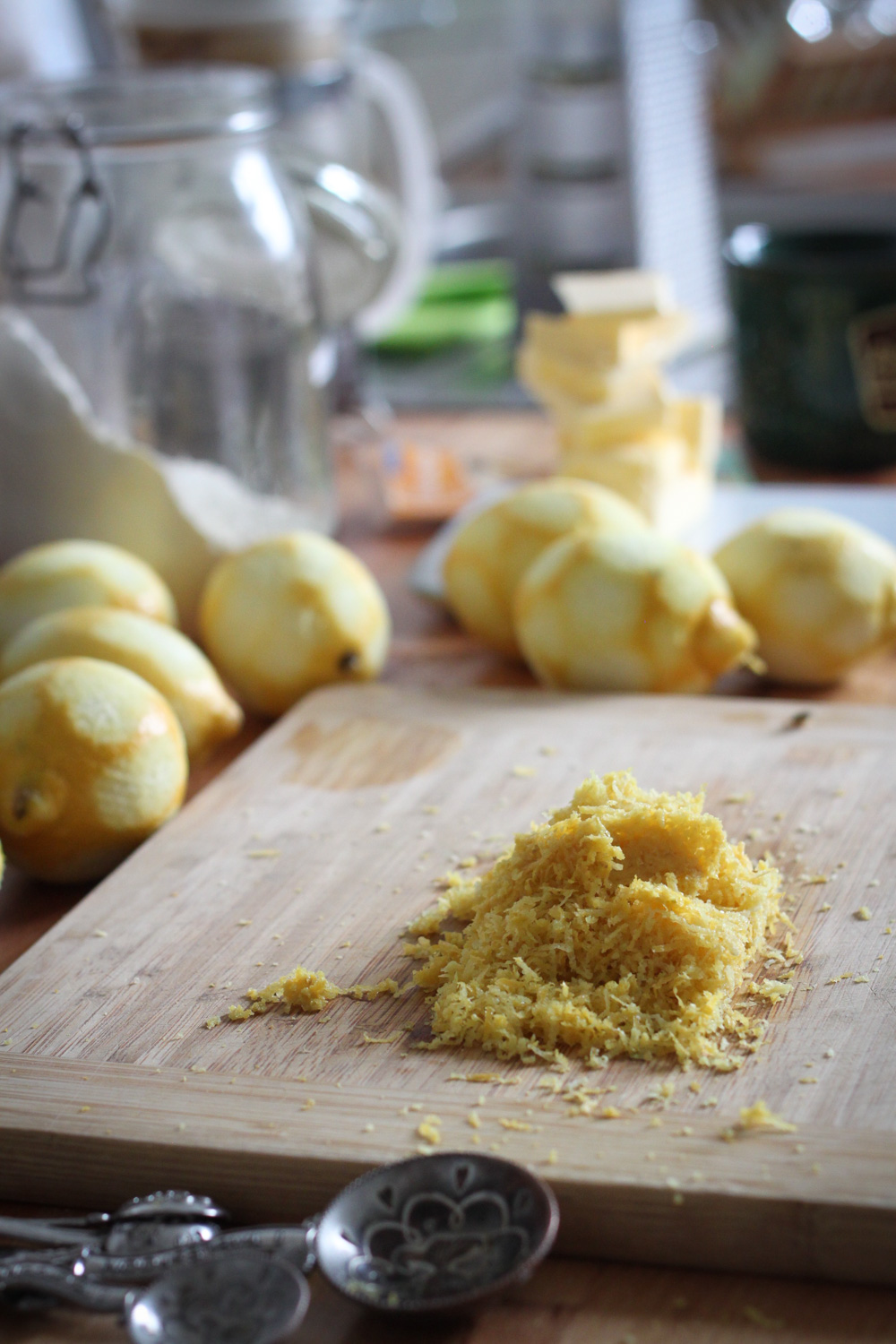 Last night, talking to my dad on the phone, it struck me that though my overall feeling was one of being overwhelmed, of having too much to do and too little to show for it, the stories I most wanted to tell were of wonderful experiences or bits of good news. Like how I won't need nose surgery after all, or of how the weekend's project was to paint the walls in truly gorgeous geometric blues and grays. How mom and I had not long ago been to San Sebastian for a food vacation capped by a swooningly good meal at the three-Michelin-starred Martín Berasategui, or how Daniel and I had just jetted to Belgrade for a long weekend. Even little things – like how this new apartment stays so cozy and warm, how investing in real pots makes the plants look so much happier, how I finally bought myself a new phone to replace the one that's been cracked to pieces.
The brain is a funny place. I can list all of the wonderful things in my life – there are just as many as there were before – but my attitude has changed. The beauty and joy is failing to register – and I recognize it, which is the most frustrating part of all.
The beauty and joy is failing to register – and I recognize it, which is the most frustrating part of all.
This is not unfamiliar territory. I felt this way in New York, right before I left. And in retrospect, when I was eighteen. Talking about the end of my senior year of high school, I've always said it felt like decisions happened to me; I didn't feel like I was actively making them. It's like I woke up one morning and suddenly I was in college and had braces. But because I have been here before, I know I can be not here again. The solution is surely the zealous pursuit of mental health. If only I were more regular about doing my morning routine. If only I had a little more structure. Took more baths. Did more writing. Painted my nails once a week. Made tea. Responded to messages in a timely manner.
I was skyping with a friend who told me not to be so hard on myself. She said, "You're doing the best you can," and, "You don't have to get there all at once."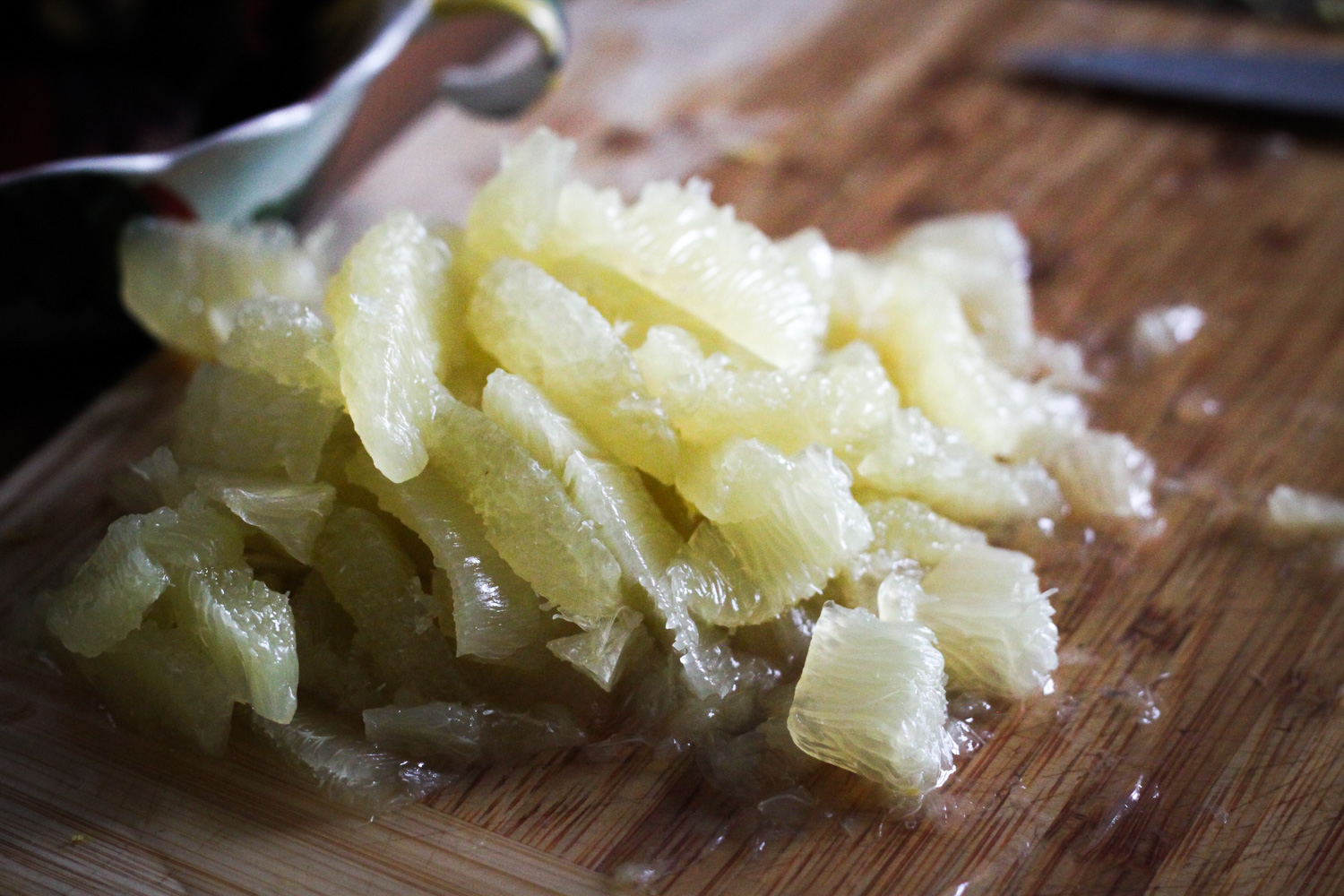 I'm not very patient with myself. I have high standards and high demands – and it seems that the pursuit of feeling like myself again is no exception. I inevitably fall short of my own expectations. I need no one else's disapproval; I disappoint myself.
Sunday morning, after we'd finished peeling tape off the walls and taken in the dazzling effect of our efforts, I felt an urge to live that perfect lazy weekend fantasy: French-pressed coffee and a podcast, a flour-covered apron and a pre-heating oven. But we'd been planning to go to Mauerpark, and I could feel that familiar anxiety about time creeping in. What if the cupcakes took too long to make? What if I was too tired after making them? What if thinking about getting them done fast enough made the experience stressful instead of relaxing? What if it got dark before I finished making them? Maybe I shouldn't make cupcakes at all?
"Let's not go," Daniel said. "Easy."
At first, it felt like another example of a thing I've said I'd do and bailed on, but no one, myself included, seemed to be particularly upset about not going to Mauerpark. What I most wanted to do was lose myself in the complexity of a recipe, in the physicality of working with my hands and creating something special.
As Berlin's premature afternoon darkness crept in, I started to panic about the light – the pictures would be ruined, I'd have wasted the three hours spent suprèming lemons and making meringue, the chance to turn this recipe into a post. I chided myself for not having worked faster, for not having started earlier. And then I started chiding myself for not being able to appreciate how much I'd enjoyed baking for baking's sake, how lovely it had been to perfume the kitchen with sprays of lemon zest and lick the beater clean.
I wish that this story ended this way: And then, a magical burst of sun broke through the cloud cover, the light stroking the fresh-from-the-oven cupcakes dripping with sesame glaze.
But what happened was that I held a little wooden cutting board up to the window, where there was just enough light fused with gray to capture a shot.
If you're looking for a food metaphor here, it's this: Sometimes there is no revelation. Sometimes you know where you want to be and it's just work to get there. Sometimes you have to take pictures when there's not enough light. But the cupcakes will be delicious in the dark, too. They might even be the best things you've ever baked. And even if they aren't: You're not a disappointment. You're doing the best you can. You are okay.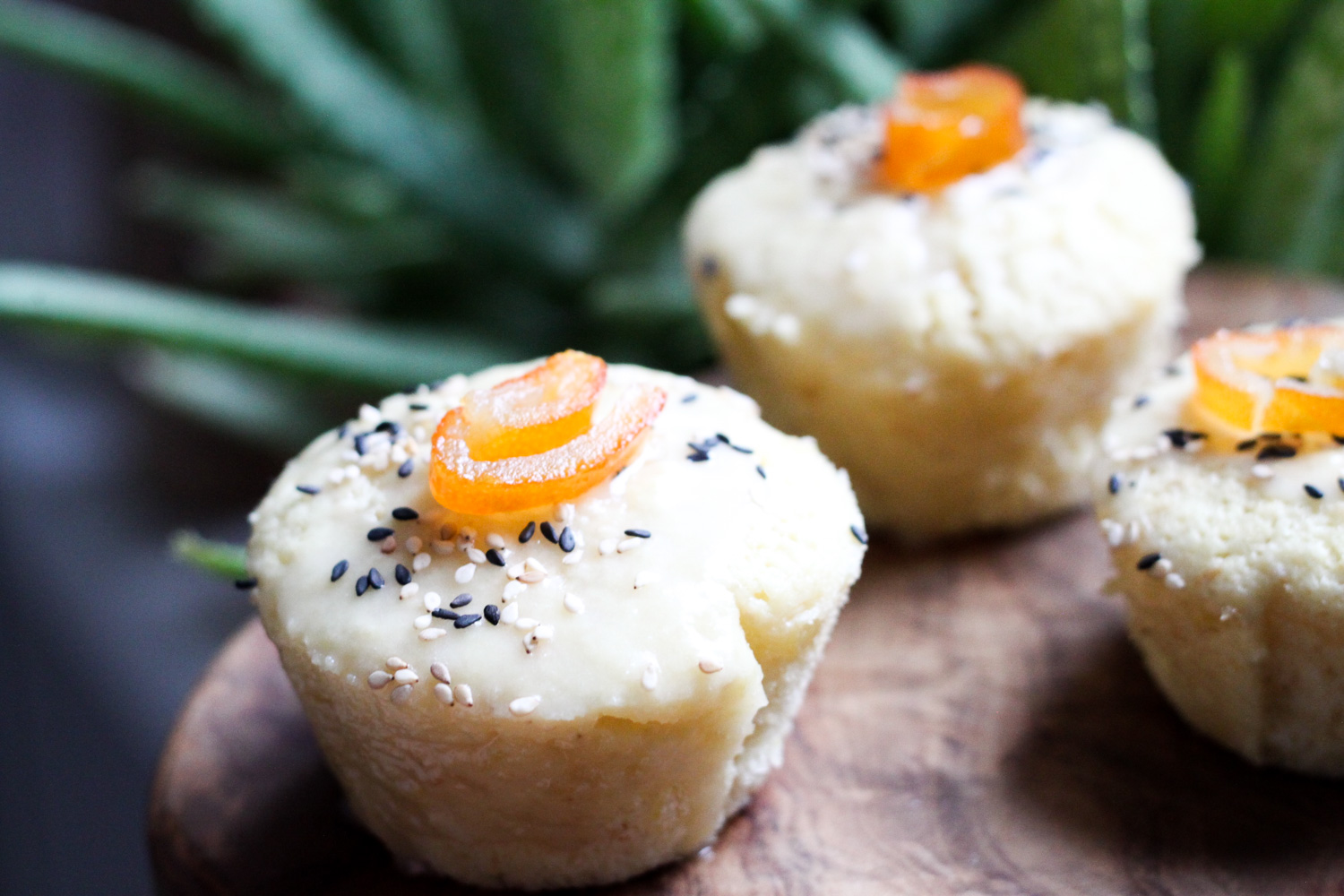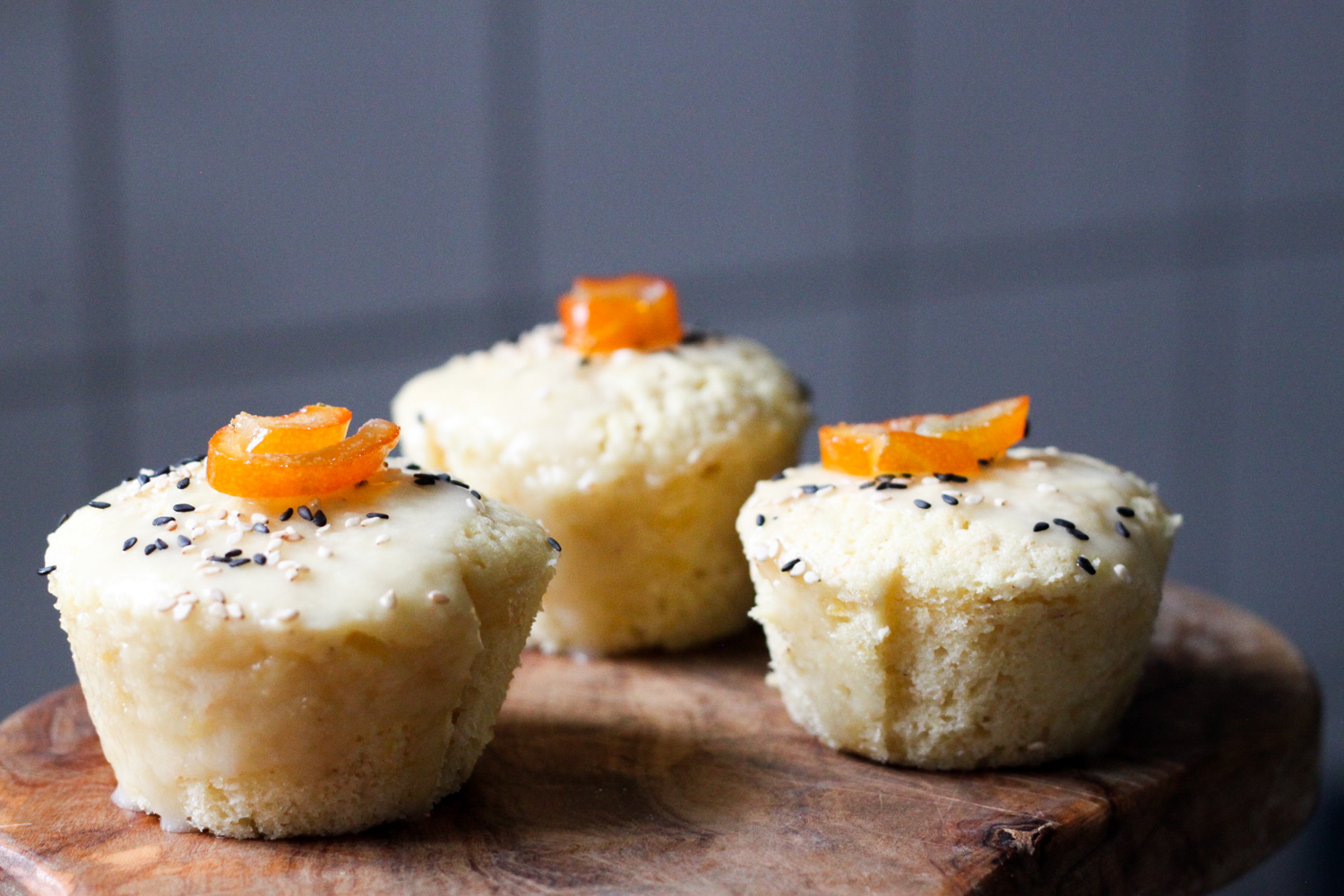 Lemon & Sesame Seed Cupcakes
This is a slightly more time-intensive cupcake recipe than your standard whisk and pour, but the result is so worth the effort. They're light and fluffy and refreshingly zingy, with just a touch of earthiness from the tahini to keep them grounded. The base lemon cupcake recipe is a riff on Christina Tosi's recipe for Lemon Poppy Seed Muffins from Cherry Bombe: The Cookbook. Makes 24 cupcakes.
For the cupcakes:
6 lemons
2 2/3 cups flour
2 tbsp. sesame seeds
1 tsp. salt
1 tsp. baking powder
½ tsp. baking soda
5 large eggs, separated into whites and yolks
1½ sticks (170 g) butter
1¾ cups sugar
1/3 cup packed light brown sugar
¾ cup (200 g) sour cream
For the glaze:
Juice of 2 lemons
2½ cups powdered sugar
2 tbsp. good-quality tahini
Black & white sesame seeds, to garnish
Candied orange peel, to garnish
Preheat the oven to 350 ºF (180 ºC). Line two 12-cup muffin tins with paper liners or grease them.
Zest all 8 lemons. Set aside 2 lemons for the glaze. Cut off the tops and bottoms of the remaining 6 lemons and suprème them, which is just a fancy way of saying, cut off the rind and pith with a paring knife, then slice out each individual segment of lemon, making sure to remove the membranes and seeds. Add the lemon segments to the zest with whatever juice results from the process and set aside.
In a medium-sized bowl, whisk together flour, sesame seeds, salt, baking powder, and baking soda. Set aside.
In a large mixing bowl, beat egg whites with an electric mixer until they hold medium-firm peaks. This takes about the length of one pop song. Set aside.
Cream butter and sugars on medium-high speed until light and fluffy, about 3 minutes. Reduce speed to low, then add egg yolks and sour cream until well-combined. In intervals, add flour mixture and lemon mixture to the batter, mixing well.
Add ½ cup of the whipped egg whites to the batter and mix until incorporated. Setting the mixer aside, fold the remaining egg whites into the batter with a rubber spatula until well combined, being careful not to the deflate the egg whites.
Pour the batter into the prepared muffin tins, making sure each one is no more than three quarters full. Bake for 20-25 minutes or until a toothpick inserted into the center comes out clean.
Cool on a wire rack.
To make the frosting, whisk powdered sugar, lemon juice, and tahini until a smooth glaze forms. Pour over cooling cupcakes and garnish with black and white sesame seeds and candied orange peel.
Comments