I Carved a Pumpkin, Now What?: Pork & Pumpkin Stew
November 3, 2016
The costumes are balled up in a corner of the bathroom, glitter-streaked and covered in strange makeup stains. Ghostly white, witchy green, blood red. The cardboard props are soaking up rain outside with tomorrow's garbage – duct tape-wrapped robots, giant popcorn boxes, and transformer parts melt wetly into the asphalt. A cold wind whisks up discarded candy wrappers like brightly-colored leaves. Scraps of decorations – streamers fluttering from trees, plastic gravestones, milky cobwebs – look lonely in the morning light, and the sorry Jack-o'-lantern's teeth are caving in, making that fiercely-grinning grimace look like an old man's dentureless mouth.
Halloween is over, and all we have to show for it is some wax-paint grit beneath our fingernails, a leftover bag of Dum Dums to sneak into after lunch, and a giant bowl of shavings scraped out from the inside of a glowing orange window warmer.
Like many others, I too spent the Saturday before Halloween up to the elbow in the bowels of a pumpkin. It takes a surprising lot out of you, that constant scraping, hollowing a gourd until its skin is thin enough to carve. And the mountain of flesh keeps growing – amazing how much meat emerges from something whose insides are mostly made of stringy webbing and seeds.
Halloween has never really been my holiday. Even as a kid, my sweet tooth was somewhat underdeveloped, and I'd stash my bag of trick-or-treat candy behind a pink velvet chair in the back corner of my room so my brothers couldn't get at it. It's not that I wanted to eat it all myself – it's just that I didn't want them to. I'd ration my way through the good ones – Snickers first, then Twix and Reese's Peanut Butter Cups and Butterfinger. And then I'd start on the second-tier treats: Twizzlers, PayDay, Baby Ruth, Milky Way, Almond Joy, Mounds, Nerds. An entire year would have rolled around by the time I got to the end dregs – yellow cellophane-wrapped butterscotches, Tootsie Rolls, flavorless caramels, Mary Janes – left at the bottom of the bag until the next whirl around the neighborhood, their surfaces spotting white and slowly growing stale.
But I have always loved the traditions that accompany holidays – dyeing Easter eggs, lighting the Advent's candles and reading the Christmas story, hosting Thanksgiving feasts, making a flag cake with Cool Whip and fruit… It's the reassurance of continuity – a remembrance of where I come from, a promise to what lies ahead. And Halloween is no exception.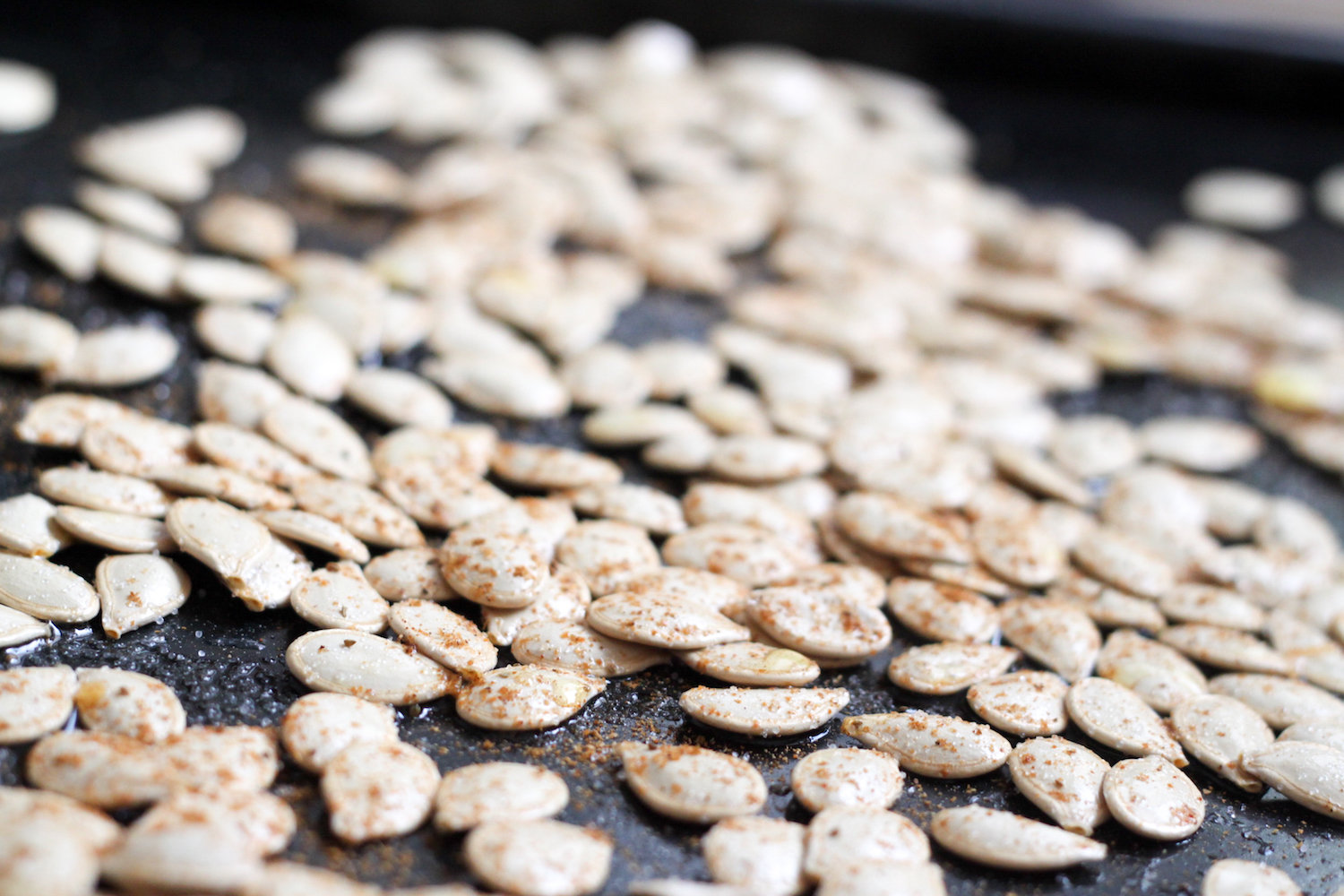 Every year just before Halloween, we'd drive out to one of the apple orchards in the next county over and scrabble through the bins to pick the biggest pumpkins we could find. We'd drag them home and spend the next few hours scraping them clean and carving them into grotesque faces. On Halloween, we'd set them on the porch with little tealights inside, and wait for the first trick-or-treaters to trickle by.
Over the next few weeks, there'd be plenty of fresh pumpkin pies made from those Jack-o'-lanterns, and we'd roast the seeds with salt, pepper, and a little bit of olive oil.
And that is why, on the Saturday before Halloween, I found myself scooping out pumpkin guts and thinking up ways to get rid of a growing pile of bright orange shavings.
There'll be plenty of time for pie, I thought, and I'd had just enough pumpkin soup to last me for a while. But a stew… a nice, rich stew with tender pieces of pork and a hint of cinnamon. That sounded like a perfect thing to have simmering on the stove while I unleashed the entirety of my artistic talents on a hapless little pumpkin.
It was a rare blue-sky day in Berlin, with silky wisps of white cloud, and the anemometers on the top of the Gasometer listlessly twirling in the stillness. David was on a weekend trip, and I had the apartment to myself. So I invited my brother to come by, and he sat on the couch and read, while I sat at the little kitchen table cooking and carving, humming along to the music playing in the background. It reminded me of being at home, everyone in their own corner doing their own things, but knowing we were all together.
I was at work on Halloween, our office pumpkin glowing in the window, a bowl of candy ready to go in case any trick-or-treaters showed up at the door. But the buzzer was silent, and there were no little goblins or superheroes begging for chocolate treats. I guess trick-or-treating in a city is not like tricking-or-treating in a small, rural town, where you know who has the best candy to hand out and where the dentist with his toothbrush gifts lives.
So we ate the candy ourselves as the twilight deepened into dark – my sweet tooth seemingly wakened from a long and dormant sleep. And as I walked home, I was greeted by no spooks or ghouls, just a steady drizzle lit up by the headlights of passing cars. Halloween, it seems, lives on only in my memory – and in the little Jack-o'-lantern glimmering in my own high window and the pork and pumpkin stew I warmed up for dinner that night.
Pork & Pumpkin Stew
This is a stew that allows for a lot of variation. You could turn it into a slow cooker meal, switch out pork for beef, or add potatoes or other vegetables. I used beef broth for my stew, because that's what I had in the fridge, but vegetable or chicken broth would have worked just as well. And if you didn't happen to just carve a pumpkin, it's perfectly acceptable to use cubed raw pumpkin instead. You could even substitute butternut squash. Serves 4.
2 tbsp. olive oil, divided
500 g cubed pork shoulder
3 carrots, diced
1 large onion, diced
2 celery stalks, diced
1 tsp. thyme
½ tsp. salt
Healthy pinch of black pepper
3 cups shaved pumpkin
2 garlic cloves
½ tsp. cinnamon
½ tsp. coriander
1 cup broth
½ cup apple cider
1 tbsp. tomato paste
Heat 1 tbsp. olive oil in a stockpot or enameled cast iron cookware (I used a Le Creuset) over high heat. Season pork with salt and black pepper, and brown on all sides. Remove from the pot and set aside.
Add another 1 tbsp. olive oil to the pot, then add, carrots, onions, celery, thyme, salt, and pepper. Sauté until just softened, about 5 minutes. Return pork to the pot, and add pumpkin garlic, cinnamon, and coriander. Stir well to combine, and cook for another 5 minutes until pumpkin has softened slightly.
Add broth, apple cider, and tomato paste. Bring to a low boil, then turn heat to low and simmer, covered, for 3 hours, stirring occasionally. If the stew starts looking dry, add ½ cup of water.
Serve as is or over warm basmati rice. I garnished with fresh sage, but cilantro would have been just as lovely.
* PS: That beautiful green and cream crochet cotton towel was made by my dear friend Lisa from Color Me Reckless. Truly a work of fine craftsmanship – and she takes custom orders! Gotta brag on my friends a little…
Comments