That's Joy: Elisenlebkuchen
December 2, 2015
I think one of my favorite winter songs is Sufjan Stevens's "That Was the Worst Christmas Ever!". It's a melancholy piece: Father yells, the gifts are thrown in the wood stove, sister runs away with her books, while the snow just falls and falls and falls. Haunting voices laced with soft banjo twist Silent Night's chords into a new shade of recognition. But it's a beautiful song, gently uneasy like walking out into the cold still feeling the flush of too much food and an overly warm fire.
I've thrown myself into Christmas with a wild whoop. David and I decorated the tree with ornaments and lights. We listened to Frank and Mariah and cheered on all of Kevin's holiday antics. I've outfitted the living room with boughs of evergreen and set out the tiny nativity carved from tough Colombian nuts, the pine-scented candle, the wooden Räuchermänner puffing cedar-scented smoke from their little carved pipes.
It makes me happy, this cozy, festive world I've created inside our small top-floor apartment. And yet, with every candy cane comes a strange sadness that catches me unawares, that colors my easy comfort.
Back in my ancestral home, "I'll be Home for Christmas" is a banned song. It's too sad, my mom says. I'd never felt the same before, but not so long ago when it shuffled into play, it made me realize why this season is making me ache.
My grandmother passed away around this time last year, and in the weeks before she left us, the family gathered around her bedside singing the songs she sang to generations of us when we were young. And because it was Christmas, we sang carols in the darkened room – "O Holy Night" and "Do You Hear What I Hear."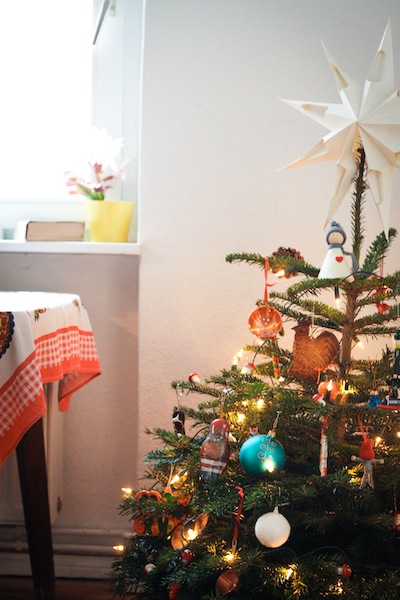 As I stood in the kitchen slicing oranges for mulled wine, smelling the crisp citrus-laced air and listening to the words… "I'll be home for Christmas, you can count on me… I'll be home for Christmas, if only in my dreams"… I was in two places at once, feeling many things at the same time. Such sorrow and loss for a woman I loved very much, such simple pleasure at the bright fruit in my hands, such love for my family, such gratitude for the life I'm blessed to live.
Life's never just one or the other. It's not all sadness and it's not all glee. There's a little loss mixed in with the light just as there's grace on dark days. I like to think that this year, all the love I've thrown into bringing Christmas sparkle into our apartment is in honor of my grandma, who was the queen of holiday decorations. Bright lights, tinsel, a big tree covered in baubles and a train of gifts, holiday pillows and sweaters and slippers, Santa hats and beards, Christmas tree earrings and socks, lawn decorations and figurines, hand towels embroidered with elves, poinsettias on the porch. In all that exuberance and excess was a genuine joy in giving, in all those things that make the season bright.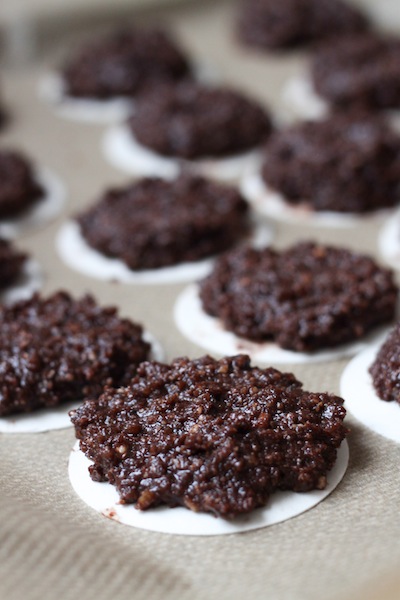 I thought of my grandma as I made the first Christmas cookies of the year – Elisenlebkuchen – dense, chewy cookies filled with candied fruits and nuts, cocoa, warm spices, and marzipan. Baking is as much a part of the holidays as anything else, and the Christmases of my past are filled with cookies: crumbly almond crescents, brightly-decorated sugar cookies, gingersnaps, and anise-flavored Springerle…
It's strange to feel so conflicted – or at least to feel emotions at such opposite ends of the spectrum simultaneously. It makes the melancholy beauty of Sufjan feels just right.
I think unlike happiness or sadness, anger or euphoria – emotions which are strong and totally wrap you up in themselves – the deepness of loss isn't a feeling that ever goes away. It's just sometimes less sharp.
I don't remember where or in what context the difference between happiness and joy was explained to me, but I'm finding it finally makes sense. Happiness is transitory; it's the still-warm cookie in my hand, the lick of chocolate dripping on my thumb. It's the wintry incense, the green boughs. But to miss my grandma's voice and still feel my heart full of every gift she gave me – that's joy.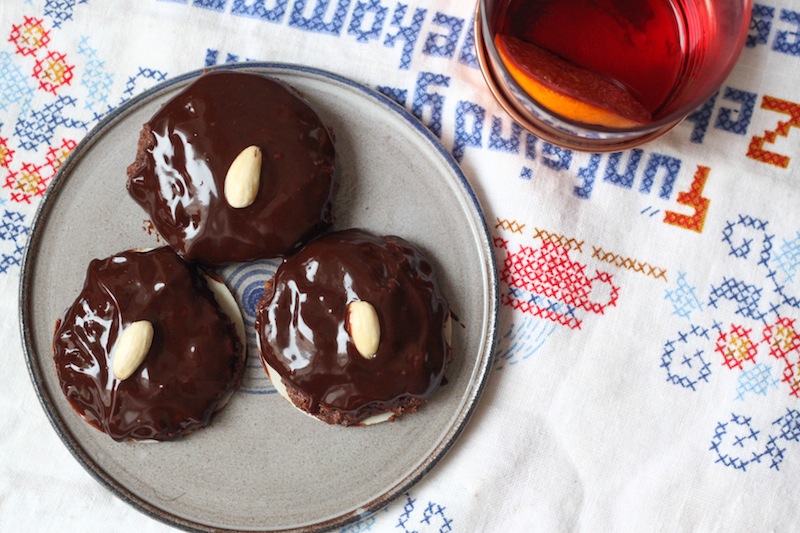 Elisenlebkuchen (German Fruit and Nut Cookies)
Wow are these cookies German… as evidenced by the amount of ingredients used to make them that are hard to find in the States. When I was a kid, my mom used to bring back suitcases full of Backoblaten, marzipan, and candied fruit peel. These days, if you're in the US, I'm pretty sure you can find most of these ingredients at specialty grocery stores or just really nice ones. If you can't find ground almonds, they're easy enough to grind yourself in a blender. Backoblaten are very thin, circular wafers (in some denominations, they're used as communion wafers) that act as a base for cookies with sticky dough. While traditional, they're not necessary – just be sure to bake your cookies on non-stick wax paper. Makes about 20 cookies.
¼ cup (50 g) candied lemon peel
¼ cup (50 g) candied orange peel
¼ cup (100 g) marzipan, packed
1 cup + 3 tbsp. (150 g) ground almonds
¾ cup (150 g) sugar
3 tbsp. flour
2 tbsp. cinnamon
2 tbsp. cocoa
1 tsp. ground ginger
½ tsp. whole allspice
½ tsp. whole cloves
¼ tsp. ground nutmeg
Pinch of salt
Dash of baking soda
4 egg whites
~20 large Backoblaten (baking wafers; opt)
Couverture chocolate
Blanched almonds
Finely chop candied lemon peel and orange peel. Break marzipan into small chunks and add to the candied fruit. Using a mortar and pestle, finely grind allspice and cloves. Set aside.
Add ground almonds, sugar, flour, cinnamon, cocoa, ginger, allspice, cloves, nutmeg, salt, and baking soda to the candied fruit mix and stir well to combine.
Add egg whites and blend with an electric mixer until thoroughly combined. If the dough looks too dry, add a splash of water. The dough should be sticky, but not runny.
Cover a cookie tray with a sheet of wax paper. If using Backoblaten, spread them evenly over the tray (about 20). Drop spoonfuls of dough onto each Backoblate (or directly onto the wax paper). Flatten the dough slightly and shape it into a disc, leaving a small rim of wafer as the dough will expand slightly.
Let the cookies dry for about 45 minutes until the surface is no longer sticky to the touch.
In the meantime, preheat oven to 355º F (180º C). Bake cookies for 15 minutes. Remove from the oven and cool on a rack.
While the cookies are cooling, melt couverture chocolate in a small saucepan over low heat (you may need to add a bit of water to reach the desired consistency: thick, glossy, and liquid).
Completely cover the top of the Lebkuchen in melted chocolate and place a blanched almond in the center of each cookie.
Comments