I think one of my favorite winter songs is Sufjan Stevens's "That Was the Worst Christmas Ever!". It's a melancholy piece: Father yells, the gifts are thrown in the wood stove, sister runs away with her books, while the snow just falls and falls and falls. Haunting voices laced with soft banjo twist Silent Night's chords into a new shade of recognition. But it's a beautiful song, gently uneasy like walking out into the cold still feeling the flush of too much food and an overly warm fire.
I've thrown myself into Christmas with a wild whoop. David and I decorated the tree with ornaments and lights. We listened to Frank and Mariah and cheered on all of Kevin's holiday antics. I've outfitted the living room with boughs of evergreen and set out the tiny nativity carved from tough Colombian nuts, the pine-scented candle, the wooden Räuchermänner puffing cedar-scented smoke from their little carved pipes.
It makes me happy, this cozy, festive world I've created inside our small top-floor apartment. And yet, with every candy cane comes a strange sadness that catches me unawares, that colors my easy comfort.
Back in my ancestral home, "I'll be Home for Christmas" is a banned song. It's too sad, my mom says. I'd never felt the same before, but not so long ago when it shuffled into play, it made me realize why this season is making me ache.
My grandmother passed away around this time last year, and in the weeks before she left us, the family gathered around her bedside singing the songs she sang to generations of us when we were young. And because it was Christmas, we sang carols in the darkened room – "O Holy Night" and "Do You Hear What I Hear."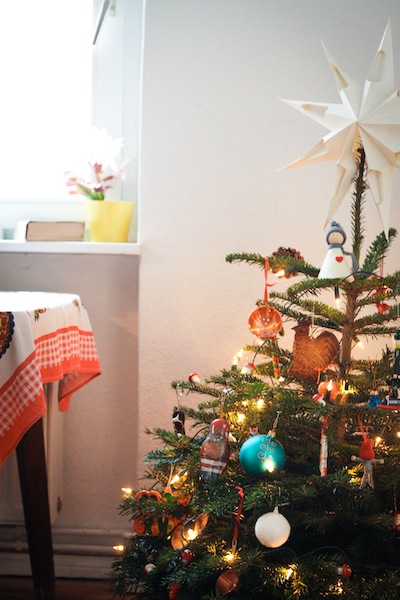 As I stood in the kitchen slicing oranges for mulled wine, smelling the crisp citrus-laced air and listening to the words… "I'll be home for Christmas, you can count on me… I'll be home for Christmas, if only in my dreams"… I was in two places at once, feeling many things at the same time. » Continue reading this post...