I'll Give You a Clue: Booberry-Coconut Cupcakes
October 31, 2015
At work, we have a tradition to uphold, and that is getting fabulously, over-the top dressed up for a themed Halloween party, drinking witch's brew from a smoking cauldron, and eating far more than a restrictive costume comfortably allows.
This year, we tried our very best not to kill each other with all those weapons conveniently lying around. There was a lead pipe, a revolver, some rope… And was that a thud coming from the Conservatory?
The entire cast of Clue, including a few non-canon extras and some loose interpretations from Jonathan Lynn's 1985 film, assembled in the Kitchen to prepare for the party: Mysterious spaghetti carbonara, murderous shaved Brussels sprouts salad, poisonously-pink rosemary-grapefruit cocktails. And everybody kept their eye on the Knife.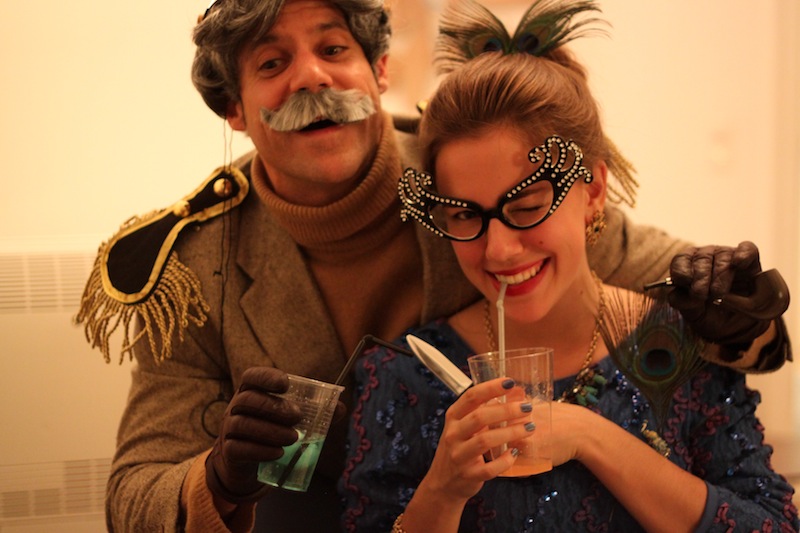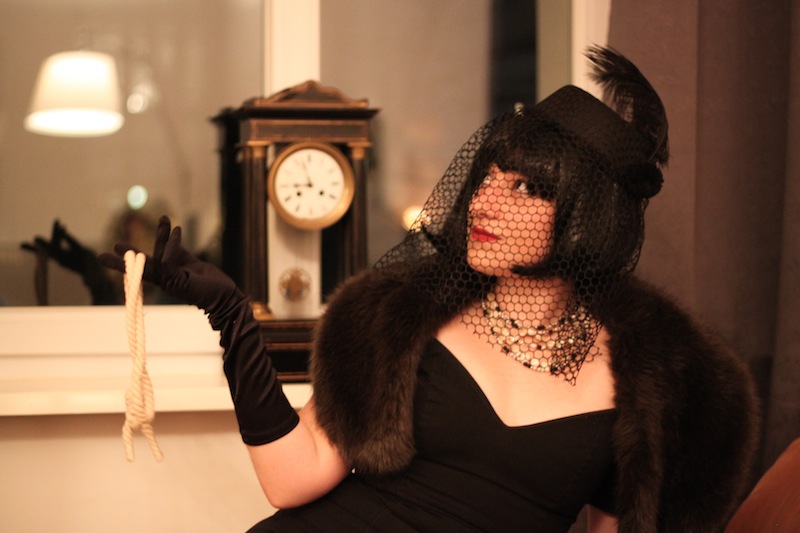 Halloween isn't just a holiday, it's the start of a season. It was good planning on someone's part – probably those pagans – that as the weather worsens, we can find solace in party preparations, pretty decorations, good cheer, and reason after reason to make too much food.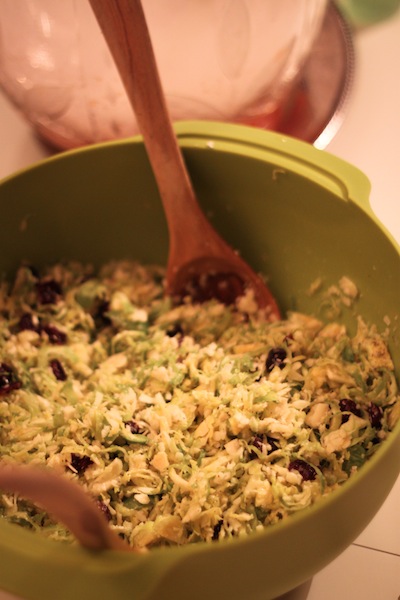 October went a little haywire this year – projects piled up, deadlines reared their ugly heads, there were just a lot of things to do. My all-too-brief weekend in Baltimore watching sailboats bob in the harbor seems like ages ago, though I've only been back in Berlin for two weeks. Here, it's crazy city.
I'm grateful to Halloween for bringing things back into focus. There will always be stressful projects and situations to navigate – but letting stress get the upper hand can taint even pleasant experiences. It's like trying to clean the house with your hands covered in blue ink. No matter what you do, the whole house is going to end up blue.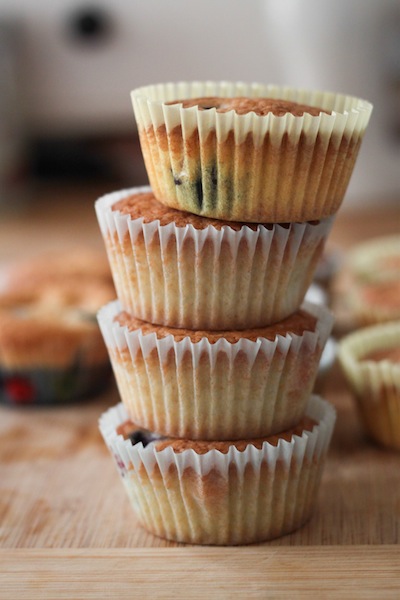 Follow me on a mind leap for a second. Do you remember that series of General Mills Cereals that always appeared in the display aisles around Halloween? Count Chocula? Boo-Berry? Franken Berry?
Though I haven't had any of those cereals in years, I fondly remember dumping mounds of garishly-colored puffs into a big bowl, dousing them with milk, and at the end slurping up all the colored milk at the bottom of the bowl. I also thought the names were so very, very clever. I still do.
This year, in an homage to the ever-frightening Boo-Berry cereal, I decided to make a blue Halloween dessert instead of leaning on a more traditional orange and black color scheme. But my Booberry-Coconut Cupcakes (see what I did there?) don't share much more with their cereal namesake than that. These cupcakes are stuffed with real blueberries and topped with a vegan-paleo coconut milk frosting. Because hey, we grow up.
But hopefully, we never grow up so much that we think dressing up in costume is childish or getting into character is a waste of time. I can't tell you how happy it made me to waltz around in a black bob wig, swinging my rope and warbling, in my best Madeline Kahn impression, "Yes, I did it. I killed Yvette. I hated her, so much… it-it- the flam-flames. Flames, on the side of my face, breathing-breath- heaving breaths. Heaving breaths…" Or how fun it was to fill the punch bowl with dry ice and watch the smoke wisp up.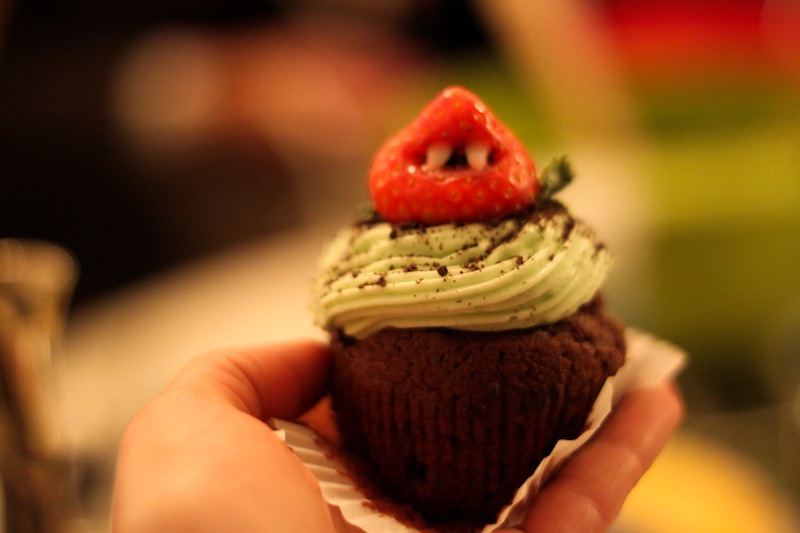 What I'm banking on, is that this good Halloween humor is the thing that'll tinge the upcoming holiday season – not deadlines or stress. There's too much good food, good conversation, and good cheer to enjoy.
And just so we clear things up: It was Mrs. Peacock, in the library, with the knife.
Booberry-Coconut Cupcakes
I'll tell you straight up, my experience making paleo-vegan whipped coconut milk icing was a catastrophe. I went through three cans of coconut milk, and the only one that managed to solidify the right way happened to be the first can I opened – which I, of course, boiled to condense for the cupcake batter. By the third can, the coconut milk can mostly solidified, so I whipped it up anyway – and while the taste was great, I couldn't manage to get the kind of texture I wanted. So, the moral is: If the first can of coconut milk you open has managed to solidify the right way, separate the solid from the liquid then and there, set it aside, and use your second can to condense for the batter. Just in case. And if, by the fourth can of coconut milk, you still can't make paleo-vegan whipped coconut milk, just give up and make buttercream. Makes 24 cupcakes.
For the cupcakes:
1 can coconut milk
2 cups (250 g) flour
2 ¼ tsp. baking powder
½ tsp. salt
¾ cups (170 g) butter
1 1/3 cups (265 g) sugar
3 large eggs
1 ½ tsp. vanilla extract
½ cup (125 g blueberries)
For the icing:
1 can full-fat coconut milk
1 tbsp. powdered sugar
½ tsp. vanilla extract
2 drops blue food coloring
Do ahead: Place a can of full-fat coconut milk in the fridge overnight (for the icing).
Bring 1 can of coconut milk to a boil in a deep saucepan. Once boiling, reduce heat to medium and continue to cook until reduced to 3/4 cups, about 18 minutes. Remove from heat and allow to cool completely.
Preheat oven to 350º F (175º C).
Combine flour, baking powder, and salt in a medium-sized bowl and stir well to combine. In a large mixing bowl, cream butter and sugar until soft, about 2 minutes. Add eggs and vanilla. Beat until smooth. Add half of the flour mixture and beat until combined. Add coconut milk and beat, then add remaining flour mixture and beat until smooth. Add blueberries and fold in by hand.
Line a muffin tin with paper liners, and use a spoon to drop batter into the cups, about ¾-full. Bake for 20 minutes, or until toothpick inserted into the center of the cupcake comes out clean. Repeat until batter is used up. Allow cupcakes to cool completely before icing.
To make the icing: The solids and liquids should have (see headnote) separated overnight in your can of coconut milk. Carefully open the can and separate the solid (at the top) from the liquid. Save the liquid for another use. Place the solid in a large mixing bowl, add powdered sugar, vanilla, and food coloring and whip until stiff (or stiff-ish, if your coconut milk decided not to play along).
Comments