Welcome to the Windy City: Girl & the Goat's Magic Beans
July 12, 2015
Chicago is the fittest city I've ever been to. Everyone's always jogging around, decked out in fancy-pants sporting gear and neon sneakers or running shirtless along the beach. Which, by the way, I didn't know Chicago had. I guess that's what you get for growing up on the East Coast.
It's amazing that everyone is so incredibly healthy, because Chicago also has incredible food. Maybe the Chicagoans have picked up on the trick of compensating for good eating with good workouts, a trick I seem to be unable to learn.
I went to Chicago to meet up with two old, fabulous friends. Emma, Amy, and I met in 2007 in Australia while studying abroad and somehow, somewhere down the line became traveling pals. We've been to St. Croix, Las Vegas, New York – and now Chicago, a place none of us lives in and that isn't really close to anything. But as I was going to a wedding in Ann Arbor, Michigan anyway, and Chicago is just around the corner, I thought it was the perfect opportunity to explore a part of the country I've never been to before and reunite my favorite traveling trio.
For me, friendship has never been about how often you see people, but what it's like when you do. When the three of us get together, it's as if all the time that's elapsed between our last visit and the present has consolidated, sucked into some black hole. We don't waste time with small talk, but pick up the conversation right where it left off.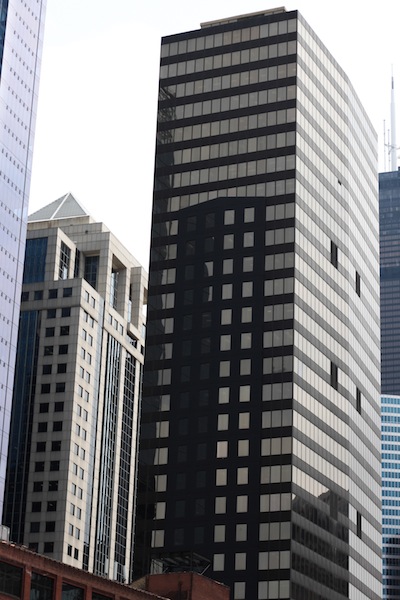 As much as we talked, we ate. We sampled extra tender pork loin with peppers and bone marrow salad at The Purple Pig, freshly-prepared sandwiches at Publican Quality Meats, and more donuts than I'd care to admit from Glazed & Infused. We even tried out Rick Bayless' restaurant Xoco for a quick lunch (cochinita pibil with pickled onions and fiery habanero salsa) before hopping on a boat for architectural tour of downtown.
At my request, we visited a few breweries, like Piece and Haymarket, and sampled as many different local Chicago beers as we could. One of the best parts of traveling back to the States is the abundance of craft beer. Germany may be a land of beer, but it tends to be pretty one-dimensional. Each shop sells the same few brands, and IPAs are still a novelty. While it's incredibly exciting to watch the craft beer scene begin to gain momentum (and fast) in Berlin – there's still no comparison to the wacky, creative, thoughtful, colorful explosion of brews in America.
At Links Taproom, we ordered a tray of French fries smothered in melted cheddar, jalapeños, ground beef, bacon, and green onions to pair with our beers, and though the tray was massive, a heap of salty, melted-cheese deliciousness, we at the whole thing and licked our fingers.
There were classier nights, with bottles of wine and even champagne, shared in dusky, gilt rooms as we gossiped and reminisced about our other trips. There was the story of the morbidly obese manager of a Mexican pop star ("he's really famous in Mexico") who bought us bottle service in Vegas, or the time I managed to scorch all my skin in St. Croix and we tried to heal it with oatmeal. (Unsuccessfully, by the way.)
The best meal of all was at Girl & the Goat, where we ordered up half the menu – goat empanadas and crisp goat belly served on a decadent bed of bourbon-buttered lobster and crab, kohlrabi salad with fennel, evalon, toasted almonds, and the surprise pop of sweet blueberry, little crispy duck tongues, and silky pig face soft with cracked-open egg yolk.
But the very best dish, the one I just couldn't get out of my head, were the green beans. It sounds so foolish, because how can beans be the best thing on a menu with so many other exquisite choices?
But these beans are something else – shockingly salty, but with a rich, umami-laden salt from fish sauce and soy sauce. They're slightly creamy with a perfect crunch from the slender al dente beans. Buttery cashews soften the dish's salty punch. They even tasted good cold, as I discovered when I ate them with my fingers from the take-away box, one at a time, when we were back in our Airbnb with faces washed and pajamas on.
It's such a balm, to share time with people who know you so well. They know your caprices and moods, your best qualities and worst. They know your sudden onset of grumpiness can easily be cured by a big cup of coffee and a donut, that you'll always be in their corner when they need you. They'll laugh with you, cry with you, get angry over injustices with you – and when dinner's done, they'll split the check with you, too.
Girl & the Goat's Magic Beans
While I used green beans for this recipe, I'd recommend finding the slightly slimmer, more elegant haricots verts, which squeak less when you bite into them. Also, you'll probably have extra aoli left over – this fantastic sauce would taste great over a grilled burger, sweet potato fries, or drizzled over other veggies. Actually, it tastes good on pretty much everything. Adapted from Stephanie Izard's recipe.
For the sauce:
3 tbsp. fresh lemon juice
3 tbsp. fish sauce
2 tbsp. + 1 tsp. soy sauce
1 tsp. Dijon mustard
½ tsp. Sriracha
2 garlic cloves, minced
3 tbsp. olive oil
Black pepper, to taste
1 cup mayonnaise
For the beans:
2 tbsp. olive oil
3 shallots, diced
1 lb. (500 g) green beans, trimmed
Toasted cashews, to garnish
Whisk lemon juice, fish sauce, soy sauce, Dijon mustard, and minced garlic together in a small bowl. Add olive oil and whisk again. Season to taste with black pepper. Measure out 1/3 cup of the dressing and whisk with mayonnaise to make an aoli. Set aside. Set aside the rest of the dressing.
Heat olive oil in a skillet and add shallots. When the shallots have softened, add green beans, and quickly sauté for about 1 minute. Pour in the dressing (the portion without mayonnaise) and turn the heat to low. Cover the skillet and steam the green beans until just tender – you want them to be slightly crisp beneath your teeth, not soggy.
Remove from heat. Add two heaping tbsp. of the aioli to the beans and stir well to combine.
Serve beans and drizzle with extra aoli. Garnish with toasted cashews.
Comments