Everything Old is New Again: Cheater's Chicken Mole
April 29, 2015
For most of my life, I thought Mexican food was a can of Old El Paso refried beans covered with iceberg lettuce, sloppy tomatoes, and shredded cheddar cheese. What a surprise, then, when I bit into my first real taco from the truck in the gas station parking lot off Exit 33 and discovered that real Mexican food has very little in common with that. The flavors were fresh and incredibly present – aggressively green cilantro, tangy lime and such tender meat it felt ready to fall apart before I even took a bite. And the tortillas were a far cry from the brittle taco shells of my childhood. You could taste the corn with its gritty, dense texture scarred by the bitter burn of an open flame.
This was back at Davidson, and I don't remember who it was who discovered the taco truck, but after we found it, we were always there – on lazy weekend mornings, on trips home from the Lake Campus, any time we could convince someone with a car to drive us.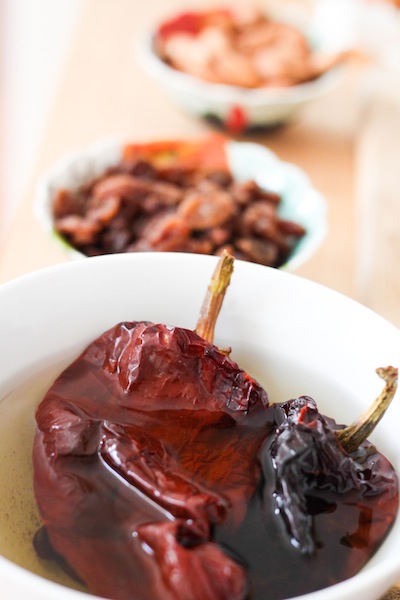 In Brooklyn, I lived down the street from a tortilleria, and many of my favorite evenings began at those dim and sticky tables, ladling plastic spoonfuls of spicy green salsa and pickled jalapeños on tacos and washing it down with garish pink Jarritos.
It was in Brooklyn, too, that I expanded what I knew about Mexican food beyond tacos. I lived in a neighborhood where every bodega sold giant fresh bunches of cilantro and bulk bags of masa harina and dried ancho chiles. My grocery store had an entire aisle dedicated to the Goya line of products. If ever there were the right time to experiment with the flavors of Latin cooking it was there, surrounded by easily-accessible ingredients and inspiration.
Today, I live in a city where there is not a single bag of masa harina to be bought. There are no dried chiles, and I can only find cilantro at the grocery store on off days. I have missed Mexican food – even my own (not-so-authentic) version of it. I've tried to compensate by making tacos with crepes instead of corn tortillas, using polenta to make tamales and bird's eye chiles from the Asian grocery store in place of habanero or jalapeño when I make salsa or guacamole.
Recently, someone told me about an online shop called holamexico.de – whose name I find extremely charming – and whose products had me drooling for something more than another bowl of Pho. I bought blue and yellow masa harina to make my own tortillas, dried ancho chiles – I even bought a tortilla press.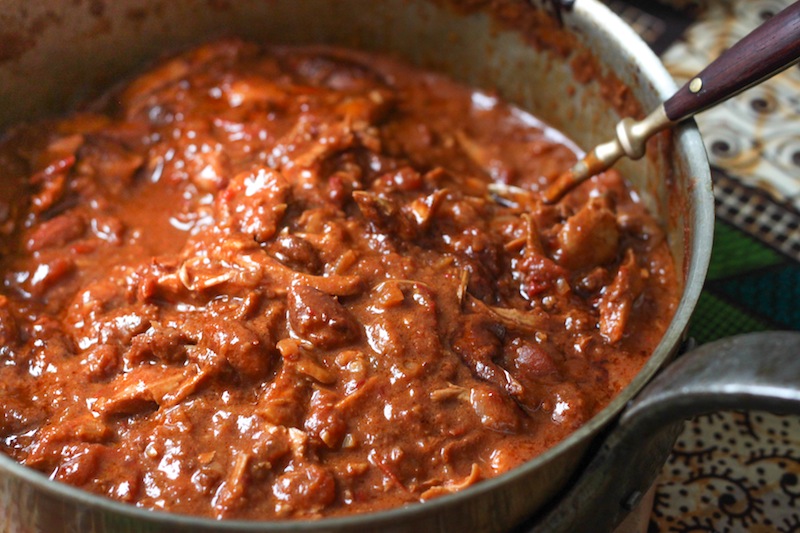 Of course, I didn't have quite the foresight to buy all the ingredients you're technically supposed to have to make a chicken mole. I'd forgotten that there are chiles other than ancho, which lend the mole its dusky softness. But it didn't stop me from experimenting with alternate methods of adding flavor – simmering the chicken in orange juice and broth, enhancing the gentle nutty flavor of toasted almonds with peanut butter, plumping the sauce with the water the chiles soaked in. It wasn't like the moles I'd had before, but it was very good: smoky and rich, slightly sweet from the dark chocolate and golden raisins.
Paired with hand-pressed tortillas, home-pickled red onions and plenty of lime, it took me back to my first bite of true taco, eaten on a small strip of green at the edge of a parking lot. I've come a long way from there to here, but a memory once loved is never lost. Neither is a taste.
Cheater's Chicken Mole
Technically, mole has a few different kinds of chile in it, including chipotle and guajillo or pasilla. But we make do with what we have, and ancho is, in my mind, the most important of the chiles in this dish. Also feel free to substitute Mexican chocolate for dark chocolate if you live in a place where that's easily accessible. So, not Berlin. Serves 5.
For the mole:
2 ancho chiles
2 tbsp. + 1 tbsp. vegetable oil
3 large bone-in chicken thighs
1 cup orange juice
1 ½ cups chicken broth
2 onions, diced
2 tsp. cumin
1 ½ tsp. cinnamon
½ tsp. anise
5 garlic cloves, minced
1/3 cup (50 g) golden raisins
¼ cup whole almonds
2 tbsp. peanut butter
1 can (400 g) chopped tomatoes
2 tbsp. (25 g) dark chocolate, chopped
To serve:
2 large red onions
Juice of 2 limes
1 tsp. salt
Corn tortillas
Sour cream
Place the dried chiles in a bowl and cover with boiling water. Allow to soak for 20 minutes. In the meantime, heat 2 tbsp. oil in a deep skillet and brown the chicken on both sides. Once browned, add orange juice and broth, and bring to a boil. Reduce heat to low and simmer for 25 minutes, until chicken is cooked. Remove chicken from skillet and allow to cool. Reserve the cooking liquid.
Heat 1 tbsp. oil and sauté onion until just translucent. Add cumin, cinnamon, anise, garlic, raisins, and almonds, and sauté for about 5 minutes. Remove from heat.
Remove stems and seeds from chiles, and place in a food processor. Add onion mixture along with 6 tbsp. of the chile soaking water and pulse until a smooth paste forms.
Bring paste, peanut butter, chopped tomatoes, and 1 can worth of the reserved chicken cooking liquid (measure it in the empty can of tomatoes) to a boil, then turn heat to low and simmer, covered, for 1 hour.
When the chicken has cooled, remove meat from the bones and shred. Add to the sauce along with dark chocolate, and simmer for another 30 minutes. If the sauce is looking too thick, add more of the chicken cooking liquid.
Thinly slice red onions, and combine with lime juice and salt. Set aside.
Serve mole with hot corn tortillas, sour cream, and the pickled red onions.