Back-to-School Weather: Roasted Quince and Pumpkin Soup
October 16, 2014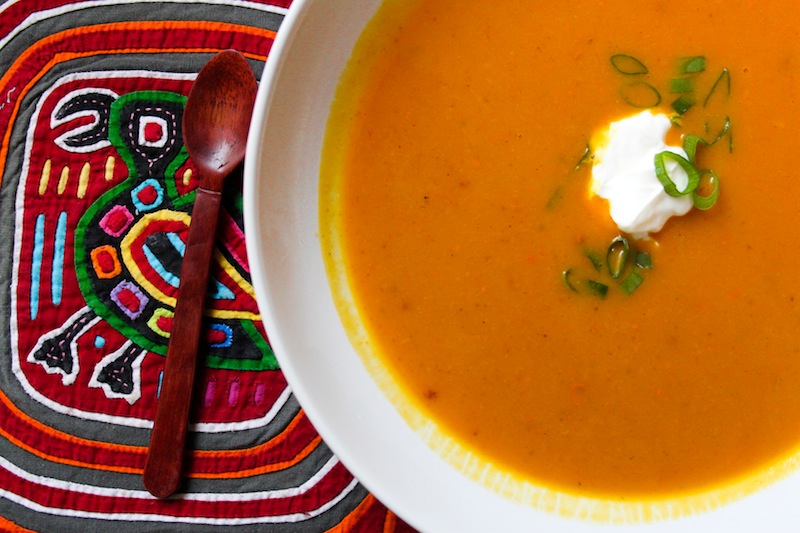 Fall weather motivates me like nothing else can. When everyone else is complaining about how gray and mucky it is outside, how depressing the drizzle, how dour the cold, I'm making plans.
I've never put much stock in New Year's resolutions – I seem to make all mine in the fall. Fall feels like the start of something new. Everything about it is crisp – the scent of dried-out leaves, their crackle under your brand-new boots, the brisk wind brushing your cheek.
Maybe fall feels so fresh to me because I associate it with the start of school, a time I always loved and which is full of new things. New classes, new wardrobes, new shrink-wrapped blocks of college-ruled paper. Everything is so full of potential.
For me, fall couldn't have come at a more perfect time. I've just spent three weeks traveling, being a total lazy bum on vacation, letting other people cook for me and ignoring the steadily growing pile of emails in all of my inboxes. (Why do we all have so many email accounts?)
Now that I'm back in Berlin, fall has shocked me into motivation. While it's a little melancholy to think that there are no more hazy summer afternoons on picnic blankets to tempt me away from my work, it's invigorating to wrap up in blankets at the desk (um, the heater's not so great) and feel a surge of focused, creative energy that comes along with the cold.
Fall is also the season where I'm most motivated to cook and create new dishes. I love pumpkins and dark leafy greens, slow-simmered sauces and jeweled pomegranate berries. I love rich sweet potatoes and freshly plucked apples from a gnarled tree, earthy mushrooms and tart quince.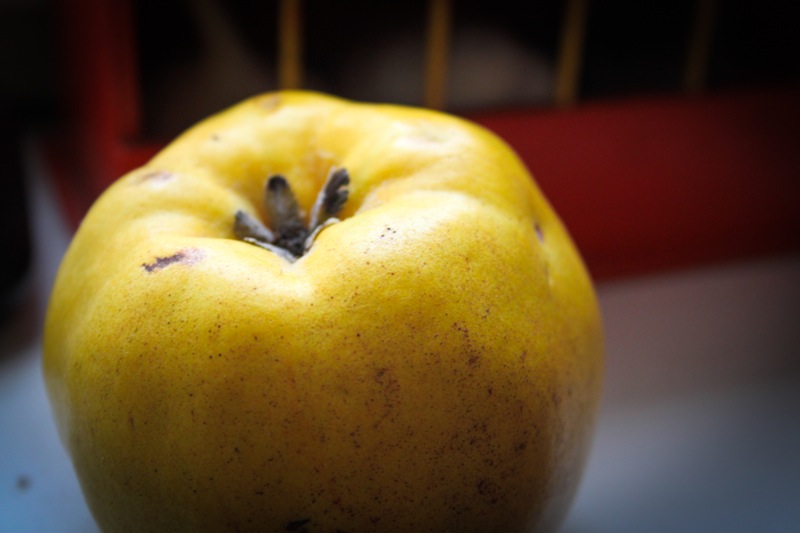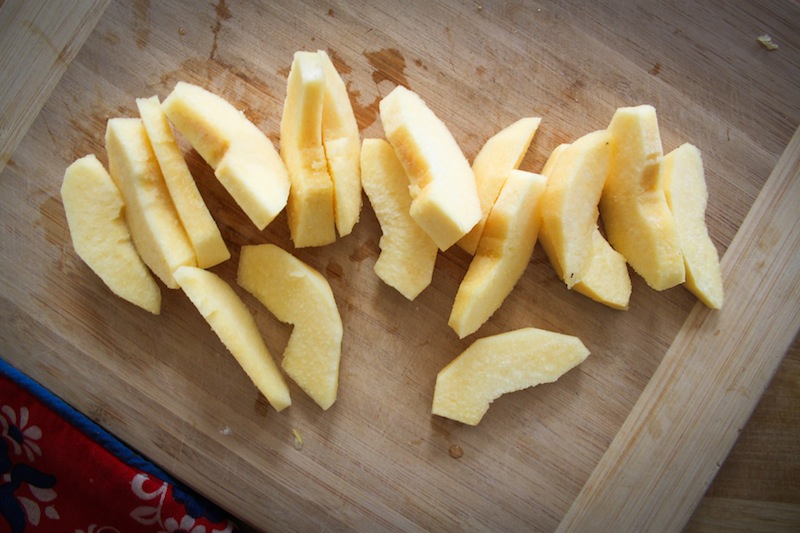 Quince is a new addition to my fall repertoire. It's hard to find in the States, and most people wouldn't know what to do with one if it hit them in the head. Mostly because they'd be knocked out. Quince are pretty hard.
But in Germany, the quince is a little less mysterious. Those lucky enough to own a garden plot grow them, those lucky enough to know people who own garden plots, happily take them and make jam. Because the quince, while too hard and sour to eat raw, lends itself perfectly to preserves of any kind. Sugar balances out its sourness, resulting in a silky, tart flavor reminiscent of citrus-perfumed apples.
As the recent recipient of one quince, however, I found it impractical to begin making jam. I wondered if the quince's sweet and sour flavor would lend itself to something savory – like another fall favorite, pumpkin soup.
And indeed it did, infusing a tart, citrusy note into the sweet pumpkin – a taste which reminded me oddly enough of a kaffir lime and pear love child.
An elegant experiment, an excellent spur to experiment more.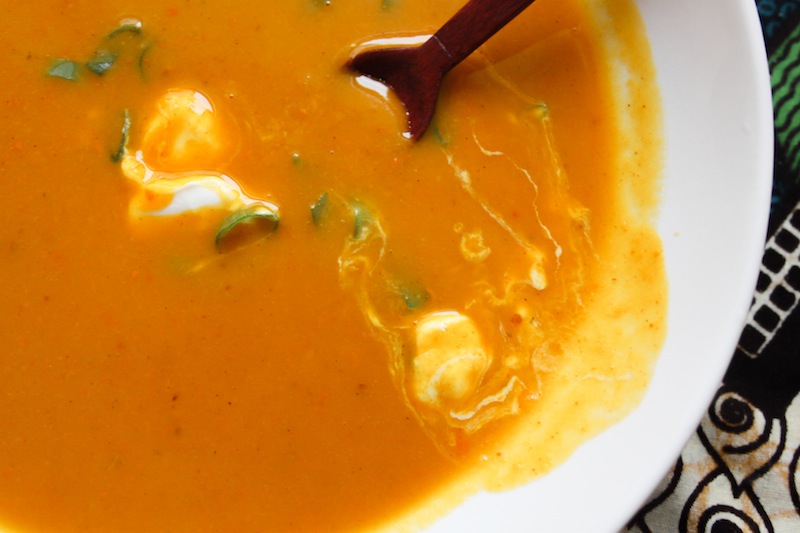 Roasted Quince and Pumpkin Soup
Even if you don't have quince, this recipe makes a pretty great plain pumpkin soup.
1 Hokkaido pumpkin
1 quince
1 tbsp. olive oil
Salt & black pepper, to taste
1 small yellow onion
1 tbsp. vegetable oil
Pinch of salt & sugar
1 tbsp. Jamaican jerk seasoning
1 ½ tsp. curry powder
½ tsp. cumin
¼ tsp. berbere spice
¼ tsp. salt
Water
1 vegetable or chicken bouillon cube
Green onions
Greek yogurt
Pre-heat oven to 400ºF (200ºC).
Halve Hokkaido and scoop out the seeds and stringy orange mash. Cut into thick slivers and place on a baking sheet. Peel, core, and slice quince (like and apple) and add to baking sheet. Drizzle with olive oil and season with salt and cracked black pepper. Roast for 20 minutes, turning once about halfway through.
When your pumpkin and quince is nearly done, heat vegetable oil on medium heat in a large pot. Finely chop onions and sauté in oil with a pinch of salt and pepper until translucent. Remove roasted pumpkin and quince from the oven and add directly to the soup pot. Add spices (Jamaican jerk seasoning, curry powder, cumin, berbere, and salt) and stir to coat. Add water to just cover the pumpkin and quince mixture. Add bouillon cube and bring soup to a boil.
Once boiling, turn heat to low and simmer for about half an hour. Test broth, and adjust seasoning as necessary. Use an immersion blender to liquefy the soup, and once liquefied, simmer on low for another 20 minutes.
Serve garnished with Greek yogurt and chopped green onions.
Comments