It's Spargelzeit!: White Asparagus with Honey-Dijon Sauce
May 1, 2014
The asparagus are miniature trees, woody and white. Like baby birches tapering into golden spear-peaks. They fill the grocery's bins, and roadside stands sell crates overflowing with ghostly stalks. Cooking magazines sport bundles on the cover; they're in turn glistening with butter, flecked with green herbs, or soothed with a blanket of mustard sauce. On the streets, people whisper their favorite recipes to one another or debate proper preparation. When spring hits in Germany, you may as well shout it out: It's Spargelzeit!
Spargelzeit begins in mid-April and lasts until the 24th of June, the feast day of St. John the Baptist. In Germany, Spargel refers only to white asparagus. What Americans call "asparagus" earns its own differentiator here: "green asparagus." Here, real asparagus is white – those skinny, little green fingers are an aberration.
Yet, like dogs with chopped off tails, white asparagus isn't a natural occurrence. It's just another one of those ways in which we've altered nature for so long we've gotten used to it. White asparagus is cultivated by covering the shoots with soil as they grow (a process called hilling) to prevent exposure to sunlight. Without sun, the shoots never begin to photosynthesize, and remain white.
No matter the methods, people go nuts when Spargelzeit hits. The shops set up displays; there are special long pots for cooking Spargel, special ladles for fishing individual stalks from the boiling pot, special plates to set the Spargel on, not to mention myriads of Spargel peelers, all purporting to be the best.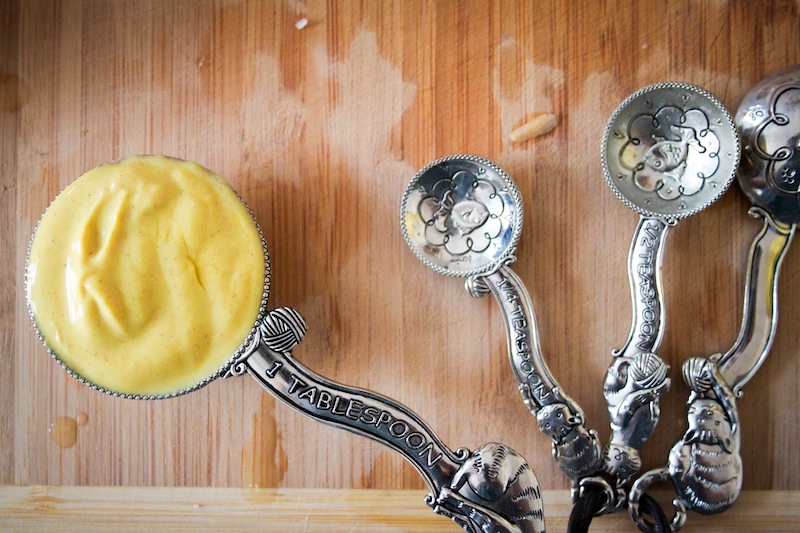 But there might just be some grounds for the hysteria. White asparagus is milder and sweeter than its skinny cousin. The plump stalks are delicate and must be cooked gently to release their softly nutty flavor. Because the asparagus are so fragile, they must be quickly processed, sold, and eaten. The soil in Germany is ideal for growing white asparagus, which is perhaps why the Germans love them so much – they can be eaten fresh from the earth, close to where they're grown.
I bought my first Spargel of the season the other day and unpacked it from my bag just as the sun was beginning to set on Berlin. By the light's last rays, I peeled the asparagus. The stalks were heavy, cool, and damp in my hands. As they boiled, I whisked a quick dressing of Dijon, honey, lemon juice, and walnut oil and fried some bacon until the whole apartment smelled rich with it.
The flavor of asparagus is hard to pin down – it's so round and soft and mellow. There's a silky sweetness laced with bitterness and earth, a strange, subdued bite, like pepper plunged in milk.
I worked quickly, trying to capture the last of the light; in Berlin, we soak up every second of sunshine and store it away for the winter months. Dying sunlight glinted off the asparagus, pale harbingers of coming summer.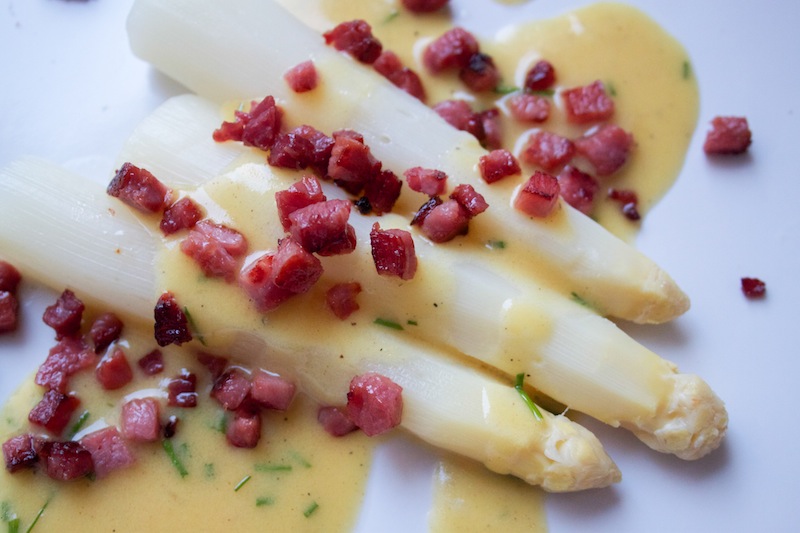 White Asparagus with Honey-Dijon Sauce
Normally, I'd say fancy oils can be substituted with something less fancy, but in this case walnut oil adds just the perfect, slightly bitter roundness to tone down the mustard and honey, and perfectly complement the sweet earthiness of the asparagus. So, for this recipe, walnut oil is worth it.
10 stalks white asparagus
1 tbsp. fresh lemon juice
2 tbsp. Dijon mustard
1 tbsp. honey
Salt & pepper to taste
3 tbsp. walnut oil
1 tbsp. chopped chives
½ cup finely chopped bacon
Trim asparagus with a vegetable peeler (as you would a carrot). The bottom of the stalk might be a little woodier than the top, so make sure you remove all of the tough, woody outer fibers. When you run your fingers around the peeled asparagus, you shouldn't snag on any spots that feel wooden. Cut off the bottom ½ inch of your peeled asparagus.
Set a pot of salted water to boil and when it's at a rolling boil, add asparagus and boil for 12-15 minutes or until asparagus are tender. To test, remove a stalk from the water and cut a round off the bottom of the stalk.
In the meantime, make your sauce. Whisk lemon juice, Dijon, and honey together, then season to taste with salt and pepper. Slowly whisk in walnut oil, adding one tablespoon full at a time. Add chopped chives.
Fry bacon cubes over high heat until crunchy.
Remove asparagus from water and arrange on a plate. Top with dressing and bacon.
Comments