Tradition Looks A Lot Like Chocolate Cake
October 10, 2013
I didn't eat Wienerschnitzel in Vienna. Even though it's where Wienerschnitzel was born. Even though it's something you're supposed to do. When you only have three days in Vienna, sometimes the schnitzel falls by the wayside. And though I shall live, I feel as if I've missed something important. A part of history, a tradition.
Tradition and tourism are two things that don't often end well together. Rarely do locals hang out where the tourists do. I've been to Times Square numerous times – but never while I was living in New York. In Berlin, taking visitors to see the Brandenburger Tor is like being a tourist myself, since there's really no other reason to be in that part of town.  Food for tourists is usually bad. Food for tourists is usually traditional (or Pan-Asian, why is that?). Ergo, traditional food is usually bad.
In Vienna, tradition and history infuse the city, from its tourism to its local life. Of course, tradition is a bit hard to avoid in a city where a marvelous monument or palace or church graces every other corner, where the buildings lining the streets sport corniced gables or hidden frescoes and other finely-wrought details. Vienna is a city that takes its past as a cultural capital seriously. Even today, there is music and art everywhere.
One lovely part of Viennese history is a tradition of elegant cafes and pastry shops serving afternoon coffee and cake. From outside, the cafes emit a honey glow, inviting the cold and the tired inside with the promise of whipped cream and jam, marzipan, macaroon, hazelnut – and of course, a strong cup of hot coffee with just a splash of chocolate liqueur. Inside, confections, cakes and sweets slumber in sticky-sweet stacks behind polished glass.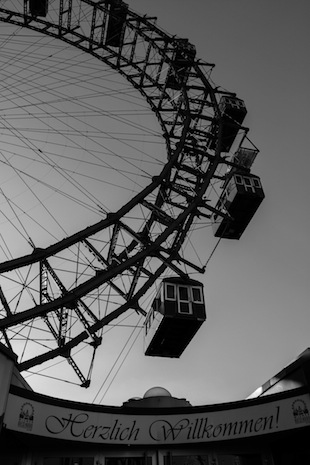 At Hotel Sacher, we tried one of Vienna's most famous desserts, the eponymous Sachertorte. We sat around a small table in the middle of pedestrian Kaerntner Strassse, warm under heat lamps, resting our tired feet. A Sachertorte is beautiful. A slim slice of moist, coarse-grained chocolate sponge cake with a paper-thin layer of apricot marmalade splitting it in two, draped in a smooth, rich coat of dense and buttery chocolate icing. For all its slimness, it's too much cake, too rich and unforgiving, even when washed down with a milky cappuccino. We spent the rest of the day with bellyaches.
We had to stop at Aida, a chain of garish pink pastry shops around the city, at least once, for emergency cake. The night was quickly turning cold, and we had been walking all day and were tired. Our three slices of cake to-go were wrapped in pretty pink paper and we ate them on a dirty park bench beneath a giant H&M advertisement covering the façade of the church we had come to see and which was being renovated. David's slice took the cake, so to speak – dense whipped cream sandwiched between angel food cake and laced with raspberry jam.
Another Viennese tradition is the open air Naschmarkt running along the Danube. There's been a market here since the 16th Century, when mainly milk was the ware of choice. Today the market sells fresh fruits and vegetables, cheeses, olives, homemade jams and honeys, breads, meat and dried herbs. Towards the back of the market, locals sunbathe and brunch at outdoor tables. Tables get snapped up quickly by young, beautiful Viennese who order perfect noontime cocktails, such as the Hugo, made with elderberry syrup, mint, and sparkling wine or tall glasses of cold Austrian beer to pair with freshly prepared food, warm and flaky baskets of bread, grilled falafels, cornflake-crusted schnitzel.
And there we are, back at the schnitzel that I didn't eat.
Comments