I didn't eat Wienerschnitzel in Vienna. Even though it's where Wienerschnitzel was born. Even though it's something you're supposed to do. When you only have three days in Vienna, sometimes the schnitzel falls by the wayside. And though I shall live, I feel as if I've missed something important. A part of history, a tradition.
Tradition and tourism are two things that don't often end well together. Rarely do locals hang out where the tourists do. I've been to Times Square numerous times – but never while I was living in New York. In Berlin, taking visitors to see the Brandenburger Tor is like being a tourist myself, since there's really no other reason to be in that part of town.  Food for tourists is usually bad. Food for tourists is usually traditional (or Pan-Asian, why is that?). Ergo, traditional food is usually bad.
In Vienna, tradition and history infuse the city, from its tourism to its local life. Of course, tradition is a bit hard to avoid in a city where a marvelous monument or palace or church graces every other corner, where the buildings lining the streets sport corniced gables or hidden frescoes and other finely-wrought details. Vienna is a city that takes its past as a cultural capital seriously. Even today, there is music and art everywhere.
One lovely part of Viennese history is a tradition of elegant cafes and pastry shops serving afternoon coffee and cake. From outside, the cafes emit a honey glow, inviting the cold and the tired inside with the promise of whipped cream and jam, marzipan, macaroon, hazelnut – and of course, a strong cup of hot coffee with just a splash of chocolate liqueur. Inside, confections, cakes and sweets slumber in sticky-sweet stacks behind polished glass.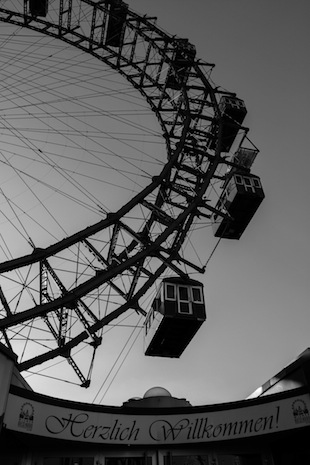 At Hotel Sacher, we tried one of Vienna's most famous desserts, the eponymous Sachertorte. » Continue reading this post...