Cornucopia: Thai Pumpkin Curry
October 24, 2013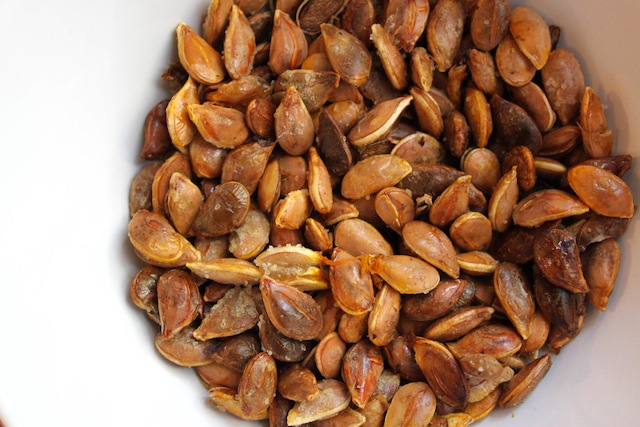 Berlin seems to have taken a step back to acknowledge my favorite season. Walking through the streets, there's the slow, steady fall of leaves. In my neighborhood, they are the yellow of barely ripe bananas and small like babies' palms. There's a chill in the air that makes you want to snuggle deeper into your coat and your scarf, and the wind blows past the old brewery, wafting the lingering yeasty apple smell of fermenting beer through Neukölln.
The bins in the Turkish grocery stores along Karl-Marx Str. and the rogue Russian grocery on the corner are full of apples, root vegetables, and piles of pumpkins. Fall has always made me feel like building a cornucopia, a shrine to beautiful burnished things, crisp fallen leaves and chestnuts, acorns and other nuts, colorful squashes that look like warty witches' noses, frost-edged sunflower leaves, apples with matte pink and green skins, tiny beveled pumpkins.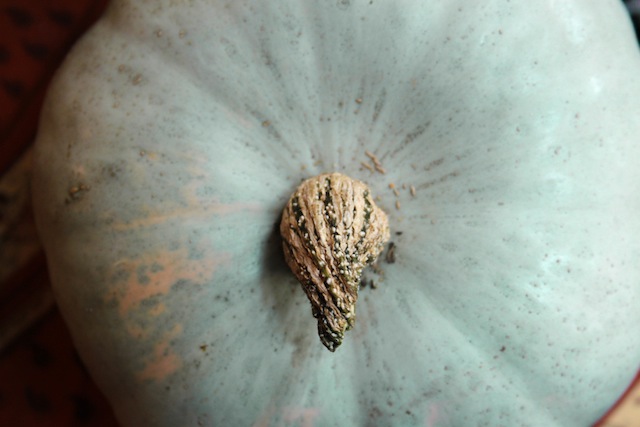 A few weeks or so ago, I was given a pumpkin, homegrown, heavy and green-skinned. It has been my table decoration for weeks, next to the wicker basket of fruit, the pitcher cum vase from the flea market that never seems to be full of flowers, the tea cup full of sugar – reminding me on my harried travels here and there that no matter how much there is to do, there's really no rush; a pumpkin will wait for you.
I love that in the midst of the chill of fall, the quickening dark as winter comes closer, nature presents some of her most brilliant colors. That's some sort of a reminder too. The inside of a pumpkin glows like two halves of sunshine. It's so enticing, you almost want to eat it raw. But the pumpkin likes to wait, and to convince it to open up to you, you must promise it your time.
It takes a while to prepare a pumpkin. You must undertake the task of cutting into it, and a pumpkin is no pear. It requires a large knife and an even larger amount of elbow grease. Once the pumpkin is halved it must then be quartered and then each quarter halved again until the pieces are small enough to fit in your hand. Then you must peel each piece and then you must begin the slow work of cutting the pumpkin into cubes. But you have promised the pumpkin your time.
When it is all cubed and sitting in a pretty bowl like a pile of jewels, then you must cook it. Perhaps you'll make a pasta or a pie or a soup. I made a curry. The fragrant sizzle of garlic, shallot and ginger in a hot skillet with the funky musk of fish sauce. Onions and pumpkin, cooked until soft, simmered in coconut milk, served over steaming basmati rice. One half of a pumpkin and your time and you're given enough to feed five. The pumpkin really is its own cornucopia. The pumpkin is generous.
Thai Pumpkin Curry
While I do use a bit of pre-made curry paste in this recipe, and you could, of course, substitute the whole first half of the ingredient list with a jarred paste, I feel that purchased paste becomes much richer when you add to it with fresh ingredients, though many of them are already found in some form or other in the jar.
1 stalk lemongrass
1-inch piece of peeled ginger
1 clove garlic
1 shallot
1 tbsp. fish sauce
1 tsp. brown sugar
1 tbsp. Thai green curry paste
1 tsp. cumin
½ tsp. coriander
1 tsp. salt
1 tbsp. Sriracha or other similar hot sauce
Vegetable oil
1 yellow onion
4 cups cubed fresh pumpkin
¼ cup water
1 ½ cups coconut milk
1 tbsp. butter (opt.)
Finely dice lemongrass, ginger, garlic, and shallot. Add fish sauce, brown sugar, green curry paste, cumin, coriander, salt, and Sriracha and mix all ingredients together until you form a smooth paste. If you had cilantro on hand, which I did not, you could also add a handful of finely chopped cilantro leaves and stem to the homemade curry paste for a lovely addition.
Heat vegetable oil in the bottom of a large skillet or frying pan. Add curry paste and sauté until fragrant, about two minutes. Add onion and sauté for another minute, until the onion is translucent. Add your raw pumpkin and toss the cubes in the paste until the paste has been evenly distributed. Sauté uncovered for five minutes, or so, then add water, cover the skillet and turn the heat to medium-low.
Allow the pumpkin to cook, stirring every now and then until the cubes are soft enough that a fork easily slides into them, about 15 minutes depending on your pumpkin. Add coconut milk, stir and cover. Set heat to low and simmer for 15 minutes, stirring occasionally until pumpkin is completely cooked. I had a very soft, homegrown garden pumpkin that fell apart when I stirred it. Your pumpkin might stay cubed, and that's ok. If your pumpkin falls apart like mine, I would recommend adding a bit of butter to really eke out all of the creaminess. Allow butter to melt completely, then serve curry over white rice.
Comments