How to Make Your Co-Workers Jealous, the Salad Edition: Roasted Sweet Potato and Salmon Salad
May 13, 2013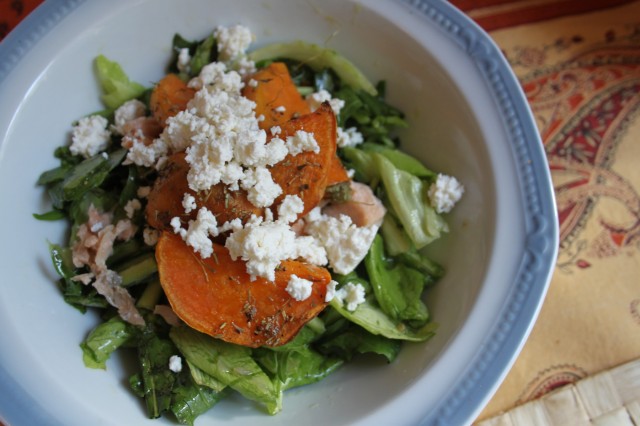 Pre-packaged salad sucks. I know, because I work in a part of town where the lunch options are neither pretty nor cheap and very rarely healthy. A pre-packaged salad from the grocery store looks sad with its already wilting lettuce, mealy tomatoes, uniformly cubed cheese, and waxy kernels of corn recently freed from a canned prison. And a good-looking salad from that organic café down the street will set you back a whole 10€. So I've taken to bringing my own salad to work.
I think we often get stuck in a salad-is-boring state of mind. It's just lettuce and vegetables. But a finely crafted salad can be as interesting as any other entrée. What about a salad that balances fruits and nuts, pecans and sweet pear with tangy blue cheese – or a salad that substitutes stale bread for lettuce, but is softened with olive oil and feta and tomato. Or what about a salad made from strips of bologna, spiced up with cracked kernels of black pepper and pepperoncini?
And even if you don't have much to stuff your salad with, you surely have the ingredients on hand to create myriad salad dressings.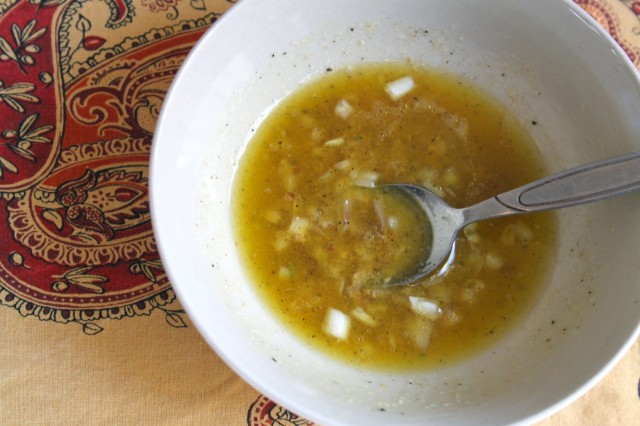 This simple salad is one I brought to work the other day. There wasn't too much prep involved, it didn't cost that much to make – and yet, it was the best looking lunch on the table that day.
Roasted Sweet Potato and Salmon Salad
For the salad:
1 sweet potato
olive oil
Herbs de Provence
Boston Bibb lettuce
Dandelion leaves
2 tbsp. crumbled canned salmon
1 tbsp. crumbled feta cheese
For the dressing:
Juice of ½ lemon
1 ½ tbsp. olive oil
½ tsp. rice wine vinegar
1 small, finely chopped shallot
½ tsp. palm honey
½ tsp. Dijon mustard
Salt and pepper to taste
Preheat oven to 375°F. Peel a sweet potato, halve it, and slice into ½-inc discs. Place the sweet potato in a roasting pan, drizzle with olive oil and herbs de Provence and roast for 30 min. or until tender.
Meanwhile, wash and chop lettuce and dandelion leaves and set aside in a colander to drain.
Make your salad dressing by whisking all ingredients together. Transfer lettuce to a serving bowl and toss with dressing to evenly coat. Top with a few slices of roasted sweet potato, salmon, and crumbled feta.
Note: To make this salad for work, pack one Tupperware with lettuce, sweet potato, salmon, and cheese, and another small Tupperware with the dressing. Toss your salad when you get to work.
Comments