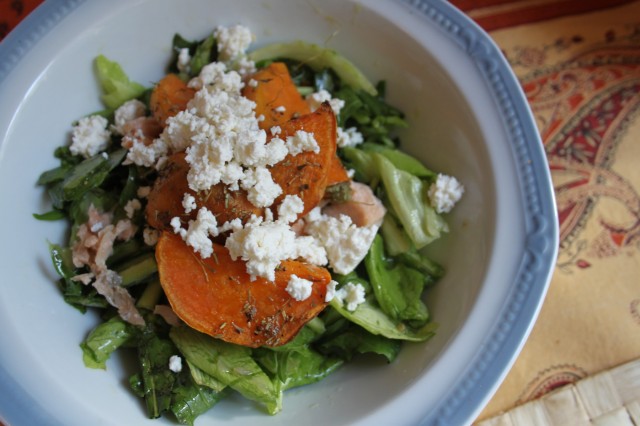 Pre-packaged salad sucks. I know, because I work in a part of town where the lunch options are neither pretty nor cheap and very rarely healthy. A pre-packaged salad from the grocery store looks sad with its already wilting lettuce, mealy tomatoes, uniformly cubed cheese, and waxy kernels of corn recently freed from a canned prison. And a good-looking salad from that organic café down the street will set you back a whole 10€. So I've taken to bringing my own salad to work.
I think we often get stuck in a salad-is-boring state of mind. It's just lettuce and vegetables. But a finely crafted salad can be as interesting as any other entrée. What about a salad that balances fruits and nuts, pecans and sweet pear with tangy blue cheese – or a salad that substitutes stale bread for lettuce, but is softened with olive oil and feta and tomato. Or what about a salad made from strips of bologna, spiced up with cracked kernels of black pepper and pepperoncini?
And even if you don't have much to stuff your salad with, you surely have the ingredients on hand to create myriad salad dressings. » Continue reading this post...