Bread/Love/Bread: A Few Sandwich Recipes
June 19, 2012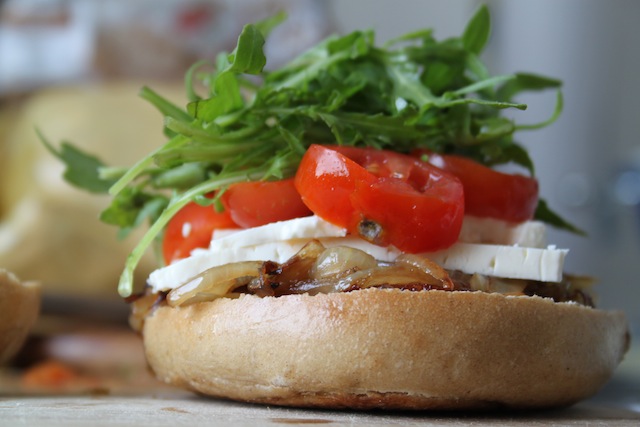 I've been in sandwich mode again. How could I have forgotten what a lovely lunch it is: curried chicken or ripe tomatoes and basil, crumbled feta or camembert, peppery arugula, spicy mustard, caramelized onions or chopped olives… All stuffed between two warm, toasted slices of bread.
Sandwiches are like edible hugs. Right arm, left arm; top bread, bottom. Only good things in the middle.
Caramelized Onion and Tomato Sandwich
1 yellow onion
1 tbsp. olive oil
1 tsp. brown sugar
pinch of salt
1 cinnamon bagel
3 sliced cherry tomatoes
Handful fresh arugula
3 slices feta
Thinly slice onion into rings and do a quick caramelize: heat oil in a skillet, add onion and brown sugar plus a pinch of salt. Sauté on medium heat until onion is deep brown and looks melted. In the meantime, toast cinnamon bagel (preferably one you've gotten for free from a tray of dumpster-dived baked goods after the bartender has spilled an entire beer on you and given you complimentary tequila shots. But a regular cinnamon bagel could be good too…) and prepare the rest of the ingredients: sliced cherry tomatoes, a handful of fresh arugula (washed, bottom of the stem removed), and a few slices of feta. When the onions are done: assemble.
Curried Chicken and Raisins on Ciabatta
1 tbsp. vegetable oil
1/4 cup thinly sliced chicken breast
1 tsp. curry powder
1/2 tsp. turmeric
1/2 tsp. berbere
1/2 tsp. cumin
1 tbsp. golden raisins
1/4 cup tomato sauce
1/2 red pepper
1 tomato
Juice of 1 lime
Salt & pepper, to taste
Sliced red onion
Lettuce
Ciabatta roll
Heat oil in a skillet. Add thinly sliced chicken breast, curry powder, and a healthy pinch of the following spices: turmeric, berbere, cumin. Add a handful of golden raisins to the skillet. When the chicken is cooked through, add tomato sauce (or crushed tomatoes, pureed tomatoes, etc.) and simmer on low for five minutes. In the meantime, coarsely chop red pepper and tomato. Add lime juice, salt, and freshly cracked black pepper. Prepare other ingredients: a few rings of thinly sliced red onion, lettuce leaves. Toast a split ciabatta roll. Assemble.
Egg, Cheese, and Pesto Sandwich
1 tbsp. butter
1 egg
Sliced piquant white cheese
1 tbsp. chopped parsley
2 tsp. pre-made pesto
2 slices bread
Melt butter in a skillet. Crack egg into the skillet – cook it over-easy so that the yolk is still deliciously runny. Prepare other ingredients: sliced white cheese (I used Allgäuer Bergkäse, similar to an Emmenthaler), chopped parsley, pre-made pesto. Toast 2 slices of bread (this one is carrot-studded). Assemble.
Comments