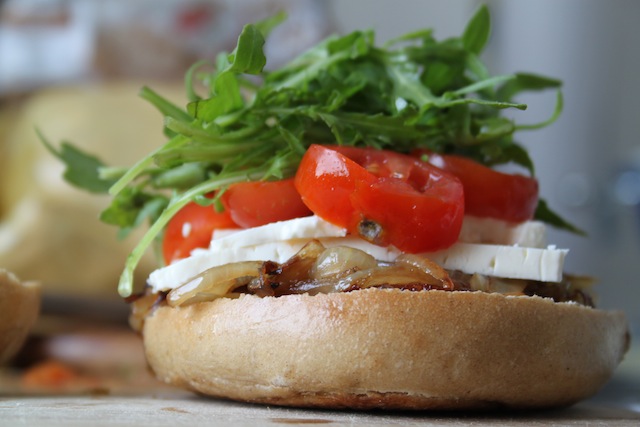 I've been in sandwich mode again. How could I have forgotten what a lovely lunch it is: curried chicken or ripe tomatoes and basil, crumbled feta or camembert, peppery arugula, spicy mustard, caramelized onions or chopped olives… All stuffed between two warm, toasted slices of bread.
Sandwiches are like edible hugs. Right arm, left arm; top bread, bottom. Only good things in the middle.
Caramelized Onion and Tomato Sandwich
1 yellow onion 1 tbsp. olive oil 1 tsp. brown sugar pinch of salt 1 cinnamon bagel 3 sliced cherry tomatoes Handful fresh arugula 3 slices feta
Thinly slice onion into rings and do a quick caramelize: heat oil in a skillet, add onion and brown sugar plus a pinch of salt. Sauté on medium heat until onion is deep brown and looks melted. In the meantime, toast cinnamon bagel (preferably one you've gotten for free from a tray of dumpster-dived baked goods after the bartender has spilled an entire beer on you and given you complimentary tequila shots. But a regular cinnamon bagel could be good too…) and prepare the rest of the ingredients: sliced cherry tomatoes, a handful of fresh arugula (washed, bottom of the stem removed), and a few slices of feta. When the onions are done: assemble.
» Continue reading this post...