In die Weihnachtsbäckerei: Gingersnaps
December 10, 2011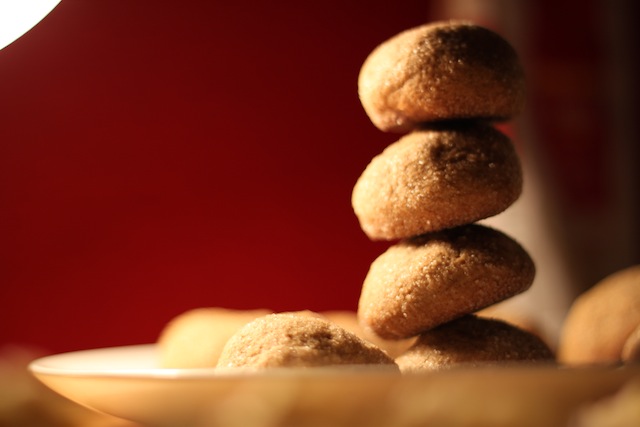 I don't know if this is a thing – whether a whole nation inflicts this on their children, or just my family – but I'm reminded of it every now and then. Like the refrain to Feliz Navidad or the Wrigley's doublemint gum commercial, the words appear in my head on repeat, and I feel an overwhelming desire to reach for the nearest person, grab their arm with both hands, pump it vigorously so the limb (preferable a fleshy part) rumples back and forth, while chanting, "Butter stampfen, Butter stampfen!" – which roughly translates to "churning butter, churning butter!"
Growing up, you never knew when a Butter stampfen attack was about to happen. Bare arms were extremely vulnerable. Maybe it sounds awful – but I suppose it's one of those inexplicable childhood joys that involves shrieking and faux escaping, and joy at finally being caught. Butter stampfen, like the German version of steamroller.
That long lead-in story is mostly irrelevant (as most randomly remembered childhood moments are). But I thought of Butter stampfen the other day, while Elisabeth and Sophie and I were making Christmas Plätzchen – like cookies but smaller and cuter. Maybe because baking cookies is such an ingrained childhood Christmas memory. Then again, it could just have been because there was butter involved.
My other hypothesis is that it was because we were playing the god-awful Christmas song, In die Weihnachtsbäckerei (In the Christmas Bakery) and one good Ohrwurm inevitably leads to another. (Another irrelevant, yet interesting side note: the Germans have a great word for songs that get stuck in your head – Ohrwurm – which literally translates to "ear worm.")
Plätzchen backen during Advent is a true German tradition, much like baking cookies at Christmastime in America. It seems that the world over, people love to be fatties for the holidays. Everybody makes Plätzchen with everybody else and then brings boxes of Plätzchen to other people, taking boxes of Plätzchen home in return. And everywhere, everywhere is full of Plätzchen. I am eating Plätzchen right now.
Another side note: the German word for "to pop" is platzen. I don't know, but it sounds suspiciously like Plätzchen to me.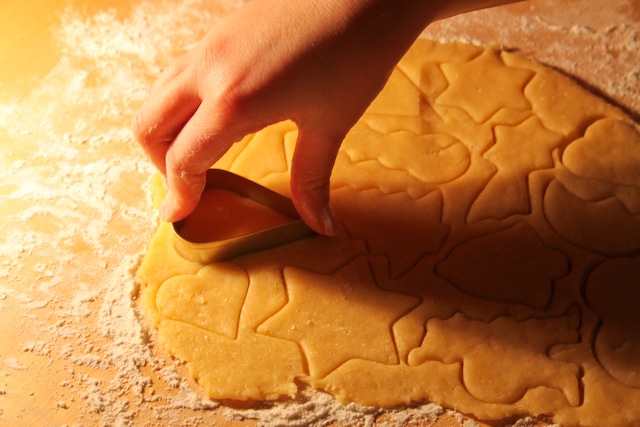 There are many traditional Christmas Plätzchen, gingerbread-like Lebkuchen, Springerle dense with anise, vanilla-almond half moons with powdered sugar, sugar cookies with colorful glazes, airy, macaroon-like nubbins.
Though not traditionally German, my absolute favorite cookies are my mother's gingersnaps. Dense, chewy, sweet with cinnamon and molasses, crusted with sugar. They must absolutely be dunked in milk, where the cookies, hardening as they cool, crumble into sugary bits, soft with the cold milk.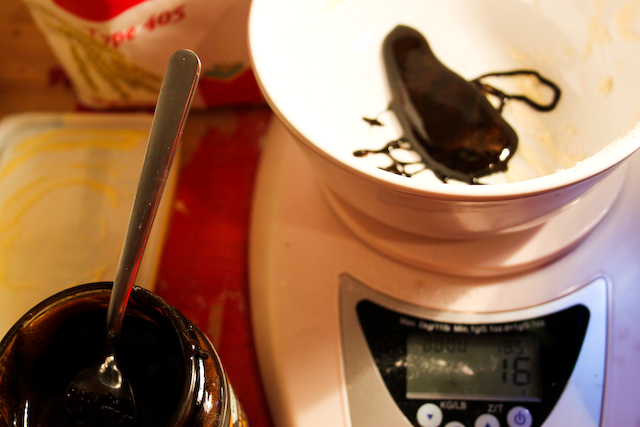 I couldn't conceive of Christmas cookies without gingersnaps, so I emailed my mother to ask for the recipe. She almost didn't want to give it to me, as though making the cookies myself symbolized my growing up, for no longer needing her in the same way. I, too, felt reluctant to take the recipe – I could never imbue the gingersnaps with as much love, making them for myself as she could, making them for me.
But I took the recipe, since, after all, I wasn't making them only for myself, but for others. Just adding another link to the cookie-love-chain.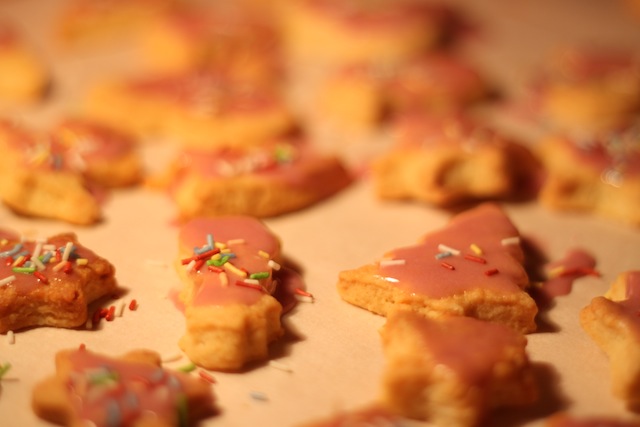 So we listened to awful Christmas music and drank Glühwein – hot, spiced wine flavored with oranges, cinnamon, and cloves. We were a veritable cookie-making factory: the gingersnaps, sugar cookies with Glühwein icing, butter-almond moons, and lemon-rum muffin-cake inventions lovingly dubbed, "disasters."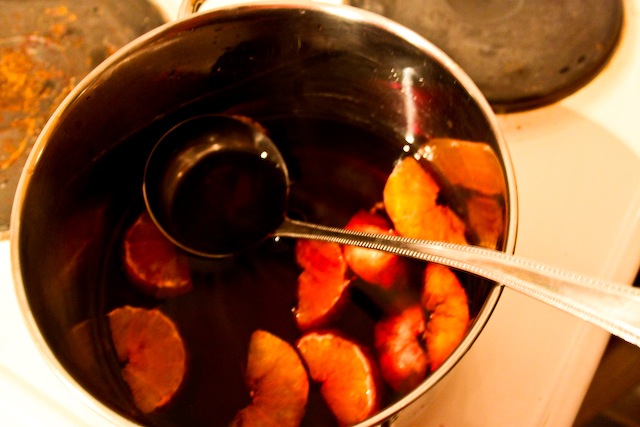 We ate Plätzchen all night long, took home bags of them, and are still eating them. We'll probably be eating them through to New Years – especially since the Plätzchen baking is really just getting into full-swing now. I'm going to another Plätzchen baking party right before I fly back to the states for Christmas. And when I get home, I'm going to make my mother bake a plate of gingersnaps for me.
Gingersnaps
2 c sifted flour
1 tbsp ground ginger
2 tsp baking soda*
1 tsp cinnamon (but be generous)
½ tsp salt
¾ c butter
1 c sugar
1 egg
¼ c molasses
Sift dry ingredients together. Cream butter and sugar, then add egg and molasses. Stir in flour mixture. Shape dough into balls and roll in additional sugar. Place on cookie sheet and bake at 350 for 10-15 minutes.
*If you substitute baking powder for baking soda, like I did since there appears to be no baking soda in Germany, your cookies will turn into puffy little ginger mounds – and will need an extra 15 min in the oven. I recommend finding the baking soda.
Comments