A Weekend in the Uckermark:
Breakfast Salad
August 20, 2020
Breakfast salad is a revelation. A weird one, perhaps. One of which I was incredibly skeptical, in fact. While I was eating it, actually. But like other things you're not quite sure about while you're in the middle of eating them – for me: kombucha, mango pickle, preserved lemons, fermented radish – once you've stopped eating them, all you can think about is eating them again.
I came to breakfast salad this past weekend, on a retreat in the Uckermark, a district in Brandenburg just an hour's train ride north of Berlin. It was a spontaneous-ish trip with two of my dearest friends. For months, we'd been meaning to go somewhere together, and had even, after a long and wine-replete dinner, set a date in our calendars which we promptly forgot about until the week before we were set to go. Should we postpone again?, we wondered. Would we even find anything on such short notice?
For months, we'd been meaning to go somewhere together, and had even, after a long and wine-replete dinner, set a date in our calendars which we promptly forgot about until the week before we were set to go.
But in a fortuitous and last-minute turn of events, Taylor remembered that the boyfriend of her boyfriend's friend's friend runs a farm and guesthouse in the countryside, and he just happened to have an open weekend slot. So we wasted no time in booking train tickets to Angermünde, and met on the Hauptbahnhof platform in Berlin Friday evening laden with groceries – a basket of chanterelles and roast chestnuts for risotto, bulgur and feta and cherry tomatoes for a grain salad, sourdough starter and flour for pancakes, and an assortment of vegetable odds and ends – said Charlotte – for breakfast salad.
Odd, I thought, but did not comment.
We arrived in Angermünde after a stressful ride. Post-work rush hour on a beautiful summer weekend heading out of the city – we could have known. But the masked crowd thinned out after Bernau, and by the time we got off the train, we were past ready to wallow in the languid afternoon sun and watch the broad fields unroll outside the car window as Luca drove us from the station to the farm.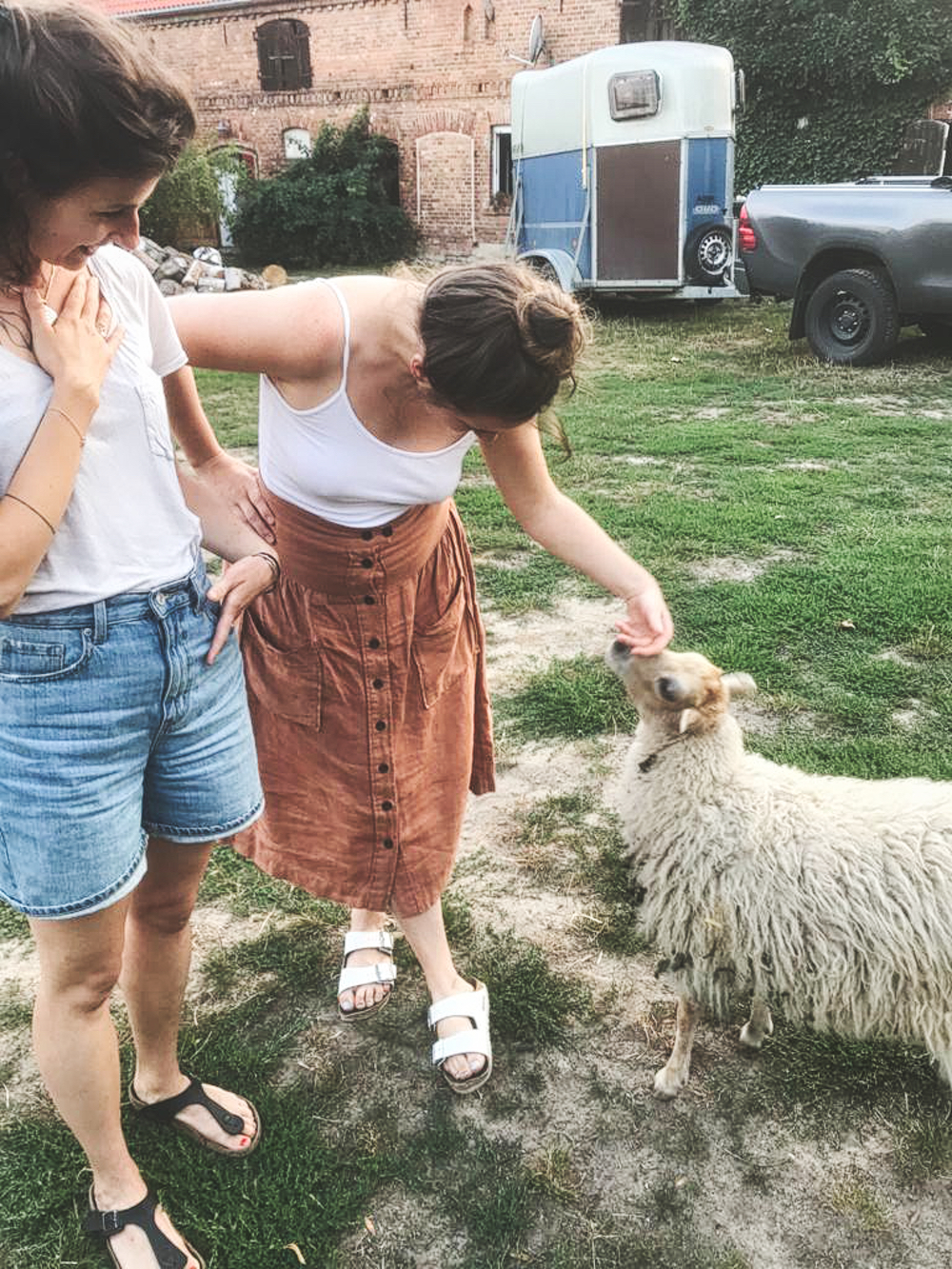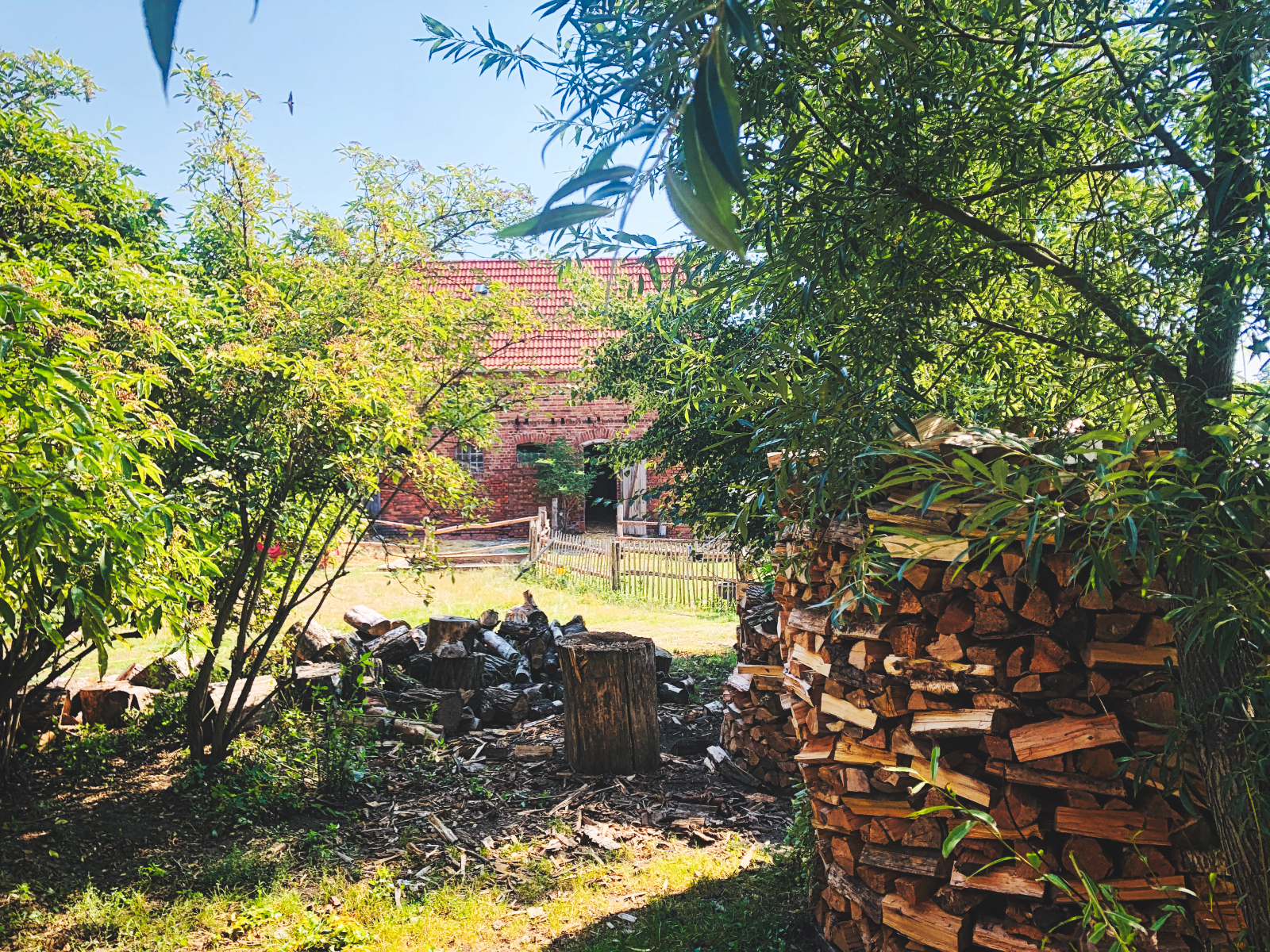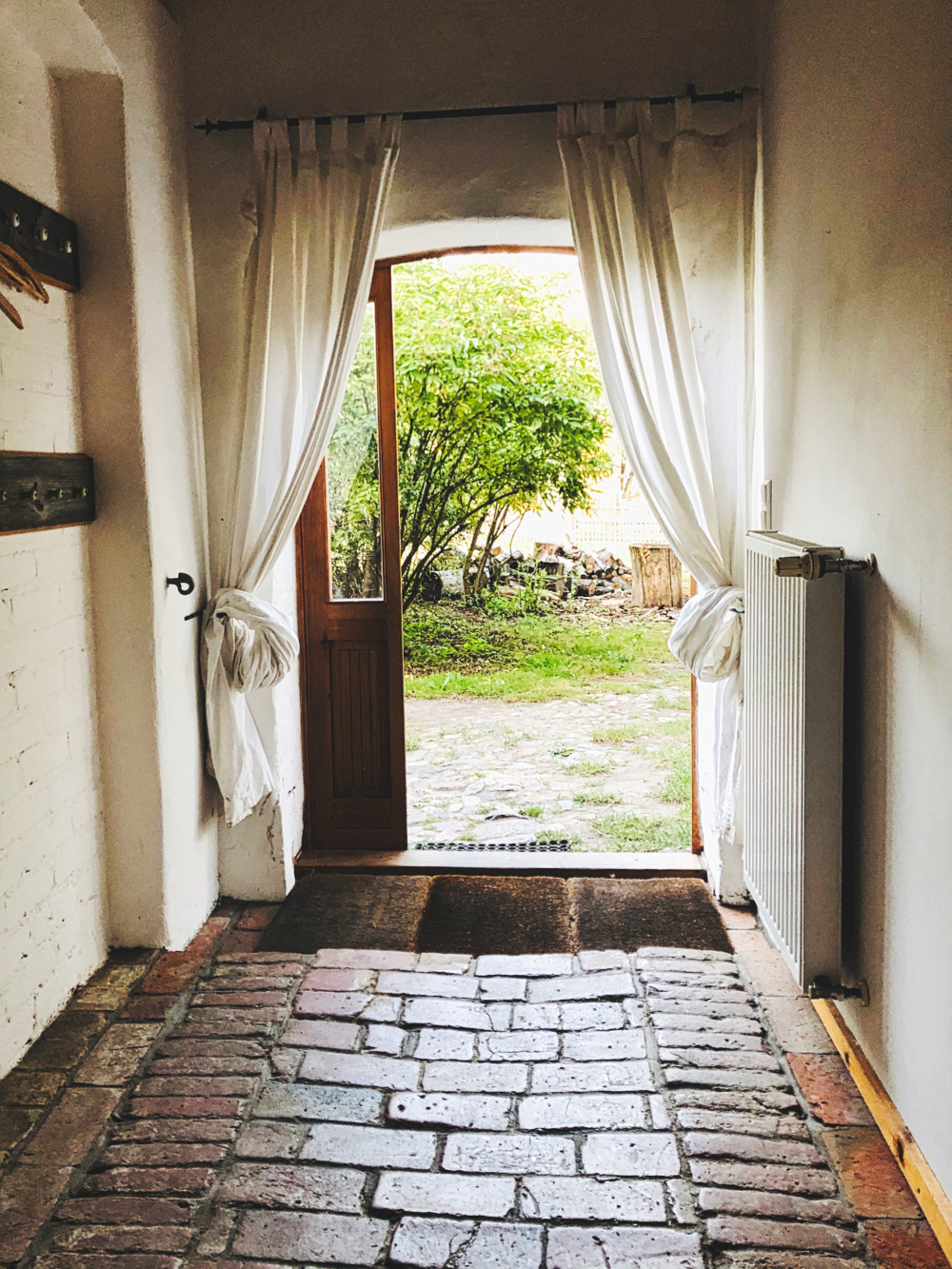 At the gate we were greeted by a small black sheep and a slightly portlier white sheep. The one they'd raised from the bottle, the other they'd gotten so the first "knew what it meant to be a sheep." Chickens gabbed from the open doorway of the barn beyond, and a waist-high Pointer bounded past.
The guesthouse, a converted old stable, featured a worn brick floor pounded smooth by a history of horse hooves. There were three bedrooms filled with wooden bunks, a kitchen, a dining room, and doors everywhere letting the lush outdoors in; in the backyard, a plum tree and a pear tree, in the front, a small table and chairs looking out at the barn, flowering bushes, and a woodpile.
It was already nearing eight, and so we set to work at once, caramelizing onions in butter and toasting risotto rice, letting the grains soak up wine, cleaning chanterelles. By the time dinner was on the table, we'd already musically moved from Cardi B to Phoebe Bridgers to reminiscing about Shania Twain, and I think we might have listened to "That Don't Impress Me Much" about five times on repeat before we thought it might be time for bed.
In the morning, we were woken by early sunlight streaming through the windows. I was up first and shuffled to the kitchen to make a pot of coffee. The smell and the sound of my pattering feet must've been enough to rouse Charlotte and Taylor, and after the first pot was drunk, outside in the morning sun, we started in on making breakfast.
I'd brought a small jar of sourdough starter with me to throw into a batch of pancake batter, plus bacon and tempeh sausages, butter and maple syrup. Breakfast food. But while my back was turned at the stove, Charlotte and Taylor were busy at work chopping vegetables, and when I turned around, a small salad had materialized. Chopped carrots, cucumber, and raw zucchini, tomatoes, radish, endive, shredded beetroot, walnuts. A squeeze of lemon and lime juice, salt, a healthy glug of olive oil. I raised an eyebrow.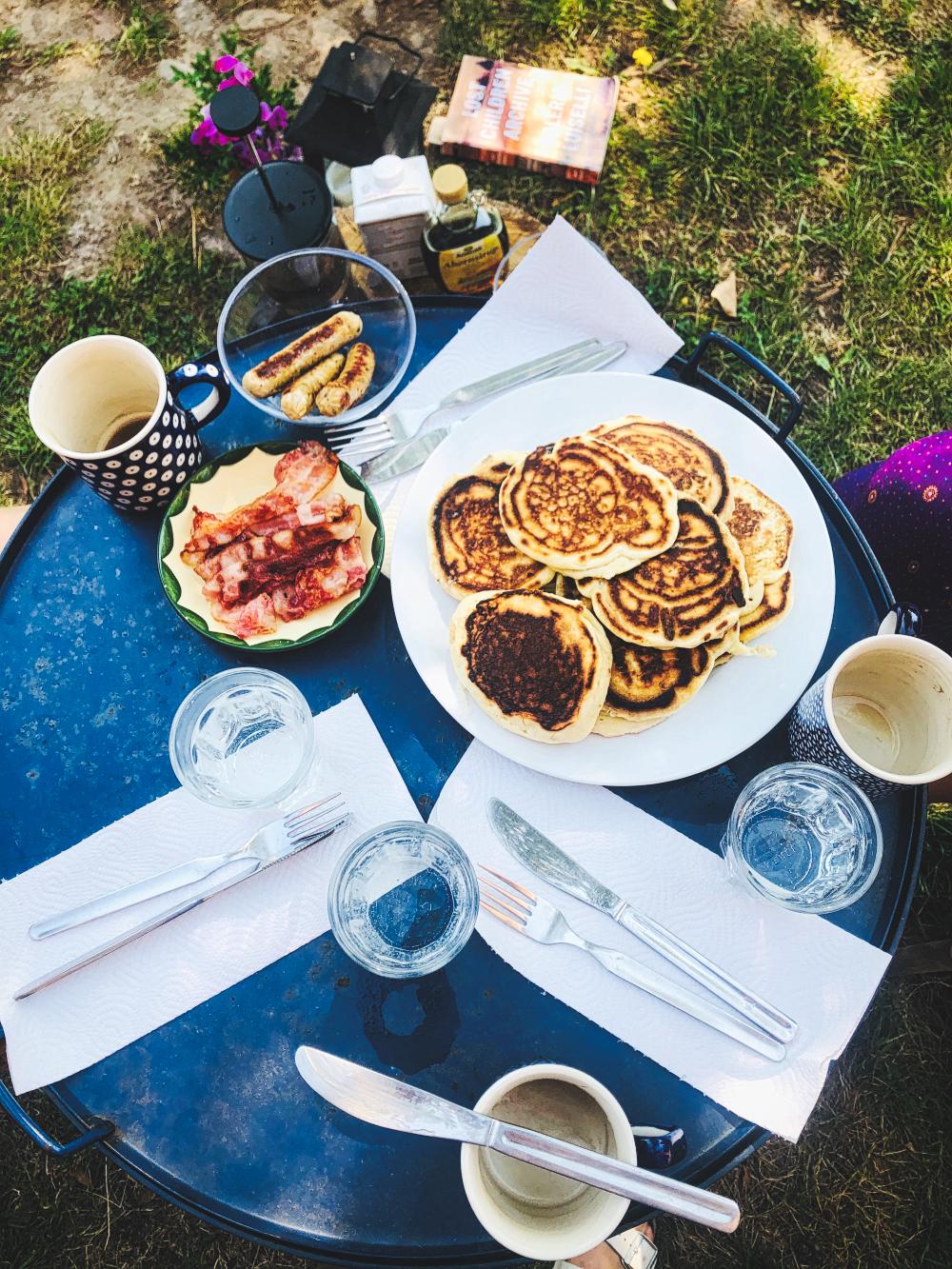 Sitting outside to eat, with a second French press steeping on a tree stump, we had the fluffiest pancakes, which I like best to eat with butter and maple syrup and a strip of nearly undercooked bacon. And then Charlotte passed around the bowl of breakfast salad. I took some. To be polite.
I don't know that anything eaten in that setting could have been bad. And the breakfast salad really was good – fresh and crunchy and just tart enough – but I couldn't struggling to wrap my mind around the concept. Charlotte had gotten into breakfast salad because her girlfriend had lived in Israel for a while, where it's not uncommon to start the day with raw veg. She too, Charlotte said, had been confused the first time her girlfriend started chopping carrots after getting out of bed, but in the meantime found it really helped with stilling mid-morning cravings and bypassing the unpleasant feeling a full breakfast of carbs and dairy often brings, that it was especially good drizzled with tahini and topped with a fried egg.
But vegetables and coffee? I asked. Skeptical still, even as I was enjoying the crunch, now gently suffused with the maple syrup left pooled on my plate from the pancakes.
The fried egg makes it work, she said.
Hmm, I said, fully convinced breakfast salad wasn't a thing I'd ever eat again.
The rest of the day slipped by gently. We sat in the sun and read, took a long and hot midday walk to a marshy swamp, past golden hills of threshed wheat and wispy swaths of fennel fields. When we passed a tree full of ripe, tiny yellow plums, I filled my pockets with them and spent the rest of our walk popping plumps between my teeth and spitting out pits.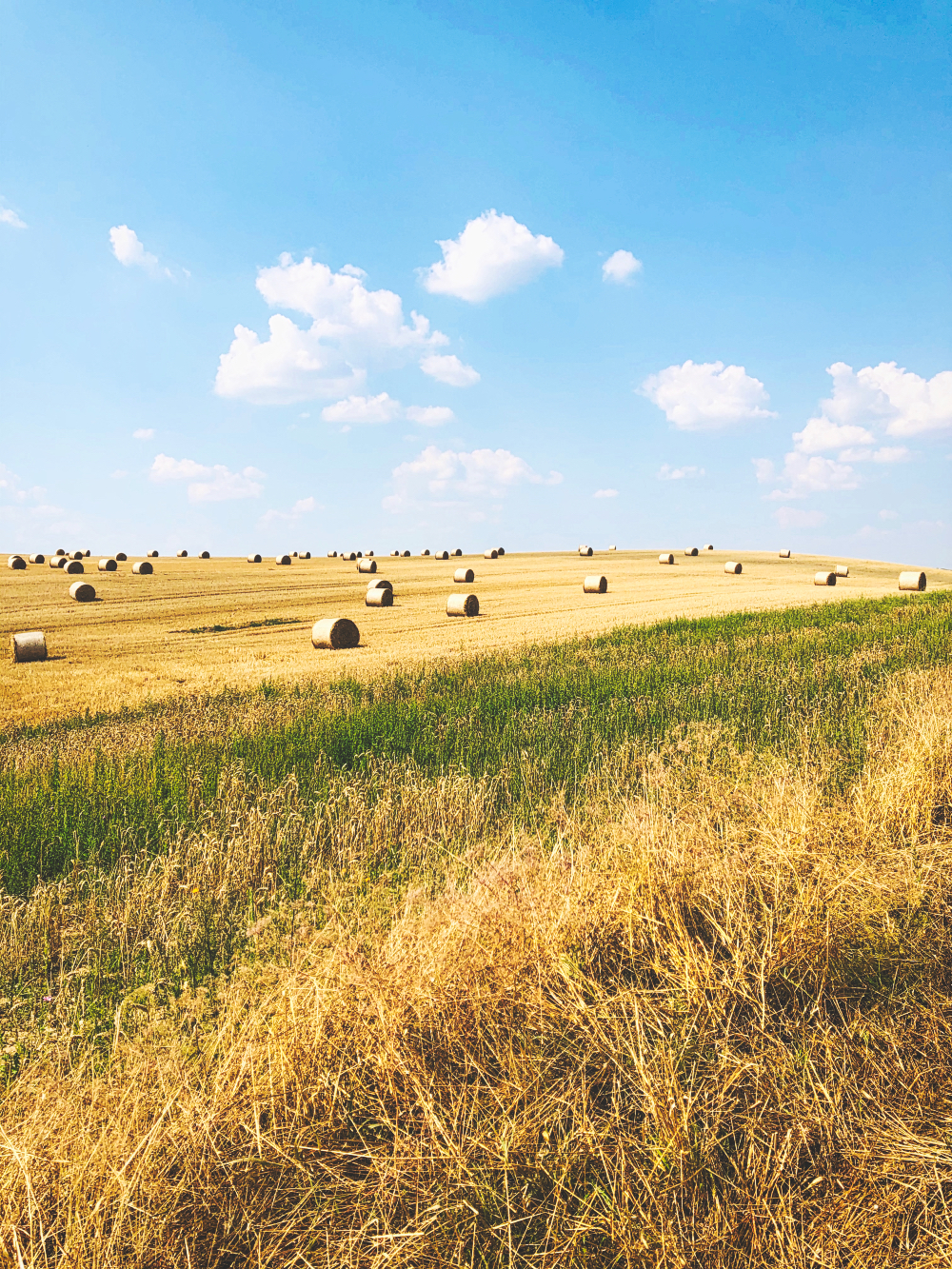 Footsore and sweaty and not a little thirsty, we stumbled home into the shade and back to our books. Luca mentioned he had some apple crémant from the orchard next door, and so he set it to chill on ice while we napped and talked and just generally felt like never going back to Berlin.
One of the two cats slunk by, demonstratively rolling in the grass at our feet and blinking his big green eyes. Invisible wood pigeons took up their distinctive hooting. The sun started to settle. And soon the mosquitoes were out and eager.
We made our way back inside to fry up the leftover risotto with chunks of feta cheese. We listened to quiet music. Sleepy. Content. Happy to go to bed early, curled into wooden bunks that reminded us of summer camp, feeling the dust and damp dirt on the pads of our bare feet.
We napped and talked and just generally felt like never going back to Berlin.
On Sunday, we heated up the remains of Saturday's pancakes and tossed the rest of the vegetable odds and ends into a salad, squeezing out the last little bits of juice from the lemon, the lingering drops of olive oil from the bottle. Of course we ate it outside, watching the farmyard bustle around us, delaying the moment we'd have to step back onto the train home.
It always takes less time than I expect to slide back into the same old. Work, humans, small cat, sleeping. Old surroundings, old habits. But Monday morning, I found that what I didn't want was my usual slice of toast with butter, honey, and cheese. I wanted something fresh, a reminder of a lazy weekend. I raised a skeptical eyebrow at myself, but like Charlotte said to do, I topped my mish-mash of fridge-found veggies with a drizzle of tahini and a fried egg and a sprinkling of crumbled feta. And I think it might be a new habit.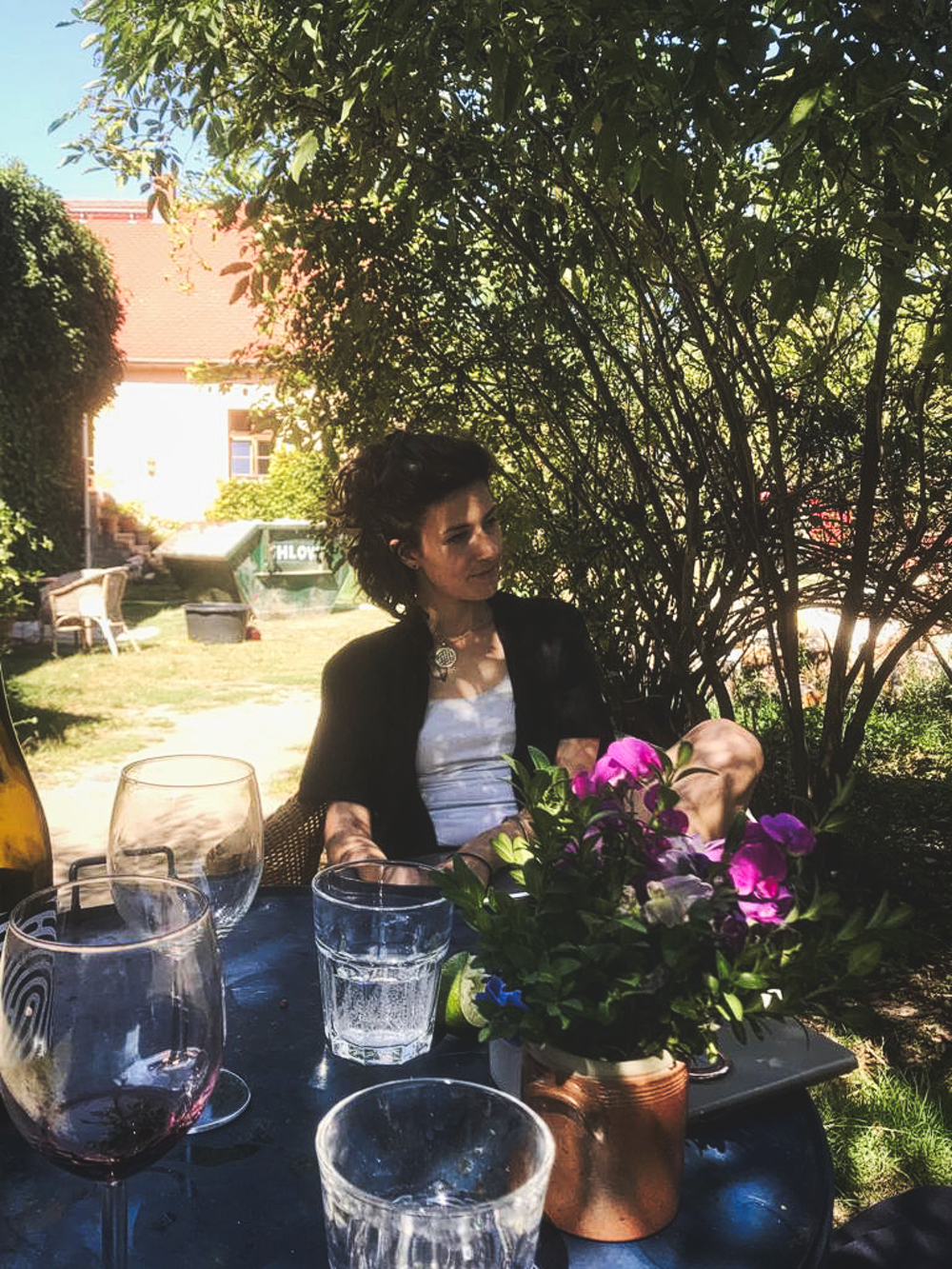 Breakfast Salad: A Casual Guide
I don't know that there's any use in writing out a measured recipe for breakfast salad, since it's really best when it's a surprising, hodgepodge mix of odds and ends. I think the only thing I might insist on is that breakfast salad feature no lettuce. But ask me in a few weeks. Maybe I'll have changed my mind.
Vegetable potentials:
Tomatoes
Cucumber
Radish
Carrot
Raw zucchini
Grated raw beetroot
Endive
Dressing:
Good quality extra virgin olive oil
Lemon juice
Maple syrup
Salt
Tahini
Topping ideas:
Fried egg
Feta
Smoked salmon
Walnuts
Sautéed spring onion
Roughly chop vegetables and drizzle with maple syrup, olive oil, salt, and lemon juice. Toss with your hands. Drizzle with tahini. Add desired toppings.
Comments