The Onsen at the End of the Earth
October 2, 2019
The onsen smelled of wood smoke and wet, salty heat. Our shoes we'd taken off inside the door, and they'd been quickly, quietly whisked away before we even realized they were gone. We let them go without much thought, mesmerized by the heavy stillness and dusky smoke. A man in a striped yukata walked past, skin shiny and red, a towel slung around his shoulders.
Hoshi Onsen sits in the midst of mountainous Gunma prefecture about two hours to the north of Tokyo. We'd been almost too cavalier with the directions, not realizing how lucky we were to have caught an earlier Tokyo-bound Shinkansen out of Kyoto until we were standing at an empty end-of-the-line bus stop in the middle of a sleepy mountain town where the Kanji-only schedule informed us that the next bus to Hoshi was the last bus of the day. It was 3:00 p.m.
To reach Hoshi, you take a Shinkansen north to the Jomo-Kogen station, a long and lonely building with just a few tracks, even fewer travelers, the ubiquitous convenience store, and a tiny, fluorescent-lit shop selling bowls of unadorned, yet excellent udon soup (which I know, because we ate some on the way out). From Jomo-Kogen, you catch an old white 30-seater bus that takes you up winding mountain roads, past small hamlets and mostly dense, dark trees, and then a wide slate-colored lake with a row of fluttering fish flags strung majestically across it from end to end. Half an hour gets you to the end of the line at Sarugakyo, and from there, you take an even smaller bus twenty minutes to the last stop on its line: Hoshi.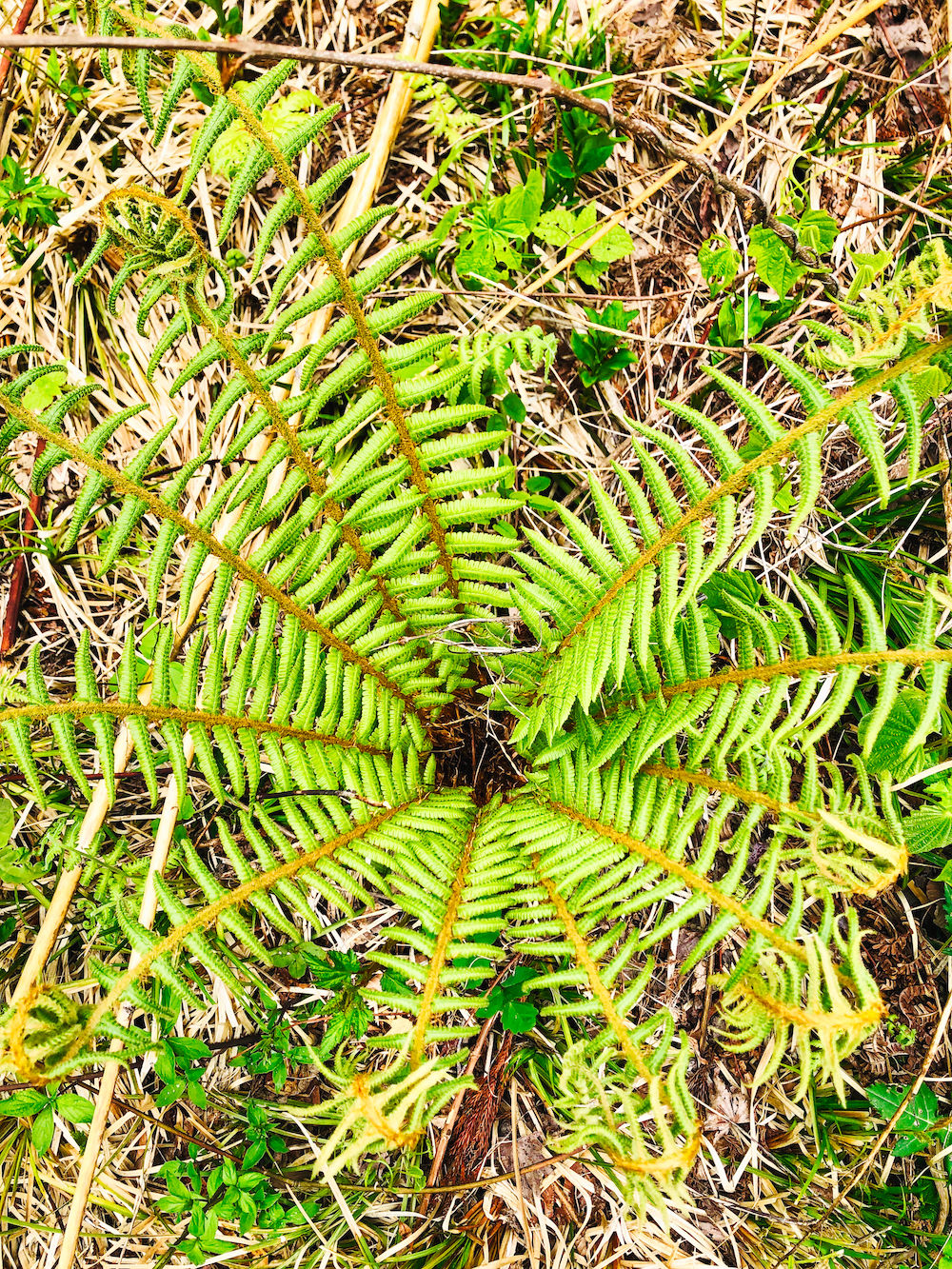 Somehow, we'd expected something more modern and gleaming, since our online search back in Berlin for an onsen near Tokyo had been limited to tattoo-friendly establishments. But as we stepped out of the bus and onto the crushed gravel walkway leading to the building's entrance, it felt as though we were walking towards a relic of the past, framed by the stormy mid-May sky.
Two large buildings connected by a bridge annex make up the combination onsen-ryokan. Its outer walls are dark and weathered wood; inside, the floors and walls are lined with a wood that's smooth and light, maybe pine, the whitewashed walls clean and sliced through with accents of wood and large windows made of both glass and paper.
Inside, the floors and walls are lined with a wood that's smooth and light, maybe pine, the whitewashed walls clean and sliced through with accents of wood and large windows made of both glass and paper.
We were given slippers and guided to our room through a labyrinthine maze of hallways and stairs. Once inside, we removed our slippers, meant only for navigating the onsen's halls, and pattered in our socks across the smooth wooden foyer. The floor of the living space was covered in tatami and featured only a low wooden table with cushions on either side. After dinner, someone would come to turn the space into a bedroom, setting out mattresses on the floor.
After being instructed to be back in our room by seven for dinner, we took off our clothes, slipped into our yukata robes and settled into what would be our routine for the next three days: go to the baths, spend spare coins on a massage in the massage chair, stroll the grounds, read a book, take a nap, go to the baths. We did not dress again until we left.
Japan being a volcanic island, the country, and especially the mountain regions are dotted with onsen – natural hot springs that have been converted to indoor and outdoor baths. Many onsen come complete with ryokan, traditional inns where meals are often included, which makes the bathing an especially luxurious experience.
Hoshi has three baths, the oldest 140 years old. In the mixed bath, where men and women bathe together, the sunlight filters dimly through the trees outside the tall windows. The wood inside is dark and looks wet. Most of the room is taken up by a large square pool of silky water, through which you can see the bottom of smooth black stones. Logs divide the pool into rectangular sections, which are large enough to hold four people comfortably – though there are rarely more than that in the entire bath. Bordering the pool is a wooden walk dotted with tiny stools, wooden buckets, and bars of soap so you can rinse off before slipping into the bath. The atmosphere is hushed, reverent; the heat intense. The dark water feels like a slick caress; the steam is hot enough to flush your face and send your heart pumping dizzily into your throat. Enough means sitting on the edge of the pool, legs dangling in the water and your chest steaming in the muggy air.
After another wonderful, punishing round, enough means toweling off in the changing room, belting your yukata once more, and sliding your feet back into slippers. And then, after a rest or a walk, you do it again, maybe in one of the other onsen, which are separated by sex. The Tamaki bath has a small indoor pool in a room completely paneled with cedar. Outside is a small grotto with a waterfall of lush, hot water pouring over it and large stones to sit upon. The Choju bath is intimate, its walls lined with pink tile and cypress wood, a wall of glass looking out on the verdant grounds.
Stretching out from Hoshi, trails lead along the burbling brook to waterfalls or lagoons or mossy stone paths. To stroll the grounds, we were given a pair of wooden clogs, the traditional two-tonged Japanese ones, making speed impossible. It was just after cherry blossom season, and here and there were cherry trees surrounded by a skirt of fallen pink. But other flowers were thickly in bloom, the ground carpeted in shrubs and ferns and mosses. Pleasantly hobbled, we never covered great distances on our walks, though on our loops through the woods we'd spot the edible herbs and plants making appearances on our table.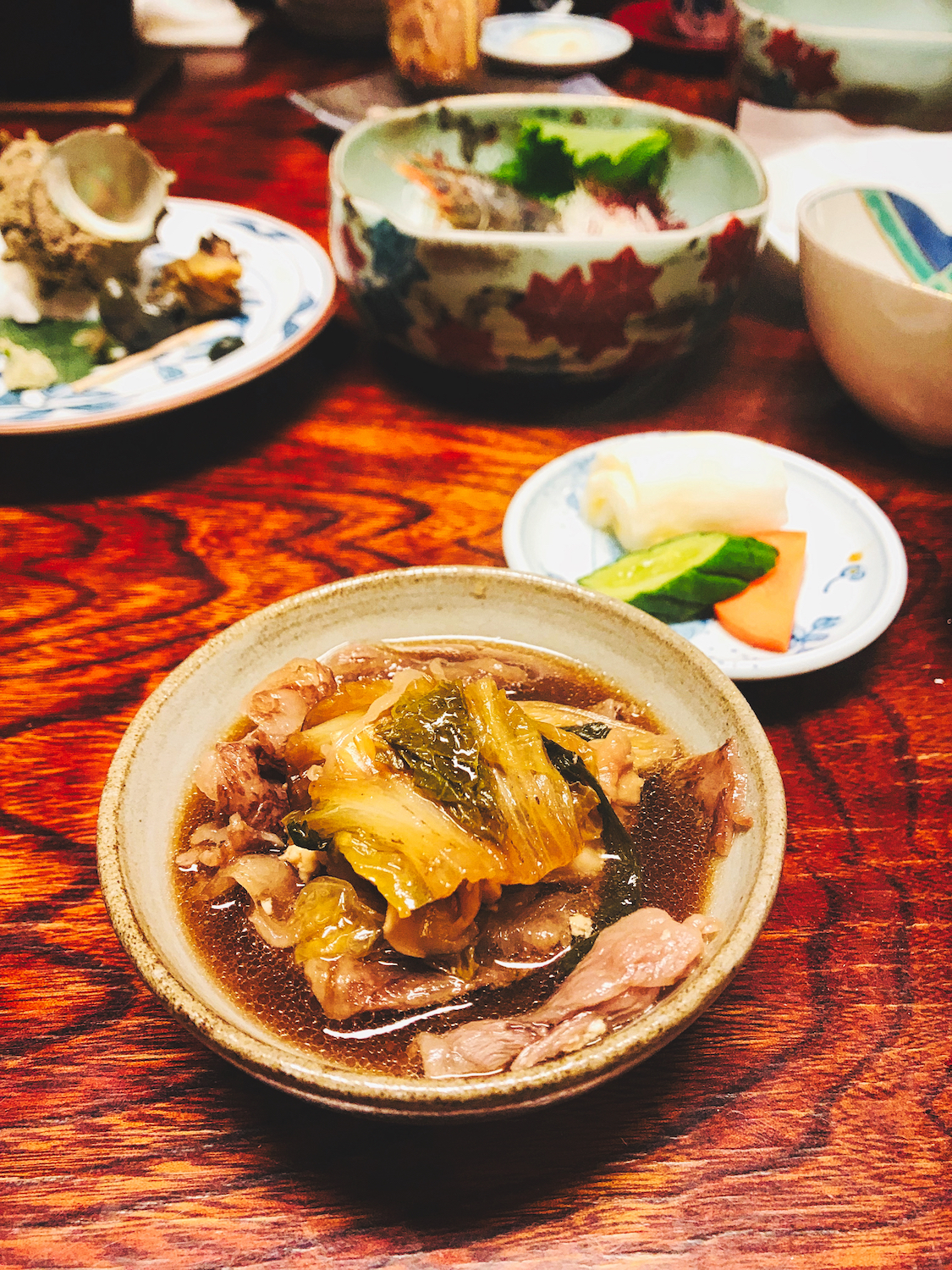 Every day, we were served breakfast and dinner in our room. Each was a multi-course, multi-dish affair of warm and cold food, fish, meats, soups, pickles, and seasonal vegetables foraged from the Minakami region. And always rice, as much rice as we could eat, each grain perfectly cooked.
A typical dinner included various sashimi like salmon, tuna, or urchin, braised vegetables, pressed tofu, bone broth hot pot with fatty pork and mushrooms, and an assortment of pickles followed by fried fish, tempura vegetables, and a warm broth with local ferns and bean sprouts. For breakfast, there'd be a poached egg in sweet soy sauce, mixed green salad, an assortment of small fermented fish, pickles like umeboshi plum and daikon and cucumber, orange slices, soy-glazed salmon, tofu in broth, strips of nori, and eggy porridge.
After every mealtime, it was back for another round in the baths. And in the afternoons, we'd stop for tea from the sunken hearth, where a large iron kettle full of water hung over an open flame flickering up from inside a sand pit. There, kneeling on cushions beside the hearth, we'd drink small cups of green tea and munch on a tea cake wreathed in the calming smell of woodsmoke.
There, kneeling on cushions beside the hearth, we'd drink small cups of green tea and munch on a tea cake wreathed in the calming smell of woodsmoke.
The day we left Hoshi, it was pouring rain. We had time for one last bath before catching the bus to the station, and I went to my favorite bath, the Tamaki grotto, where the sound of cool rain drizzling into the hot water mingled with the rushing sound of waterfall on rock. I wanted to feel the coldness of the rain against the heat of my body in the spring, so I sat outside.
For a while, I was alone. By the time I pulled up out of the water to cool down on a rock, my hair was soaked from rain, and as I slipped back in the water, I heard someone calling to me. An older woman wearing a conical straw hat was holding one out to me, gesturing to the rain falling on my head. To no avail could I insist my head was wet by choice; she insisted, and I donned the fragrant straw hat. In a mix of Japanese and halting English, she asked where I was from and how I'd managed to find my way here of all places.
In that gracious speech where two people who do not speak each other's language engage with hand symbols and forgiving phrases, we talked for a while as the rain beat down on the pool and her girlfriends came over to join us. They travelled to Hoshi once or twice a year all the way from south of Kyoto. It was the best onsen in all Japan. We were very lucky to have ended up here. And in all that conversation, who knows what all I said or what I really understood, but I couldn't help but agree that this was a magical place, maybe the most beautiful one in the world.
Comments