State of Affairs: Poor Writer's Fish Chowder
July 31, 2017
It's been raining nonstop for days. Apparently, we've had twice as much rainfall this July as the year before, and the month isn't even over yet. The weather seems hell-bent on tripling its record, sending down sheets in alternating waves of velvety drizzle and cascading downpour, and I'm becoming adept at discerning nuances in gray. There's the white-streaked gray that means a short reprieve is coming, and the bluish gray that means it's coming to an end. A dull, sodden gray means temperamental rain, and dark, voluptuous clouds against pale, rare blue promise brilliant thunderstorms that mean you'd better find a café to hide away in for a while.
I've been knocked out with a cold for the last two weeks, and I can't tell whether it's all this infernal rain and icky chill or if it's the mental strain that comes along with returning home from vacation and having to get your real life – and real life deadlines – back on track.
In any case, I haven't been this sick in a long time, though by now it's just lingering malaise and a wimpy-sounding cough, and I'm not sure it still justifies the excessive amount of time I've spent binge watching TV or the Game of Thrones theory sites rabbit hole I go down after every new episode airs.
For me, the worst symptom of sickness is guilt. It's bad enough to feel awful, but it's even worse to feel awful about feeling awful, to feel like I should go to work even when my body needs rest, to feel like rest is a waste of time, to ache as those hours of productivity slip by in sleep or as Netflix's deliciously evil Next episode airs in… countdown keeps me tied to the couch. It doesn't matter how vehemently I try to convince myself that recovery requires R&R – it only ever just feels like an excuse.
It's a real work in progress, trying to learn how to take it easy – and feel at ease doing so. I'm doing it in baby steps: for now, finding activities that tightrope between functional and fun, so I'm doing something productive, but don't overtax myself in the process. Like reading, which stimulates my brain in a way TV does not, or unhurriedly cleaning the apartment, which always seems to free my mind of cobwebs. Cooking is the same. There are always recipes to test and photographs to take, and when I'm sick, I tell myself that that's a full day's work – a win-win situation when the outcome also happens to be soup.
Berlin is not the best place to go through seafood withdrawal, especially when the seafood you crave is from Maine – delicate fish in perfect batter, mussels, oysters, and clams, not to mention all that freshly-caught lobster – but a warm, rich fish chowder felt like just the thing to bridge the gap between missing Maine, using cooking as a guilt-coping mechanism, and having something warm to help heal the sickness.
It was an experiment to be sure, since my closest grocery sold nothing even remotely crustacean-like and the best bet on fish was a frozen filet. But there's only so much expeditioning even a workaholic sick person will undertake, and I wasn't about to go traipsing through the city to find better, fresher fish. So it was imitation crab (heresy, surely) and frozen cod and some mysterious lobster bouillon I'd picked up in Maine – but since authenticity wasn't the point, I forged ahead anyway.
I was surprised by how good it was, how much it did manage to remind me of Maine. It conjured up visions of a humble, wooden cottage on the rocky coast, a fire in the hearth blazing against the chill to the sound of the crashing waves and the steady drizzle pinging out a melody on the roof.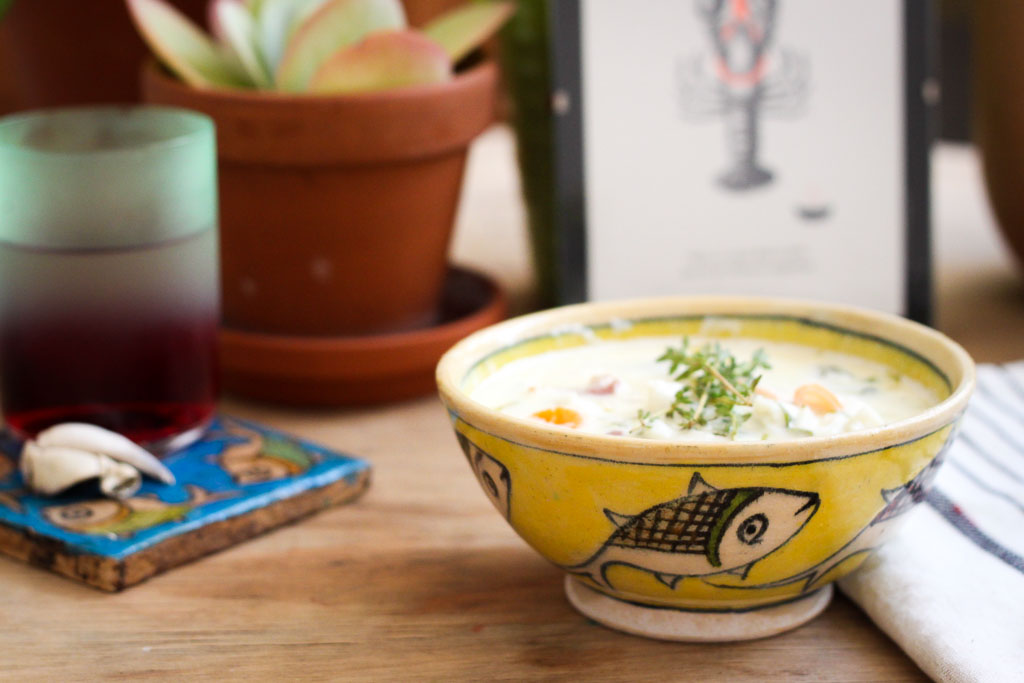 But maybe the sound of the rain I imagine is simply the sound of the rain outside, because it is, of course, pouring as I sit here writing this, wishing I still had a bowl of chowder left. Instead, I have a mug of medicinal tea doing its best to dispel that lingering cough and a candle emitting the earthy, sweet scent of hinoki wood I wish I could smell through my stuffy nose.
I find myself thinking: Why do I feel so much the worse for wear? Am I still working too hard? I look at my to-do list, and then I look back out at the ceaseless rain and think: today seems like a good day to get a little better at not feeling guilty. I'm already wondering what to cook.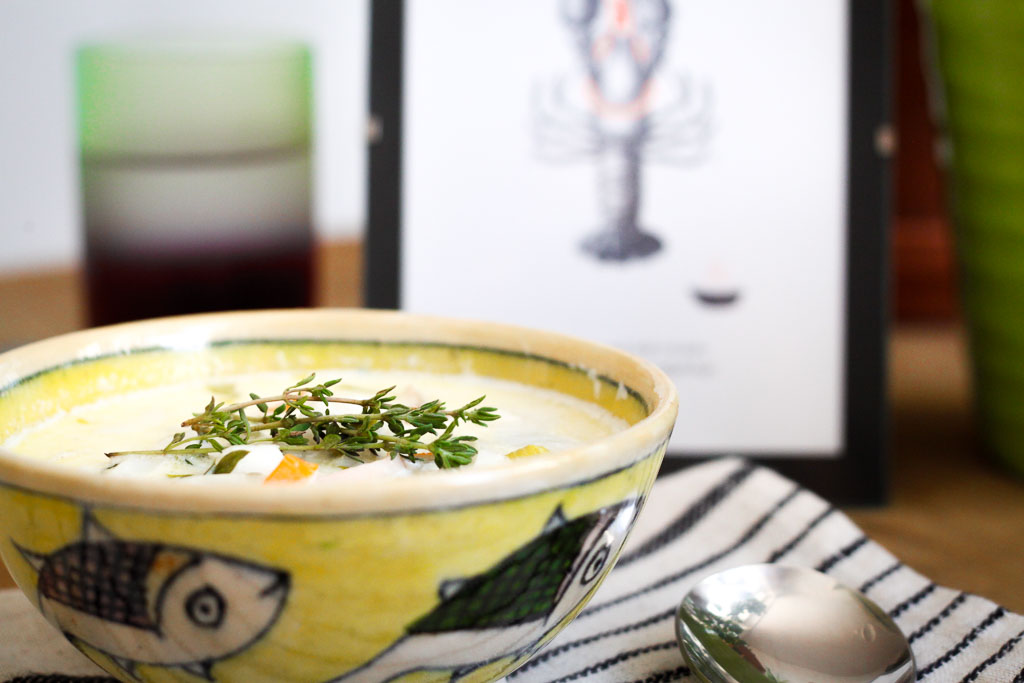 Poor Writer's Fish Chowder
Lobster bouillon is admittedly a novelty item – that fun and weird something I picked up on vacation in Maine. You can substitute fish bouillon, clam juice, or something along those lines – or just omit it entirely. Also, if you're not a poor writer, of course you can use real lobster instead of imitation crab or fresh haddock instead of cod. But in a landlocked pinch, this version does quite nicely.
2 tbsp. (15 g) butter
¼ cup (50 g) cubed bacon
2 stalks celery, plus leaves, finely chopped
2 small yellow onions, diced
¼ tsp. salt
¼ tsp. black pepper
3 medium-small russet potatoes, chopped
2 tbsp. lobster bouillon (opt.)
1 tsp. fresh thyme leaves
2 cups water
2 cups chopped cod and imitation crab
2 cups heavy cream
Melt butter in a large pot, and when bubbling, add bacon. When bacon is just starting to crisp, add celery, onions, salt, and pepper. Cook until the onion and celery has softened, then add potatoes, lobster bouillon, thyme, and water. Bring the mixture to a boil, then reduce heat to medium-low and simmer uncovered for 15 minutes, or until the potatoes are tender.
Add fish and imitation crab, cover, and simmer for 5-7 minutes, or until the fish is cooked through. Add cream and simmer for another 5-7 minutes.
Comments