The Wolf & Peter
April 24, 2016
You know you've done a good thing when in the midst of that thing – that's been driving you crazier than any other thing you've ever done – you think, I wonder if we could get that moonshine distillery to work with us for the next one.
Two weeks ago, my friend Anna and I co-hosted our first-ever supper club, a ten-course tasting menu featuring paired beers from Vagabund brewery. Twenty-five guests spent a dusky spring evening inside Berg Burg Studio, talking and laughing, feasting on a menu of Swedish fusion cuisine as the sun slowly set and the subway rumbled past the vast windows.
We'd tested our menu for weeks, getting together on weekends and evenings to cook through dish after dish: Swedish-style deviled eggs garnished with caviar alongside home-pickled herring and dill & caraway schnapps. Butter herbed with parsley, chive, and sage melting into warm seed and nut rolls. Baby spinach tossed with shaved fennel, orange, and pomegranate seeds with tart Dijon-citrus dressing. Lamb tacos with roasted sweet potatoes, caramelized onions, lemon-tahini dressing, and cinnamon-toasted pecans. Red beet and apple salad with parsley and mint. A duo of white chocolate bark with basil and lime and dark chocolate bark with pretzels, almonds, and sea salt served with vanilla schnapps. Sea salt and caraway crackers with sharp white cheddar and plumion (plum & red onion) jam. Juniper-infused moose meatballs with lingonberry sauce and fresh thyme. Spring rabbit braised in cherry beer with honey-lemon roasted carrots. And finally, after all the endless eating, crisp gingersnaps topped with a scoop of bourbon-vanilla ice cream and cardamom-raspberry coulis.
But hosting a supper club is more than just cooking and eating your way through a mountain of moose someone's uncle shot on a Swedish hunting weekend. Hosting a supper club comes along with a mire of marketing and logistics neither of us really knew we were signing up for.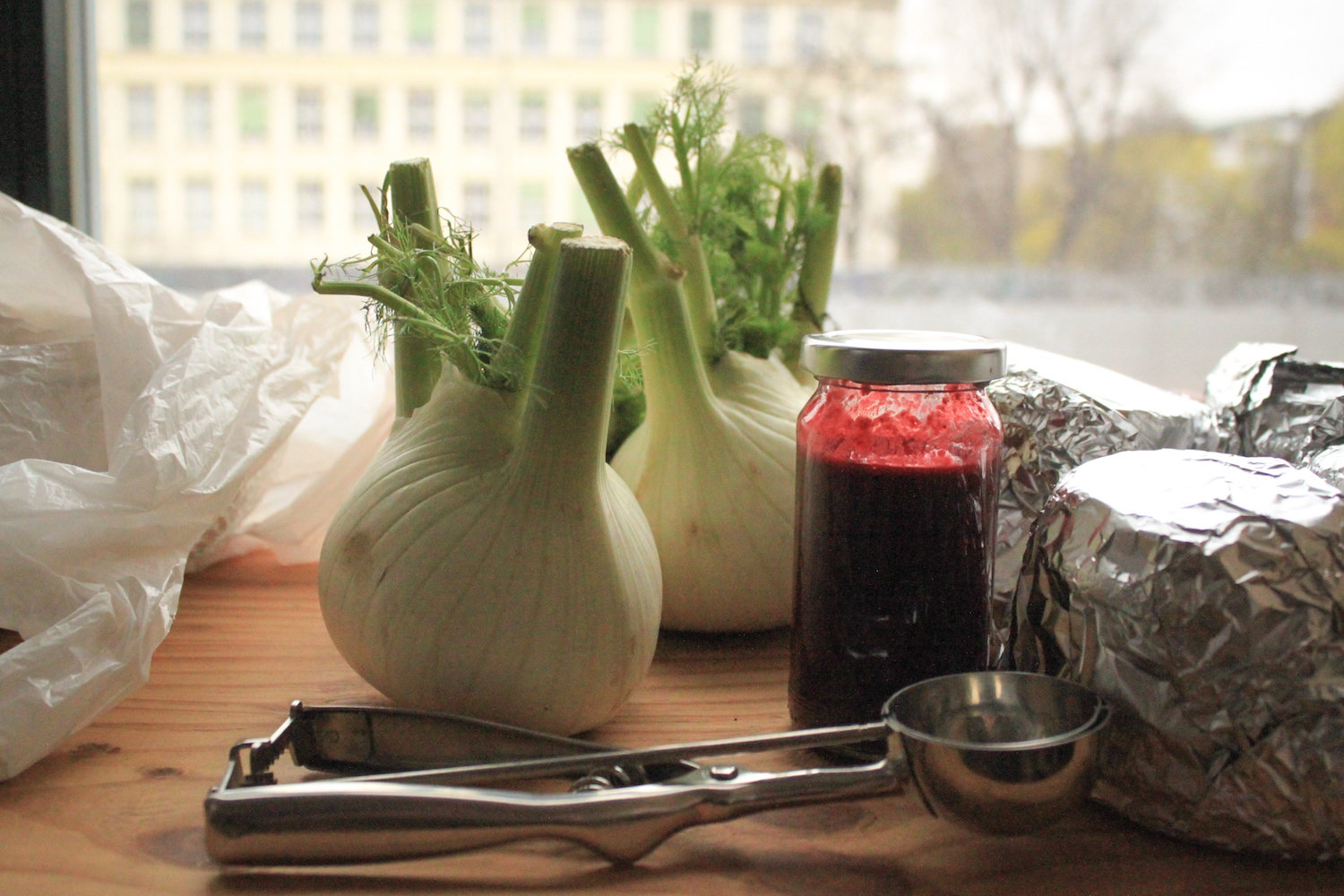 For months, I hadn't slept a night through without dreaming of grocery lists. More than once, I woke up in a sweat, panicked that the lingonberry sauce had been mistakenly splashed over the rabbit or remembering that the truck had to be reserved in advance. I drove everyone else nuts with my constant worry, and myself insane writing emails to newsletters and event postings, heckling friends and friends of friends to buy tickets, writing one Facebook post after another, then rewriting them all again the next day.
When you're doing something for the first time, you're never quite sure what's going to come next, nor are you ever really sure that the thing you're selling with such bravado is going to be the spectacular you've envisioned. I felt silly explaining our name – The Wolf & Peter – to people. How can you have a name when you don't even have a thing?
In the kitchen, we could breathe easy again. Here was a place we felt comfortable and confident. Here was a place where curveballs spiraled us into new ideas, where work was more like play and our creativity flourished. We bounced ideas off each other. Wouldn't a mismatched array of vintage plates look pretty against brown packing paper? Could we add cardamom to the raspberry sauce? Or cinnamon to the toasted pecans?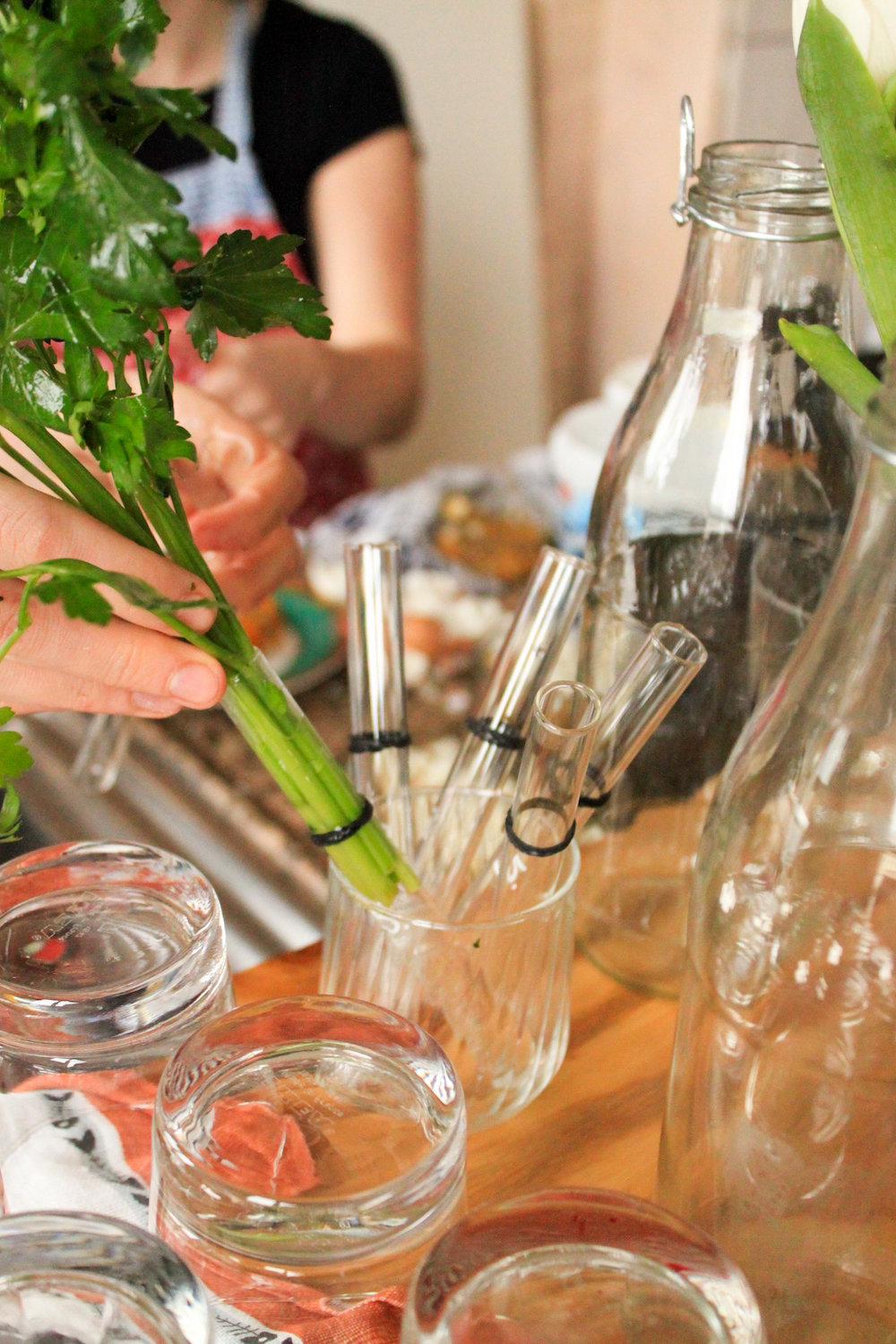 But more than anything else, what inspired us and kept us going were all the talented people we worked with. From the very start, Kitty, Huub, and Tobie from the Atelier MNMO were more than on board. We'd meet over test runs of lamb tacos to brainstorm ideas for turning a simple dinner into a dining experience. What they fashioned was stunning – clean, simple structures that arbored each of the three long tables. Suspended from an overhead wooden beam, were test tubes filled with bouquets of fresh herbs, salt, pepper, and chili flakes. Cleverly-twisted wires held water bottles repurposed from old milk jugs and gently-dripping wax candles. It was intimate and original, and so so very beautiful.
Then there was the Vagabund team, and Tom in particular, who sat down with us over chilled brews to dream up creative pairings and hone our list of beers for the event: A citrusy American Pale Ale, a Double IPA redolent with grapefruit and pineapple, the cider-like Yogi Broyhan, and gently seductive Cinnamon Brown, a spiced brown abbey ale.
There was Riikka, who helped us find Berg Burg, and Ira and Molly, who helped us transform the space for the evening. There was Isaiah, who spent hours helping craft marketing text and sharing it with people across Berlin. There were the countless friends who gave me advice about newsletters to look into, who helped me post notices, who shared the event in their own social networks. And there were the tireless helpers – David, Larissa, Inge, Andrew, and Isaiah – who spent their Sunday evening sweating with us in the kitchen, washing the dishes, plating the food, pouring the beer, and serving it to those happily chatting guests.
There may not have been a supper club without Anna and myself, but it wouldn't have been nearly as special without everyone else.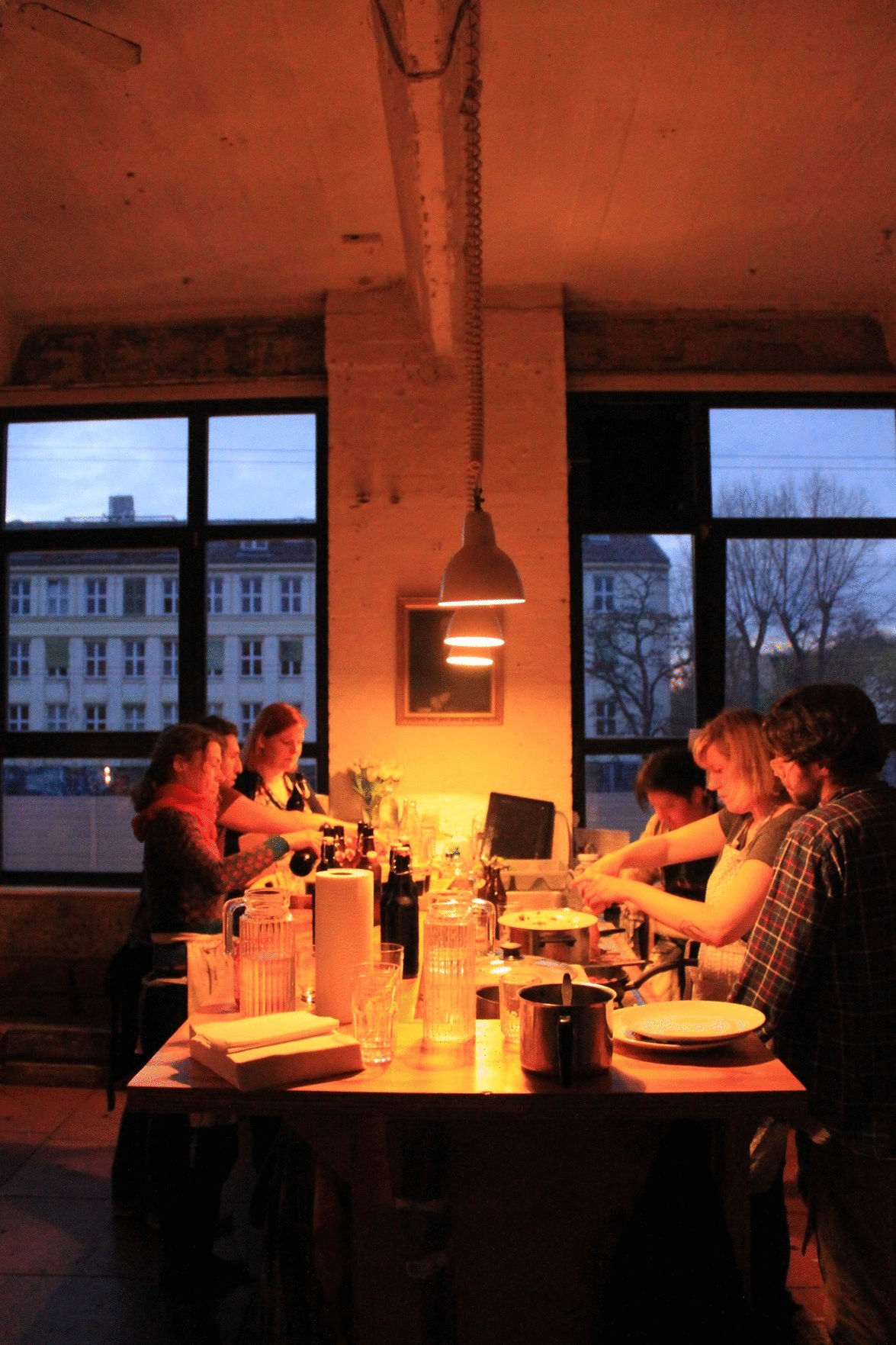 There's an eye of the hurricane kind of feeling as you dive into an evening with so many moving parts. When the first guests started to arrive, Anna and I looked at each other, and we both knew it was too late to turn back. But by the time we started plating the second course, I was like an octopus in a focused trance, my eight limbs simultaneously moving people, preparing food and garnishes, thinking ten steps ahead.
From behind the bar, Anna and I looked out over the living tableaux we had created. Months of careful planning and carefully constructed details had blossomed into a lively scene. People were enjoying themselves. Conversations flowed, punctuated by bursts of happy laughter. Strangers at tables were talking together. I forgot about my nightmares and weeks of panic, feeling it replaced with joy at watching people break bread with the food we'd spent so many long and loving hours trying to perfect.
Towards the end of the night, two curious passersby peeked into the studio. We were just plating dessert. They asked what was going on; it had sounded like fun. I looked out over the long tables, now bathed in a gentle golden glow of candlelight, at all the people talking and laughing over empty plates and foam-flecked glasses. Without hesitation, I turned to them and said, "We're the Wolf & Peter."
*Special thanks to Atelier MNMO for contributing some of the pictures used in this post.
Comments