How to Make Your Own Oktoberfest, and a Recipe for: Obatzda
October 1, 2015
While Munich's Oktoberfest days are drawing to a close, there's no one to tell you, in whatever corner of the world you find yourself, that you can't keep the dream alive. Here's how to make your own Oktoberfest, in 10 easy steps.
What you'll need:
1. Bavarian blue and white
Everywhere in Munich, and especially at this time of year, the city is decked out in blue and white checkers (officially, the pattern is called lozenge, but who knew lozenges were anything other than cough drops?). The Bavarian flag is hung with pride from shop windows and buildings; it adorns tablecloths, t-shirts, take-home trinkets, napkins, and nearly everything else you can stamp with a pattern.
2. Communal tables
For your backyard Oktoberfest, set up long, communal tables to recreate the feeling of being in one of the tents on the Wies'n. People are continually coming and going from the beer gardens and tents, which are always packed. You're lucky to find a seat at all, so when you do, you don't waste any time cozying up to your neighbors. The real bonds are forged over table-wide toasts and loud sing-alongs to everyone's favorite Schlager hits.
3. Schlager pop
Speaking of music: Your Oktoberfest playlist should start with some soft brass oom-pa-pa and slowly move into the best of German schlager pop with a little John Denver thrown in for good measure. Helene Fischer's "Atemlos durch die Nacht" is a must, but that's not to say that last year's German summer hit "Ai Se Eu Te Pego" isn't a perfectly good follow up.
4. Weißwurst
Ok. Here comes the good stuff: the food. Weißwurst, literally "white sausage" is… wait for it… a white sausage made from minced veal and porkback bacon flavored with parsley, lemon, mace, onions, ginger, and cardamom. Weißwurst are made fresh every day, and since they contain no preservatives and the meat isn't smoked, must be eaten quickly. Traditionally, these breakfast sausages are consumed before noon with a side of sweet Bavarian mustard. If you can't find Weißwurst, there's a whole slew of other Würstl (sausages) to chose from.
5. Soft pretzels & Obatzda
The soft pretzel: So stereotypical, so ubiquitous at Oktoberfest time, and so, so delicious. Müncheners typically eat pretzels with a spread called Obatzda, which is made by mashing an aged cheese such as camembert with butter, paprika, and a little beer.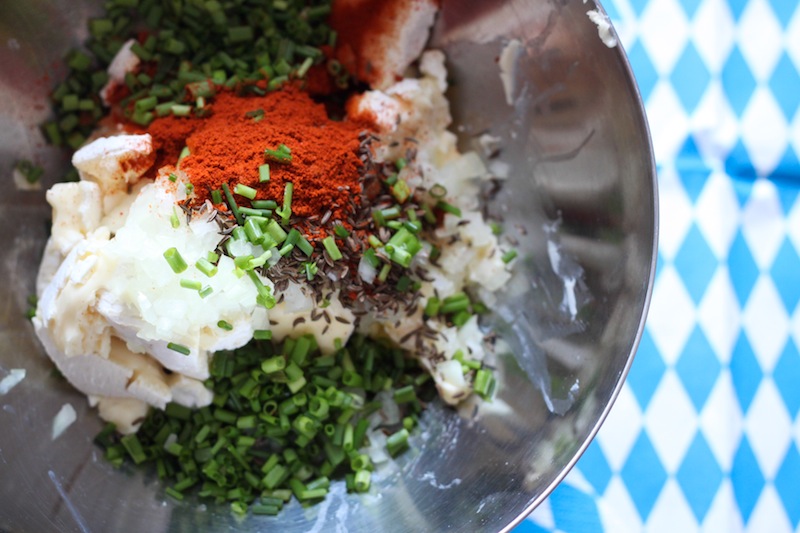 6. Even more food!
It's really all about the eating, isn't it? At Oktoberfest time, the Wies'n in Munich is awash with smells. Some – like the stale, spilled beer on every sticky tent floor – are not so nice. Others, like roasted halves of chicken with crispy skin or sugared almonds wrapped in bright paper cones, are heavenly. For the main attraction at your homemade Oktoberfestiganza, serve Schweinebraten (roast pork) or Schweinshaxe (grilled ham hock) with sides of Knödel (dumplings), potato pancakes, and Sauerkraut. Don't forget drinking snacks, like giant juicy pickles or shaved radishes sprinkled with salt and pepper.
7. Tracht
As a lifelong fan of costume parties, I jumped at the chance to wear a dirndl to Oktoberfest. There's nothing more fun than twirling your dirndl, except maybe twirling your dirndl in a room full of twirling dirndls. Lederhosen – though maybe more laughable than lovable – are perfect for hooking thumbs into and knee-knocking dancing on tabletops.
8. Fun & games
The absolute best thing you can combine with people drinking vast quantities of beer are quickly-whirling amusement park rides that make you want to vomit anyway. While you may not be able to rent a ghoster coaster or Ferris wheel for your backyard Oktoberfest, any communal, outdoor party games will help get your guests in the right mood. Pin the straps on the Lederhosen, anyone?
9. Lebkuchen hearts
Do you love Johnny? Write it on a heart! Are you single and looking for love? Write it on a heart! Do you have the world's best mom? Say it in icing – in 30 characters or less. Lebkuchen hearts adorned with brightly-colored icing are like festive, wearable Twitter feeds you can eat.
10. Oktoberfest beer
Last but not least: What's Oktoberfest without the beer? In Munich, the only beers that qualify as Oktoberfest beers are brewed within the city limits and conform to the old German Reinheitsgebot, which states that the only ingredients that can be used in brewing beer are water, barley, and hops. Traditionally, Oktoberfest beers are stronger than traditional lagers and have a warm, golden color. You can find approved Oktoberfest beers from the following breweries: Augustiner, Hacker-Pschorr, Löwenbräu, Paulaner, Spatenbräu, and Staatliches Hofbräu-München. Always serve in 1-liter steins heavy enough to make you think you're going to break your wrists. Anything else, and it's not Oktoberfest.
Obatzda
This rich, flavorful cheese spread made with pungent camembert is a perfect accompaniment for salted pretzels – and a traditional Bavarian Oktoberfest dish.
1 cup (160 g) packed camembert
1 tbsp. (20 g) butter
½ yellow onion, finely diced (about ¼ cup or 40 g)
2 tbsp. chives, finely chopped + extra to garnish
1 tbsp. caraway
1 tbsp. paprika
2 tbsp. beer
Salt & pepper, to taste
Mash camembert, butter, onion, chives, caraway, paprika, and beer together – ideally, using your hands (otherwise the butter tends to chunk). Season to taste with salt and pepper. Garnish with chopped chives.
Comments