Vintage Summer: Rosemary & Pistachio El Diablo
July 22, 2015
"It felt very Mad Men," I told my friend, "to come home from work and make myself a fancy cocktail, then sip it by the open French window with my feet propped up and a book in hand.
"I didn't know you were watching Mad Men. How far along in the season are you?" he asked.
"Oh, I've seen the pilot," I replied.
He raised an eyebrow, and I amended my comparison. "Fine. It was like an evening of living in Revolutionary Road, where everybody's always swilling something and living out a sadly-thwarted version of the American dream. But like, in a good way."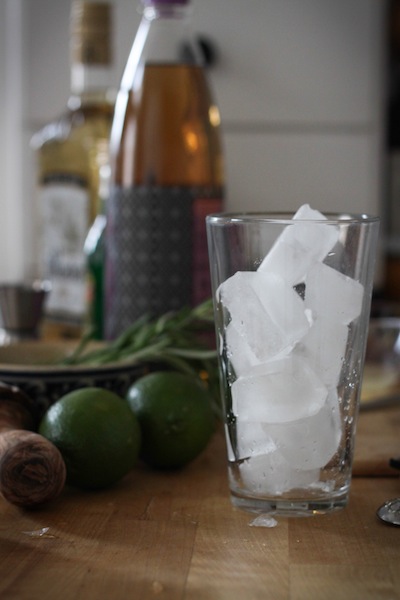 For me, cocktails have always had a vintage charm. When I drink them, I want to be wearing pale lemon-colored nylon and chiffon, with a plate of shimmery canapés and pimiento-flecked olives close at hand.
But like most strange daydreams painted from a retro Hoover ad, this life is probably so fascinating to me because I don't have to live it. I finished Revolutionary Road. I know how that story ends.
Today, cocktail culture feels less about rubbing out the perfect pastel hues of a paperboard fairy tale (i.e., getting wasted), and more about experimenting with a rainbow of syrups, juices, herbs, bitters, and household shrubbery until each liquor's notes have been expertly complemented (i.e., getting wasted).
Just kidding. While there are those cocktails whose sole purpose is to be drunk copiously at a beachside party out of plastic cups (I'm looking at you, Sex on the Beach), there are many others to make one feel just appropriately naughty enough.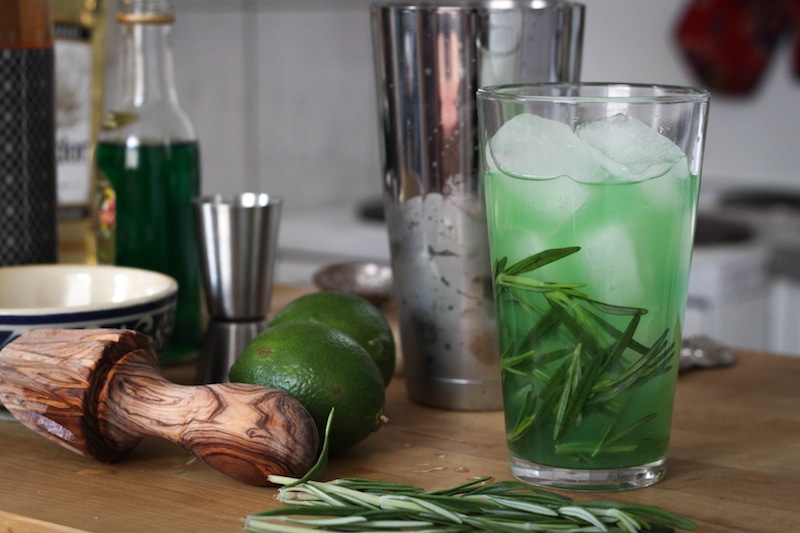 A few months ago, David and I did a cocktail making course hosted by a charming, almost Dickensian barkeep with a little ponytail and a tightly-fitted vest. In thick Berlinerisch, he walked us through muddling, measuring, and not spraying the contents of a Boston shaker over the entire room as we worked our way through five simple cocktails: Mai Thai, New York Sour, Moscow Mule, Park Lane, and a drink he'd named "El Pistacho," a take on the El Diablo.
A traditional El Diablo features lime juice, tequila, crème de cassis and ginger ale. Our bartender-instructor taught us a version of his own invention that replaced the crème de cassis with pistachio syrup muddled with rosemary for an extra verdant kick.
The freshly-squeezed lime juice makes it an excellent summer drink, and the rosemary and pistachio syrup make it feel worthy of a lemon chiffon flavored evening sitting by the open French window, reading a book and listening to the courtyard sounds drift up.
Rosemary & Pistachio El Diablo
As I'm of the opinion that standard-issue 2 liter bottles of ginger ale taste nothing like ginger, be sure to use a good-quality ginger ale with a spicy ginger taste, like Thomas Henry. Serve this drink in an old-fashioned glass (incidentally not the glass pictured here, as I've broken half of my set of old-fashioned glasses. If you don't have an old-fashioned glass, that's fine – just don't top all the way off with ginger ale, but leave a little room at the top of the glass.) Makes 2 cocktails.
3 fresh rosemary sprigs
50 ml (2 oz.) pistachio syrup
50 ml (2 oz.) freshly-squeezed lime juice
100 ml (4 oz.) tequila (reposado)
Ice cubes
Ginger ale
Lightly muddle rosemary sprigs with pistachio syrup and lime juice. Add tequila and plenty of ice cubes, then shake vigorously in a cocktail mixer or Boston shaker. Strain liquid evenly into two old-fashioned glasses. Top with ginger ale.
Comments