Sanity Measures: Brownie Cupcakes with Salted Caramel Frosting
May 22, 2015
The insanity is about to begin.
Not long ago, like yesterday, I was looking through my calendar and realized that I don't have a single second of down time until August. In case you do not have a calendar or are living with cave trolls somewhere in the mountains of Norway, it is currently May. Granted, the end of May, but that means there are still two solid, chunky months packed full of stuff.
All of it is good stuff. I'm taking a family trip to Greece, spending a whirlwind week shuttling between Chicago and Ann Arbor, whisking up to Norway for a weekend to tell the cave trolls what month it is, visiting family in the south of Germany, hosting visitors here. In fact, my first two visitors will be landing in Tegel in just two days (hi, Mom! Hi, Grandpa!).
But even though it's all good stuff coming up, it can be a little overwhelming for a workaholic like me to wonder when I'm going to be able to get some work done. It's a little bit sad, isn't it? That my biggest worry is not finding the time to check things off of my to-do list. Clearly I haven't been doing a good job of keeping my New Year's resolution to turn my computer off in the evenings, stepping away from work and being kind to myself.
I really should spend more time nurturing my sanity. I can always tell when I'm getting too stressed, because the number of to-do lists I have multiply. Sometimes, the lists start saying things like "spend one hour working on to-do list." I'm not sure whether that's meta or pathetic. Metathetic?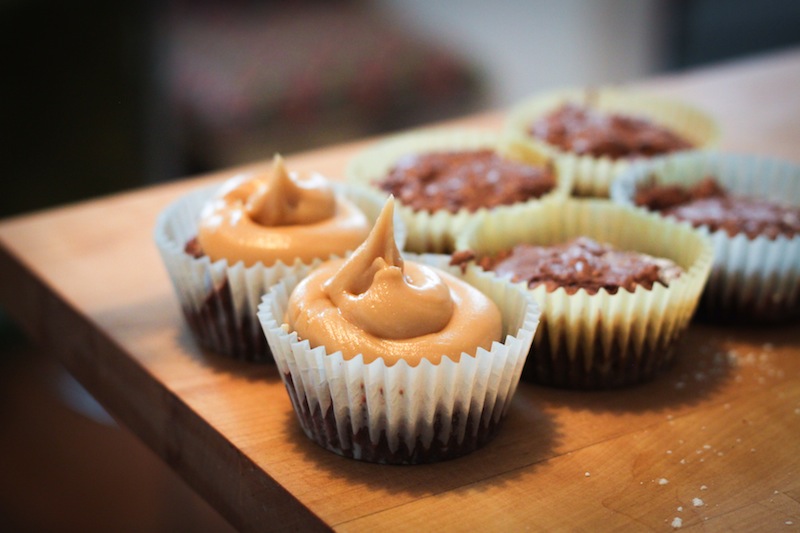 But I also start cooking more complicated things. It's odd, I suppose, that the less time I feel like I have, the more time I spend in the kitchen throwing around mountains of puff pastry, teaching myself how to do things like poach eggs or make hollandaise, or pick the longest recipe with the most ingredients in whatever cookbook I happen to be obsessing over at the time. (Right now it's Yotam Ottolenghi's Jerusalem. Oh! Oh! Oh!). I guess it's my body's subconscious way of getting me away from work and my mind away from all those asinine lists.
It's like how pregnant women crave pickles.
Ok, maybe it's not really like that at all. But in any case, I've found that the best way to keep a cool(ish) head on my shoulders is to plop myself into a kitchen and cook until my little feet fall off.
Of course, for a double dose of sanity potion, I make something like cupcakes, which soften even the hardest of to-do list addled hearts like chocolate and butter slowly melting into a warm, sweet puddle.
These brownie and salted caramel cupcakes are like my parka in the Arctic snow, my dromedary in the desert, my sunscreen at the beach. Each bite of dense, rich chocolate tempered by the creamy, coastal taste of salted caramel and crunchy pretzel keeps me sane for another hour, at least.
Maybe I should make a double batch.
Brownie Cupcakes with Salted Caramel Frosting
The trickiest part of baking these cupcakes is not burning them to a crisp – a mistake I made with the first batch, by baking them too high in the oven for too long. But all that can easily be avoided if you actually set a timer and remember that you have something in the oven, which I, often, do not.
For the cupcakes:
6 tbsp. (85 g) butter
11 oz. (312 g) baker's chocolate, coarsely chopped
3 eggs
1 cup (200 g) sugar
¾ cup (94 g) all-purpose flour
¼ cup (22 g) unsweetened cocoa
1/8 teaspoon baking soda
For the frosting:
1 stick (115 g) butter
1 cup (200 g) light brown sugar
1/3 cup (80 ml) heavy cream
½ tsp. salt, plus more to taste
2 cups (240 g) powdered sugar
1 tbsp. heavy cream
Crushed pretzels, to top.
Preheat oven to 350º F. Line a muffin tin with cupcake liners and set aside.
In a saucepan over low heat, melt butter and 8 oz. of the chocolate until smooth. Remove from heat and set aside.
Whisk together eggs and sugar in a large bowl. Add flour, cocoa, and baking soda, then stir in the melted chocolate until combined. Add remaining chopped chocolate.
Fill cupcake liners ¾ full with batter, bake in the lower third of the oven for about 20 minutes. Allow to cool before frosting.
To make the frosting, melt butter in a small saucepan, then add brown sugar and heavy cream. Stir over medium heat until sugar dissolves, then add salt. Allow to bubble for 3 minutes, but no more. Remove from heat and cool for about 15 minutes. Beat in sifted powdered sugar, then add heavy cream. Season to taste with salt.
When cupcakes are cool, frost them with the salted caramel icing, and top with crushed pretzel pieces.
Comments