Fancy Meeting You Here: Earl Grey French Toast with Blood Orange Syrup
February 20, 2015
A few weeks ago, I was having brunch at Le Bon, one of those airy, sparsely-decorated-perfectly-curated cafés in Kreuzberg, when I had a vision. My eye had lingered on the menu's French toast made with brioche, and I was thinking of soft, pillowy piles of bread, sweet and eggy, crisp and caramel brown from a buttered skillet – as I read through the selection of teas. In another life, I lived on cups of Teavana's Earl Grey Creme, its gnarly dark leaves peppered with pretty dried blue petals. For some reason, I thought of this tea while reading the menu, remembering its hint of vanilla. And for an even odder reason, those thoughts mingled with my French toast thoughts, and I thought – why not – make French toast sopped up in eggy Earl Grey-infused cream?
It's sometimes a strange set of circumstances that makes things click. I've been having a lot of experiences like that lately. Off-the-cuff conversations leading to inspired partnerships, loose-end dreams taking shape over milky lattes and cake.
How does anyone ever meet someone? You know a guy who knows a guy who knows a guy. I met Aaron that way, and now here we are, standing in my kitchen, debating whether the French toast batter needs two eggs or three. Three we say, why not?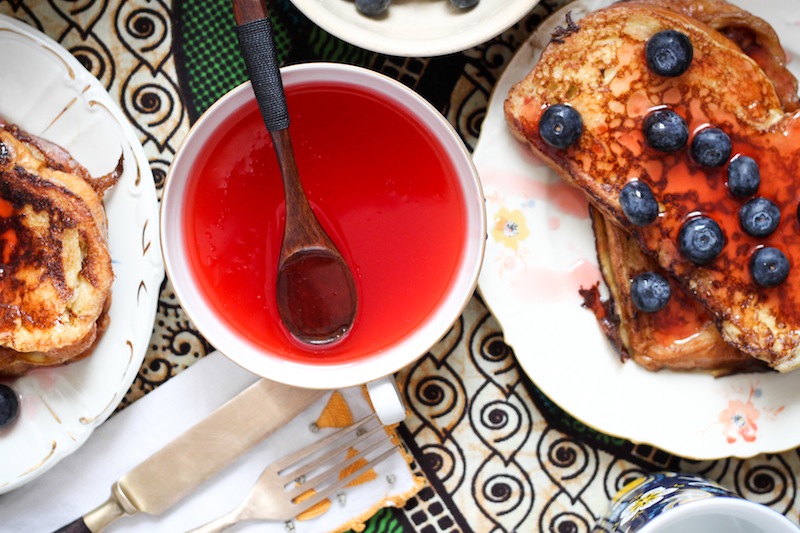 Like so many things, our getting to know each other was a carefully orchestrated happenstance by that guy who knows a guy (who's really a gal, technicalities). But we share a lot in common, a St. Louis genealogy (though my Collinsville roots are a few generations removed, I'll accept that Jello is a salad), the liberal arts thing, a history of singing in college a cappella groups – and most importantly, a passion for eating and talking about eating and helping ourselves to seconds.
He says that growing up, he learned an empty dish should always be returned to its owner full of something. So if you bring a pie to the party and leave the dish there, that dish had better come back to you full of brand-new pie.
In any case, it seemed totally natural, sensical, that when I mentioned needing help with Eat Me. Drink Me.'s social media, Aaron said he'd love to. For weeks, we've been thinking about how to introduce him on the site – but there never seemed to be a good angle. If there's already a recipe, why would you change it?
Because why wouldn't you combine Earl Grey tea and French toast? It's different from the usual, perhaps odd, but altogether it's a fortuitous combination. New and good. Besides, what do you really need to know? He sings, he tells good jokes, he makes a mean stack of pancakes. He'll be around.
Aaron tells me about his recent trip to Paris, his adventure at the taxidermist, the way Harry Potter's Dudley has grown up. I tell him about the Berlinale, my new sleep patterns of 10 p.m. bedtimes. We strain ruby red syrup into a little white bowl, set plates on the table, fill the French press with boiling water and grounds. It's time to eat. This new creation is fantastic. The hint of Earl Grey haunts the toast, crisped by hot butter on the outside, just soft and sweet inside. The syrup is lush and bright, the blueberries' tartness pops. Oh yes, new is definitely good.
Earl Grey French Toast with Blood Orange Syrup
Blood orange syrup highlights the citrusy bergamot notes in Earl Grey, while fresh blueberries cut through the richness of cream and sweet citrus syrup. Serves 2.
For the blood orange syrup:
½ cup water
1 cup sugar
¾ cup freshly squeezed blood orange juice
1 tbsp. cornstarch
1 tbsp. butter
For the French toast:
1 tsp. loose-leaf Earl Grey tea
¾ cup (200 g) whipping cream
3 eggs
2 tbsp. sugar
4 slices thickly-sliced brioche
1 tbsp. butter
Blueberries, to serve
Add loose-leaf Earl Grey to whipping cream and allow to steep in the fridge overnight.
To make the syrup, bring water and sugar to a boil in a small saucepan. In a separate bowl, whisk cornstarch into freshly pressed blood orange juice. When the sugar has dissolved, reduce heat to medium and add juice. Simmer for about 6-8 minutes, until the syrup is thick enough to coat a spoon. Sieve into a new bowl to remove orange pulp. Return to saucepan over low heat and add butter. Stir until melted. Set aside.
Make French toast batter: Strain Earl Grey leaves from the cream and discard. To the strained cream, add eggs and sugar. Whisk thoroughly to break the eggs.
Heat butter in a skillet until it begins to bubble.
Place a slice of brioche into the batter, making sure to coat both sides. Leave in the batter for about 20 seconds. Transfer brioche into skillet, and cook until the batter has formed a crust, about 3-4 minutes. Carefully flip brioche slice and cook for another 3-4 minutes. Repeat with remaining slices of brioche.
Transfer to a plate and serve with blood orange syrup and fresh blueberries.
Comments