My Mother and I Bake Christmas Cookies and Eat Them All: Springerle
December 23, 2013
"Does the recipe say to knead that? Don't need knead that," says my mom as I stand at the kitchen counter, kneading. We are baking Christmas cookies.
"Oh, and spread flour on the bottom of that baking sheet or else the Springerle will stick. The recipe doesn't mention that." I wonder what we're using the recipe for.
My mother is one of the best cooks I know, and every year at Christmas, she makes mounds of delicious cookies we nibble on for days. Each time we make a new batch, she opens up a butter and molasses spackled cook book, gritty with years of sugar, and though we look at the recipe, it seems to be more of a token, or a spirit guide, than rules we need to follow.
My favorite cookies are the chewy gingersnaps dunked in glasses full of cold milk, but there are also dark, spicy Lebkuchen, crumbly vanilla half-moons and anise-flavored Springerle.
Without a milk bath, Springerle are very hard cookies. When I was younger, I used to pretend it was hard tack and that I was a sailor or an early settler, trekking through snow to find winter berries and herbs for my sparse country kitchen. I didn't actually like the taste of Springerle – less sugary than the other Christmas cookies and with a funny licorice taste. Springerle have a very grownup flavor profile, and as an adult, I've come to love the soft anise aroma and slight sweetness.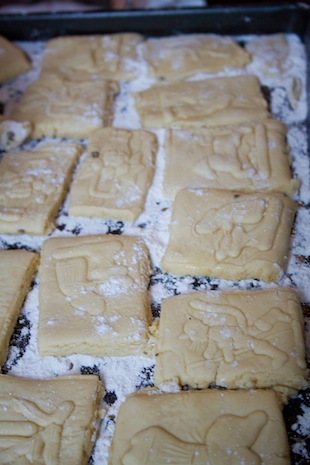 Springerle are also beautiful cookies. Figures carved bas-relief into wooden blocks are pressed into the rolled-out dough, leaving behind images which range from the playful to the classically lovely. Nativity scenes, animals, flowers and favorite fairy tale figures tell their story in the dough. Some scenes are incredibly complex – a princess alighting from a carriage, a knight kneeling before the king and queen. Before they are baked, the cookies are dried so that the impression remains vivid.
Historians speculate that the name, which literally translates as "little jumper," might refer either to the way the cookies rise up while baking or because one of the most popular molds is the image of a springing horse. The cookies can be traced back to 14th century Germany, where they were traditional in the southern region of Swabia, where my family comes from. Like many traditional recipes, the cookies are almost monastically simple – eggs, powdered sugar, flour and a leavening agent are mixed and rolled out on a floured surface. Images are pressed into the dough and the cookies are set out to dry. Before they are put in the oven, the backs of the cookies are brushed with water and sprinkled with anise seeds, giving the cookies their distinctive taste.
This year, as they do every year, the Springerle grace the top of the pile of Christmas cookies. Against the chololate-draped Lebkuchen and the dark molasses gingersnaps, they look like antique blocks of marble or figures carved in snow.
Springerle
You can find Springerle blocks online, but the cookies taste just as good even without a pretty picture imprinted on the top.
5 eggs
1 lb. powdered sugar
2 tsp. anise flavor
1 tsp. baking powder
4 cups flour
Anise seeds
With a whisk, beat eggs until thick and lemon-colored. Gradually add powdered sugar and beat until smooth. Add anise flavor and baking powder. Gradually add sifted flour. Turn onto floured countertop and roll out to ½ inch thickness. Lightly press Springerle form onto the dough so that the image is crisp but does not cut through the cookie. Cut into squares (around the image) and allow to dry for about 12 hours on a floured cookie sheet. When the cookies are dry, lightly wet the back side with water and sprinkle with anise seed. Bake at 300º F for 13 minutes.
Comments