Making Home: Won-Ton Soup
November 14, 2013
The view from my new kitchen window is a giant swath of salmon wall. On gray days, it's the color of a salmon slab that's been sitting too long in the fridge. On sunny days, it's that flash-frozen pink of a fresh fish pulled from the river and slit open. The windows are uniform and white, and in one window box there's a slightly infuriating lavender plant that bobs and bobs and bobs in the wind like mesmerizing purple tentacles.
I love my new apartment, but I have the feeling I'm going to grow to hate these inner courtyard walls. I turn my gaze inside. When the sun shines, our apartment is bathed in light. It glances off the lacquered wooden floors and paints the walls a brilliant white. When it's gray out, and let's be truthful, in Berlin it's often gray out, I light all the candles I impulse bought at Ikea, and I am glad for that acted-upon urge.
It's easy to forget how much work it takes to move. You think that once you've carted your personal effects up and down hundreds of flights of stairs, and thrown yourself upon the mattress lying in the middle of the floor that the hardest part is over. But after you've bathed your sore muscles in a bathtub filled with water boiled on the stove (because of course the hot water isn't working yet), you realize that somehow, all of these things must find a home.
So you go to Ikea (again), and buy a Hemnes for the clothes and some other things you've never had to buy because you've always lived with roommates who've had these things. (Shower curtains and hot water kettles, cutting boards, a bath mat.) Suddenly, you are very grateful for the set of silverware that caught your eye two years ago and that you just had to have, even though you didn't know what to do with it, so stored it in a box.
Then you're sitting on the floor screwing together an Expedit and cursing Ikea because one of the shelves that should have, doesn't have holes in it. And, because you can't stand the thought of leaving the mess of cardboard and plastic bags of bolts on the floor, you say, "Oh, what the hell, let's put a plant there" and assemble it without that shelf.
But in between the mess and the money, the never-ending process of finding a home for everything, there are beautiful moments. From the very trivial (the neatness of folded stacks of clothes) to the grand (waking up each morning next to the person you love). Yes, it's good to be home.
I've said goodbye to my old Russian grocery store. My new specialty supermarket is Asian. Every night, on the way home from work, I pick up something small for the apartment, a soap dish, a paper towel dispenser, trash bags – and the other night, I stopped by the Asian grocery for peek inside and couldn't resist a few impulse purchases – baby bok choy, bird's eye chilis like fiery toy dragon tongues, strange and pungent mushrooms, soft mochi filled with coconut peanut paste. An idea formed inside my mind, and I picked up won-ton wrappers on my way out the door.
At home, I minced pork and shrimp and mixed it with some of my new purchases – fish sauce, soy sauce, rice wine vinegar, the brown sugar I brought all the way from America, garlic and green onion, cilantro – and let it marinate while I prepared a broth of chicken stock with carrots, bok choy, mushrooms, and spicy chili. Soon the apartment filled with a deeply warm smell, like home. I dropped my tiny won-ton packets like presents in the soup.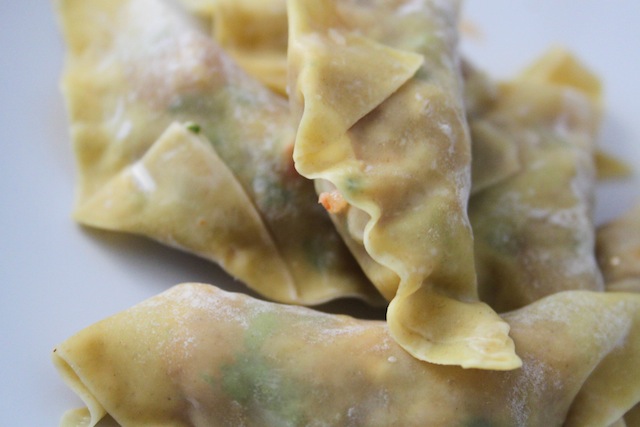 David and I ate bowls and bowls of soup, topping up the broth with more won-tons when we started to run low. There is something so comforting about the way a won-ton breaks open when you bite into it and its hot broth bursts inside your mouth. There is a forgetfulness to it, and the homeless piles of books, the empty suitcases, the jars of spices on the floor fade away so the world is all a warm, endless bowl of soup.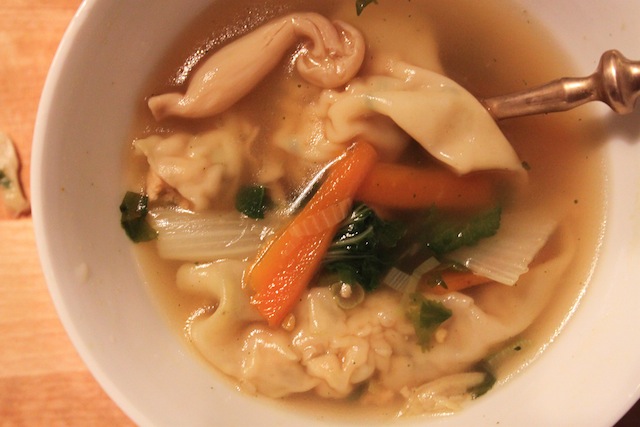 Won-Ton Soup
There's a very good chance this isn't the "real" way to make won-ton soup. But it's definitely very good.
For the won-tons:
2 slices pork loin steak
1 cup tiny shrimp
2 tbsp. soy sauce
1 tbsp. brown sugar
3 tbsp. rice wine vinegar
1 tbsp. Sriracha hot sauce
1 tsp. fish sauce
1 tsp. sesame oil
½ tsp. salt
2 tbsp. finely chopped cilantro
1 green onion
1 large clove garlic
1 shallot
1 tsp. mined fresh ginger
Won-ton wrappers
For the soup:
4 cups chicken stock or broth
3-4 bird's eye chilis
1 carrot
5 cinnamon cap (or shiitake) mushrooms
2 baby bok choy
1 green onion
1 small bunch cilantro
Dash of fish sauce
Mince pork and shrimp and place in a medium-sized bowl. Add soy sauce, brown sugar, rice wine vinegar, Sriracha, fish sauce, sesame oil, salt, and cilantro and stir well. Finely chop green onion, garlic, ginger, and shallot and add to the bowl. Stir. Allow this mixture to marinate for at least 30 minutes. Stir again before beginning to fill your won-tons.
Prepare your soup. Bring the chicken stock or broth to a low boil, then add chilis. Sliver the carrot and add to the soup. When the carrots have softened, add mushrooms. Turn heat to simmer. About 10 minutes before you are ready to add the won-tons, trim the baby bok choy and add them to the soup. Coarsely chop cilantro and green onion and add.
Begin making your won-tons. Place one wrapper on a dry surface. Brush the top of the wrapper with water, then drop a small teaspoon of filling into the center of the wrapper. Bring two opposite corners of the wrapper together and press tightly. Continue to seal the sides of the won-ton by pressing them together. Fold down the top corner of the won-ton and seal it. Dry off your work surface with a paper towel and continue to make won-tons until you've used up all the filling.
Once you've finished making won-tons, bring the soup up to a low boil. Drop the won-tons into the broth one by one until the soup is nice and full, but not oversaturated. (If you have leftover won-tons, these taste delicious fried in a little oil and dipped in soy sauce.)
Cook for 10 minutes, or until the pork inside the won-ton is no longer pink. Add a very small splash of fish sauce, stir and serve hot.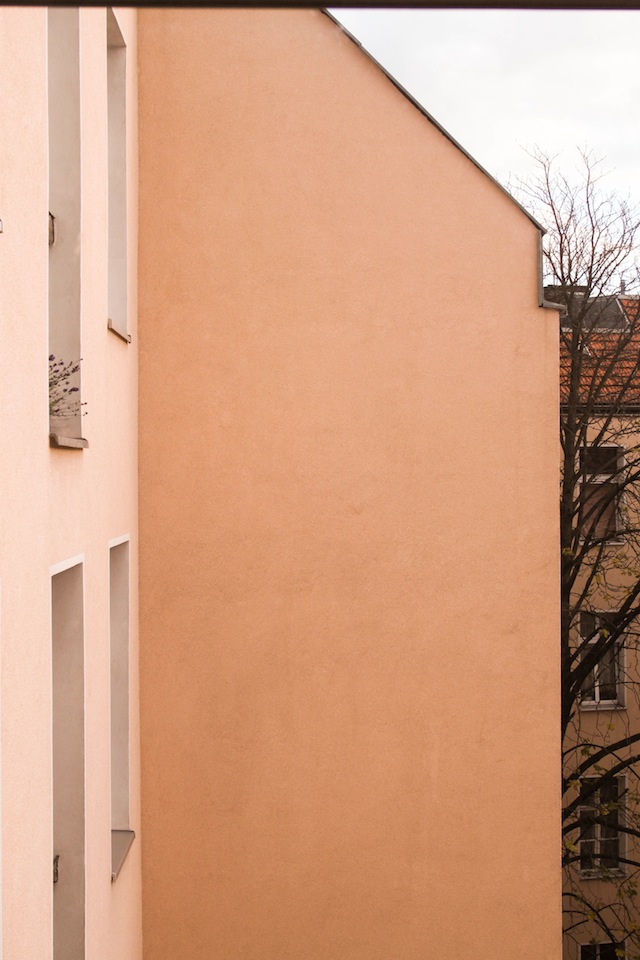 Comments