Biscuits & Blogging: Sweet Corn & Pepper Biscuits
October 13, 2012
When Ellie and I get together, we talk. About lots of things. Like work and men and crazy people we know. We do things like make cocktails and Instagram photos of them, then drink them and make another round, which we do not Instagram. But really, when we get together, what we do is bake.
The baking, of course, might just be an excuse for the gossiping and the cocktails, but then again, it might be because there's something really rewarding about sitting around chatting and drinking and ending up with yeasty donuts covered in pink gloss, or red velvet cupcakes topped with an icing that involves very. specific. instructions. and slightly strange ingredients.
Because of all the baking and the eating, I think Ellie has made more appearances in this blog than anyone else. There was Thanksgiving (we're already getting ready to order the turkey for this year…), the plätzchen-baking extravaganza, an ancient Easter, and of course that time we decided to eat in the dark. And probably because of all the appearances she's made here, she's spent a lot of time listening to me talk about the blog – why I'm even still writing it and where I'd like for it to go. Or maybe that's because of the cocktails.
We talk about the big plans I have. I want to redesign the site so that it's easier to navigate. I want an index of recipes and photos. I want to write a book…
And then sometimes I want to pretend that there's not a place where I have been, more – or less – regularly, recording my edible thoughts for over three years. What a long time to throw words into the sometimes uncommunicative interwebs. There are times when I don't know why I'm still writing it, but there you go – I'm still writing it.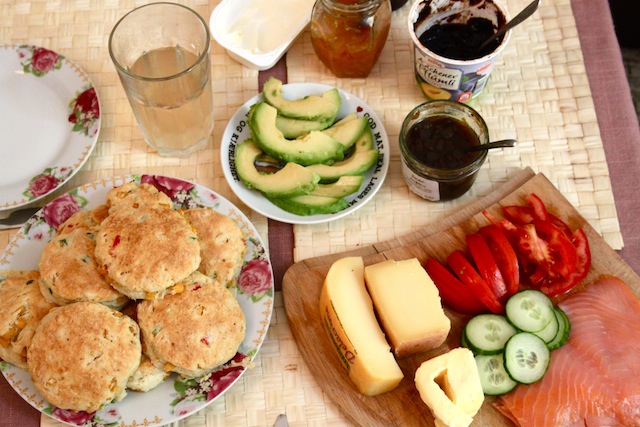 Maybe that's the beautiful thing about food writing. The foods we cook and eat, much like the stories we tell – another day at work, another awful date, another crazy piece of gossip – repeat themselves. And yet each time we tell a story, every time we cook a dish, it's something new because life has configured itself differently around us.
Just look at the way Ellie's appearances thread through this blog, which in a way is also a chronicle of my life. You could say, it's always the same – you cook, you eat, you cocktail – and yes, there's an element of repetition there. But it's not stagnant repetition – it builds a history, one which tells the story of a friendship through a sequence of meals.
So, though sometimes I wonder why I'm still writing – it'd almost be like asking why Ellie and I are friends. At one point, you might be able to say, it's because we can talk for hours – or that she knows how to make me breathe when I'm having a mini panic attack. But you reach a point where friendship is no longer a list of whys, just a knowledge that you are.
In a certain sense, this blog is like a friend (in a totally non-lonely-I-swear-I-have-breathing-friends-too sort of way). We've been through a lot together, and sometimes we tell the same story over again. But whatever. We're changing, we're growing, we are.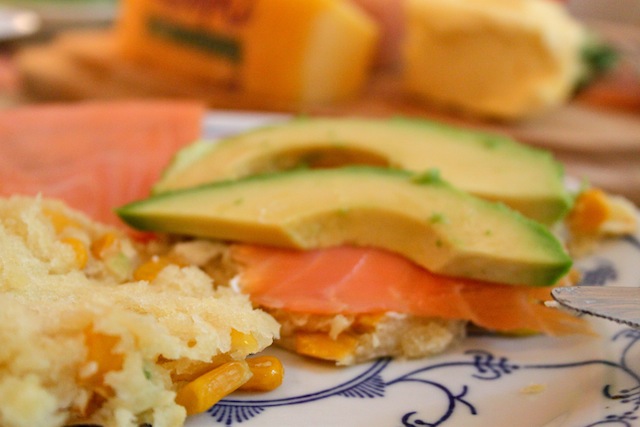 Sweet Corn & Pepper Biscuits
There might not be an obvious connection between these biscuits and blogging and friendship. And actually, when I started writing this post, it was going to be a different thing. You see, Ellie and I made these biscuits together – and they were super great, so I thought – well, I'll write about them and at the same time, write about blogging, because this recipe is from Joy the Baker's blog – which is a blog I admire and enjoy even though it often puts me in a reflective mood about blogging. (When will hundreds of people comment on my posts? When will I be invited to cook with slightly famous food people? When will I get to go on a book tour?) And then I started writing – and it ended up being a totally different thing, a story about friendship with a little bit about blogging thrown in. Somehow, the biscuits got totally lost. But they are a part of this story too – they're the reason I wrote it. And they're pretty good biscuits. So here you go. Adapted from Joy the Baker.
2 cups all-purpose flour
2 tbsp. baking powder
1 1/2 tbsp. sugar
Pinch of salt
3 tbsp. cold, unsalted butter
3 tbsp. vegetable shortening
1 cup corn kernels
3 finely chopped, charred chili peppers
3/4 cups cold buttermilk
Whisk flour, baking powder, sugar, and salt together in a medium bowl. Add butter and vegetable shortening, and with your fingers, crumble the fat together with the dry ingredients. Don't worry if your butter balls are different sizes, though none should be larger than a pea. Add corn kernels and chili peppers and stir.
Pour buttermilk into your flour mixture and quickly blend the wet and dry ingredients. Let me warn you – it's not a very pretty dough. Regardless, dump it onto a lightly floured work surface and knead about ten times, until you've brought it together into a disk. Wrap the dough in plastic and refrigerate 1 hour. (You can also refrigerate it overnight… but you know I didn't read the instructions in advance enough to plan that.
Pre-heat oven with a rack placed in the upper third to 375ºF. On a lightly floured surface, roll out biscuit dough until it's ¾-1 inch thick. If you're fancy, you can use biscuit cutters. If you're not, you can use the open end of a drinking glass and press it into the dough to cut out rounds.
Place biscuits about 2 inches apart on a greased (or parchment papered) cookie sheet. Reshape and re-roll excess dough, then cut out some more biscuits. Repeat until the dough is gone.
Brush the tops of your biscuits with a bit of heavy cream and sprinkle with coarse sea salt. Bake for 15-17 minutes until biscuits are cooked through and golden brown on top. These guys are best served warm. We topped ours with cheeses, avocado slices, smoked salmon, cucumbers, and tomatoes… and of course melted butter.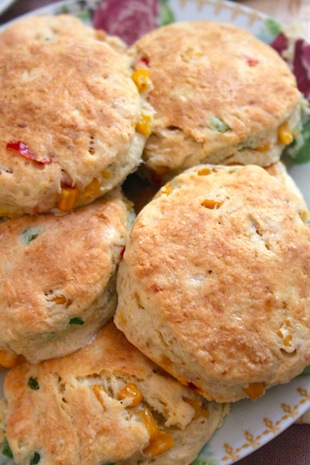 Comments