A Murmur, the Wind, Some Fish, a Sea: Homemade Pizza Dough
May 19, 2012
Everything sounds like ocean in the Baltic. The wind brushing through the tops of trees, sand sweeping against itself, the hypnotic hiss of fire on wood – even the ocean sounds like ocean. I felt disoriented my first morning, awake before the rest of the house and out for a walk. There was a brisk wind carrying the smell of brine and fish, driftwood and the specific salinity of coastal air.
Our house was part of a series of small summer houses, all pained the same cream color with the same thatched roof and thick green shutters. There were clearly big plans underway, and the clean green lawn outside our windows dropped off to an abrupt construction site. Swaths of bare earth still half frozen with winter, caked with the ridges of a dump truck's wheels and forlorn palettes of latticed wood and bricks – this was our ocean view.
I wandered around the development, even ventured into the woods where I found an abandoned locker room whose placement I couldn't quite comprehend. Why one would need to shower and change so far from the water was a mystery to me. The only solution being that the badgered ground was covering up the remnants of an old swimming pool. Children's summer sunshine memories buried under frozen dirt and soon covered with vacation homes.
We must give the archeologists something to do.
For a while it was nice to be in the open air. Smelling ocean. Blinking in unadulterated sunlight. No big buildings, no noise, no city hemming-in. But I had underestimated the wind and I desperately wanted a cup of coffee.
Back in the house, people were waking up, and our bedraggled-looking crew grew in the kitchen. The sound swelled, murmurings, an oceanic susurrus with the break of laughter.
Officially, we sat down to breakfast around noon – but for that, the spread was plentiful and pretty. Rolls, butter, honey, fresh fruit, scrambled eggs with tomatoes, onions, and chives, müsli, pickled herring and smoked salmon from the fish stand on the beach.
It made me nostalgic for my college spring breaks, where my friends and I would drive to the lake house in western Maryland, which, though it was really Kevin's lake house, we all began to think of as our lake house. The entirety of the group shifted year to year, but the core of us stayed the same. We wouldn't leave the house all week. I lived in my mumus and a giant Davidson sweatshirt, only changing to get into the hot tub. We watched a lot of movies, did a lot of lounging, a lot of drinking, and a lot of cooking. Everybody had their specialties – Mark's jambalaya, Andy's barbeque chicken pizza, the Oreo balls Liz made that disappeared from the tray before they'd even had a chance to cool. It may not have been a traditional college spring break, but it was perfect; absolute laziness, my dearest friends. And a hot tub.
I was a relatively new addition to this group of people – and still, being together in that house by the sea reminded me of those other weeks tucked away in Maryland. Especially when we sat around the table, playing dice games that involved drinking and gambling and nonsensical rules or eating breakfast together at the long wooden table, lounging around on the couch or in front of the outdoor oven and exchanging the lighthearted teasings of camaraderie.
On our last evening, we made pizzas. We formed a casual, rotational assembly line. Now rolling out dough into imperfect crusts, now topping a pizza with ruccola and feta or roast vegetables and gouda, now placing in or taking out of the oven, slicing up, carrying to the table or the empty chopping block back to the stove. Sandy and smelling of wood smoke, we sat around the table snatching up slices of hot pizza as soon as they appeared. The city seemed far away, though the next day we'd be back in it. We'd have laundry to do, errands to run, work to go to, appointments to keep. But as soon as we'd begin to think about another day's responsibilities, there'd be a new pizza to haul from the oven, dough to roll, toppings to choose. We'd forget the have tos of tomorrow and just let the ocean carry us away.
Homemade Pizza Dough
Have I really never given you the recipe for homemade pizza dough? I can't believe that. But it's true – and I'm sorry. You should never have had to go without. There's nothing like homemade pizza dough – warm and fragrant, delicately yeasty and chewy. And you get to do some kneading, which is one of my favorite things to do in the world.
1 1/2 tsp. active dry yeast
Pinch of sugar
1 1/4 cups warm water
4 cups all-purpose flour
1 tsp. salt
2 tbsp. olive oil
Add yeast and a sugar to warm water. Let sit for 5-10 minutes until frothy. Sift flour and salt into a large bowl and make a well in the center. Gradually pour in the yeast mixture and olive oil. Mix until just cohesive, then flip onto a clean, floured counter and knead about ten minutes, until the dough is smooth, springy, and elastic like a fat woman's thighs. Be aware of the dough. Feel how the lumps work themselves out under your hands. Feel how the dough warms up, responds to your touch. A fully kneaded ball of dough will do anything you ask of it. It would rob a bank for you if you wanted it to. Grease a large bowl with olive oil and place your ball of dough in the bowl. Cover with a cloth and let rise in a warm place for 1 ½ hours. When you're ready to make pizzas, knead the dough for 2 minutes to warm it up, then divide into four equal pieces (more if you want to make mini pizzas or very thin pizzas). Roll out each piece into a 10-inch round, stretching and piecing together any uneven or torn pieces of dough. Add your toppings and bake in a pre-heated 425º F oven for about 15 minutes.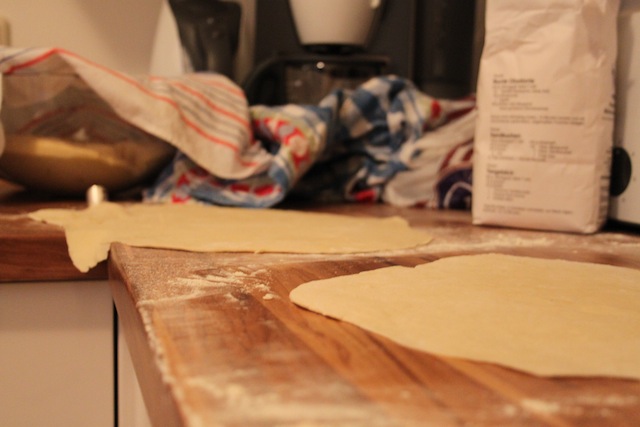 A note on toppings: While you can put virtually anything on top of a piece of dough and call it a pizza, there are a few really lovely combinations that I find myself coming back to again and again. For instance: caramelized onions, gorgonzola, and walnuts. Roast vegetable medley (eggplants, zucchini, onion, etc.) with basil and fresh mozzarella. Olive oil, roast garlic, ruccola, feta, sautéed mushrooms. You get the idea.