The Nontraditional Easteralist or Curried Easter: Jamaican Strawberry & Pepper Roasted Fish and Curried Mashed Potatoes
April 9, 2012
The smell of frying fish and mangoes shocks the apartment as Sigourney drapes slips of catfish into a hot skillet. We've dragged ourselves out of bed for the third time today and this time, the effort seems to have paid off. Last night was a late night. An Easter party, whose connection to Easter seemed to veer toward the irreverent and bunny-themed took up the latter part of our night and the majority of the early morning. There was dancing, neon gin and tonic, and an Easter breakfast haloumi sandwich from the still-open or maybe just opened döner place by the train station.
This isn't usually how I spend Easter. First of all, I'm usually still in bed at six. Secondly, I'm usually not roaming around the streets of Berlin with a pair of lopsided bunny ears haphazardly thrown together from a paper towel roll and some tape. Usually, I'm with my family. I make everyone dye Easter eggs, I cook an Easter feast, we unwrap baskets on Easter morning, and at Easter lunch we smash eggs together like our Bulgarian guests taught us once.
I guess this is what happens when you decide to uproot your life and move across the world and across the ocean. You make new traditions.
So our Easter feast this year is a roast Jamaican fish and mashed potatoes. There's not an egg in sight. There's no ham, no quiche, no rack of lamb. Just me and Sigourney and rap music and a roasting fish.
I love having visitors. Showing people around makes you more aware of the positive qualities of the place where you are. When you have to convince someone else they're having a good time, you often end up having a good time yourself. Even though Berlin has been a bit moody this week (As Sigourney said, as it started to snow, then hail, then be sunny, "This weather is on its period."), I've really loved watching someone else love my city and know that to some extent, I am responsible.
We've eaten well, and like all good Berliners, taken as many meals as possible outside, no matter what the weather. We even tried to picnic one day – from the apartment on the fifth floor, the bright sun tricked us into thinking that the weather would be balmy. But as we stepped outside, the sky turned overcast, and even as we walked to the canal, we pulled our jackets closer. We were the only people crazy enough to sit outside, much less picnic. And though our food was delicious – an Asian-inspired noodle salad and grilled chicken, bread, cheese, nutella, and salami – let's just say we didn't linger. We walked quickly past the swans, skimming the water and nipping each other, past the line-less ice cream truck, and back up to the warm fifth floor where we had a cup of coffee.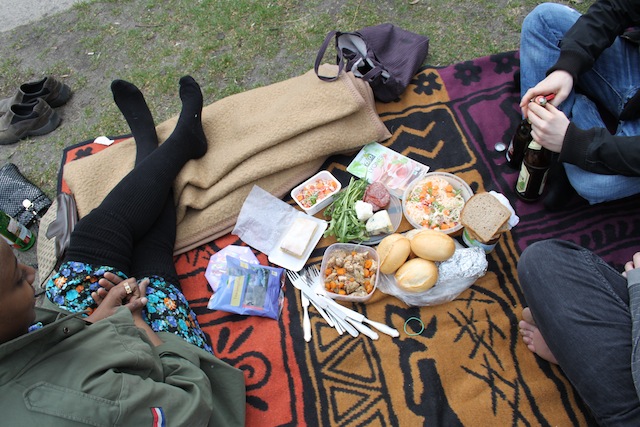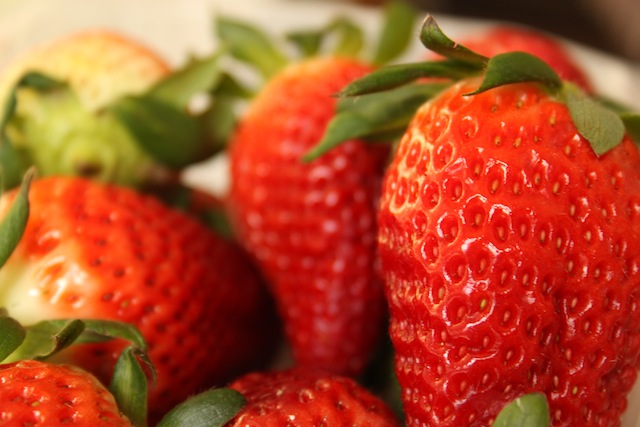 I could think of this Easter fish as just another good meal. But it's Easter. And I have a tendency toward traditioning. By which I mean, I'm the one who makes us dye Easter eggs every year. I'm the one will never be too old for an Easter basket. I'm the one who insists on making deviled eggs even though no one eats them.
In reality, though, all traditions are tidal. They are broken and created as families shift shapes, through marriages or divorces, children being born, children moving out. Every moment is the possible beginning of a tradition. Which means we should always surround ourselves with people we love and imbue our actions with kindness.
"Happy Easter," Sigourney and I say to each other, and eat our fish.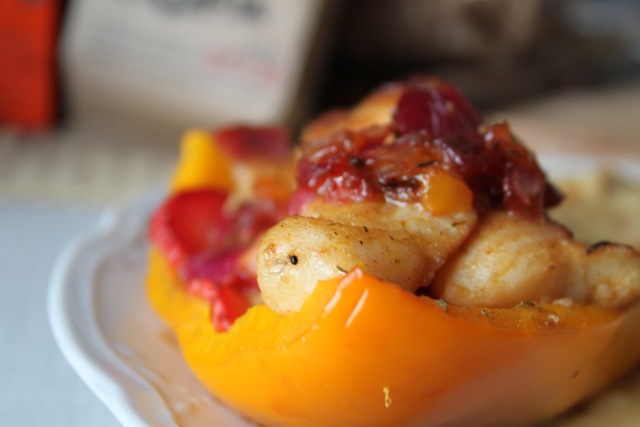 Jamaican Strawberry and Pepper Roasted Fish
Olive oil
1 yellow or red pepper
10 strawberries: half sliced, the other half chopped
1 cup mango nectar
1/4 tsp. chili flakes
1/2 tsp. paprika
1/2 tsp. cumin
1 tsp. curry powder
1/2 tsp. oregano
Salt
Pepper
1 red onion, chopped
1 tomato
1 clove garlic
1 large white fish filet
Lemon juice
Preheat the oven to 420ºF. On a baking sheet rubbed with olive oil, arrange pepper halves and line them with strawberry slices. Combine 1 cup mango nectar with chili, paprika, cumin, curry powder, oregano, salt, and pepper. Set aside.
In olive oil, sauté 1 chopped red onion, 1 tomato, 1 clove garlic, and 4 large chopped strawberries. Sweep the fish through the mango sauce and pan fry until lightly browned on both sides. Add about half the sauce (reserve other half for mashed potatoes) and a few drops of freshly squeezed lemon juice to the skillet. Remove the fish from the skillet and arrange inside the peppers. Top with the sautéed vegetables. Bake for 15 minutes or until cooked through.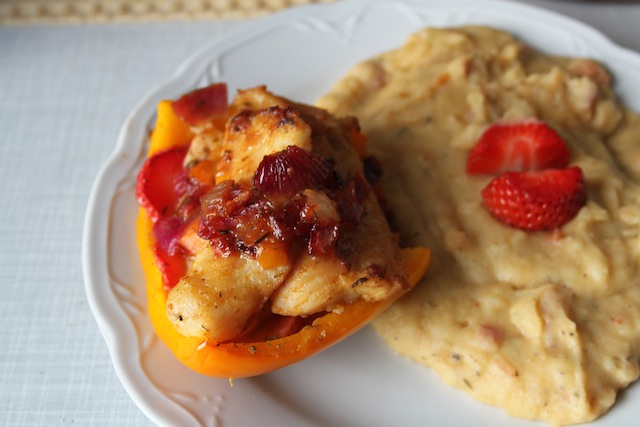 Curried Mashed Potatoes
5-6 peeled small/medium potatoes
1/2 cup milk
2 tbsp. butter
Mango sauce from recipe above
Boil potatoes until soft. Drain off water and mash hot potatoes with milk, butter, and the remaining mango sauce.
Comments