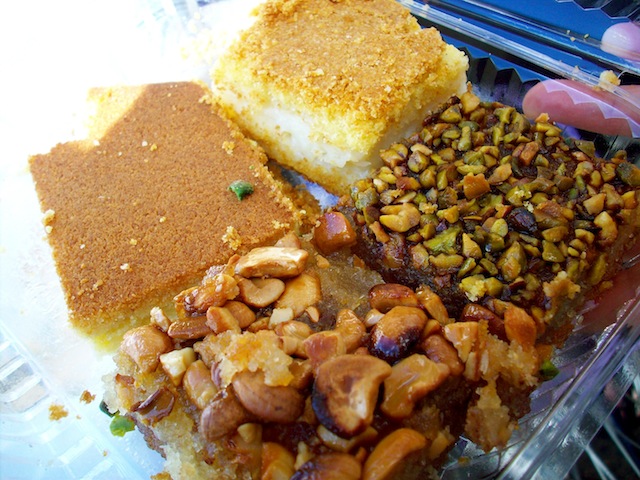 Right now, I'm sitting on a train from Berlin to Stuttgart, thinking back on my visits, the conversations I had, the things I saw, and the millions of pounds I gained. Not that I would give one single pound back. In fact, I'm stocked up for this train trip with a hefty mound of honey-laden pastries from Al-Jazeera, a Turkish Konditorei that my mom just happened to find once on a bike trip through Berlin.
When we first picked up our goodies, we walked into the two-armspan-wide store and asked for one of everything. The man on the other side of the counter couldn't quite comprehend the request and asked us every third pastry or so if we really meant one of each. Oh yes, we did. And it didn't take us long to walk back to our bikes locked other side of the street, open our three boxes of pastries and sample each piece. We had an assortment of Turkish baklava, stuffed with pistachios or peanuts, halva or melting sugar and layered between crisp sheets of phyllo dough dripping with honey.
There were three types of cake, one filled with apples and custard, another with crumb pressed into rose-water flavored cream, and a third which the pastry cook brought out after we had paid and which looked so good, we asked for a piece of that too and paid again.
After an extra-vigorous bike ride (a guilty calorie conscience?), we stumbled into a packed Vietnamese restaurant/café for lunch. Hamy, as the restaurant is called, only serves two dishes a day. Judiciously, my mother ordered the chicken curry on rice and I ordered the Pho with pan-fried pork over rice noodles. Hands down the best Vietnamese food I have ever eaten in my life, and for five Euros, the most reasonably priced. » Continue reading this post...