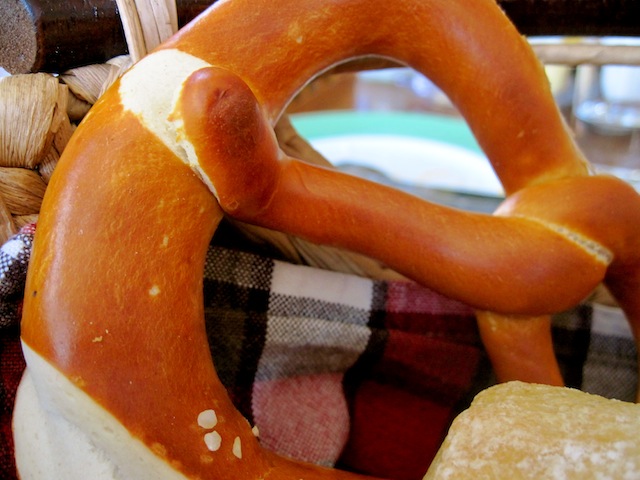 My verbal skills are now thoroughly mangled. I'm thinking in three languages, navigating through two cultures, and working my way through something like six time zones. So I'm confused, mostly. All I can say for certain is that my family is keeping me regularly caffeinated and fed (and caffeinated) and that they forgive me for whatever errors my German may contain.
Since joining up with them in the rural south of Germany, I've been playing a fun game called, "Can I Say This in Schwäbisch," in which I say a sentence out loud and then in my head try to sound it out in the garbled southern dialect (the aforementioned third language) my family speaks. Say: Meine Sprache ist ganz durch einander. Think: Moi Sprach ist hey. The result is that I speak a very strange German: either correct, crisp high-German pronunciation with a rolling Southern inflection or the reverse – as if an inhabitant from the Pacific northwest were to cleanly articulate the sentence, "That ain't nohow the way to go 'bout it."
As I speak and eat my way through the week, I'm working out a theory that culturally, the difference between Americans and Germans is a principle of curves and edges. Lets assume that we evolve angularly against our environments in order to navigate them, that in the yin-yang of the universe, there must always be a balance between curves and lines. In this sense, the Americans are outwardly round and inwardly straight and the Germans are outwardly straight and inwardly round.
Pretend I'm not totally jet-lagged and work with me. American culture is loud and big and comfortable. Americans are easy to get to know, are chatty and open. Advertising is seductive and billboards are filled with colors, scripted font, pictures, and sequins. Yet Americans themselves are inwardly direct and goal-oriented, good at general friendships but wary of vulnerability, in relationships less earnest than flippant. » Continue reading this post...