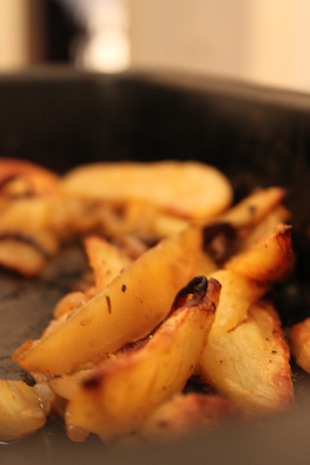 Don't even ask me how my day was. Don't do it.
My roommates asked – and twenty minutes of ranting later they said, "Well, look how… peeled those potatoes are.
And it's true. They were quite thoroughly peeled and then quite thoroughly chopped. And the onion made me cry. And the eggplant never saw it coming. And I beat the yogurt and lemon juice until it never knew it had been two separate things.
I threw the pan in the oven and sat down. We talked about not me. I took a breath.
My vegetables took an hour to roast (in the way things never really go exactly like you had in mind), but my roommates and I sat in the kitchen. We talked it out. And the aroma of roasting vegetables crept into the kitchen. Soothing.
I heaped the vegetables onto my plate because being angry makes you hungry and sat down to eat, even though I wasn't even very angry anymore. Just a little bit exhausted.
It took one bit to realize I'd confused the paprika for chili. My mouth burned. A just on the cusp of too much burning, there with the sweetness of onions and rich eggplant, the homey, comforting potatoes. Like the residue of my anger, not overwhelming, not too much for me to bear – just present, just persistent.
» Continue reading this post...