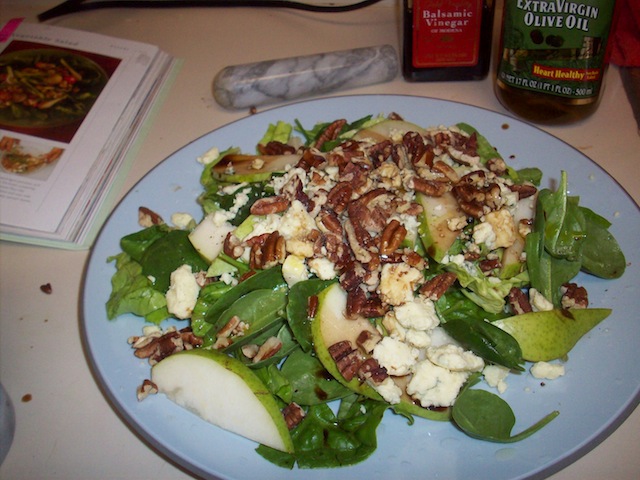 The end of Spring Break and the beginning of actual Spring in Davidson are coinciding nicely. Although I ate nothing if not well at the lake, by the end of the week, I found myself craving fruit and sunshine – which could have been the effect of a self-imposed exile to relatively little movement, starch-heavy foods, and the indoors.
Yesterday, after donning an appropriately awkward sunburn gleaned at a table outside the coffee shop, I made the ten minute trek to Harris Teeter (a grocery store chain, if you're not from the South), and proceeded to buy almost every single piece of produce in the store. Lettuce still dewy from the miniature sprinkler, plump radishes, avocado, cherry tomatoes, oranges, grapefruit, handfuls of lemons and limes –
And so on.
Since bringing those groceries back to my apartment, I've been snacking on fruits and making myself delightfully crisp, vegetable-rich meals (avocado, cherry tomato, blue cheese on baguette – go). But my favorite concoction so far has been this pecan, pear, and blue cheese salad. I ate the whole thing slowly, carefully putting together perfect bites of sharp, creamy cheese, sweet pear, and mellow pecan with the perfect amount of spinach and Boston lettuce to curb the richness. Eating this salad, sitting on my front porch, watching people walk by – nothing could be more perfect. Unless, of course, I could enact this scene again without the sunburn.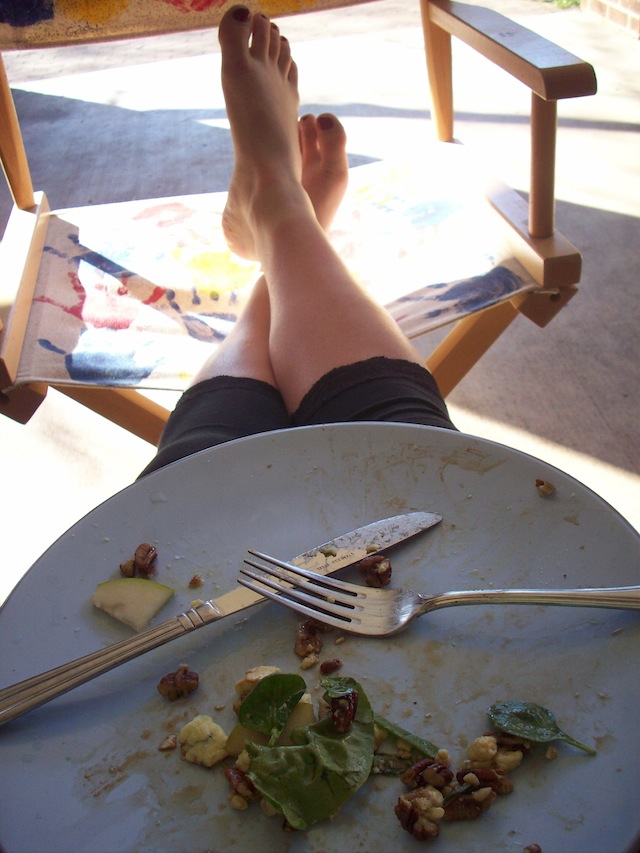 Pecan, Pear & Blue Cheese Salad This salad serves 1.
For the salad: 1 handful Boston lettuce 1 handful baby spinach leaves 1/4 cup crumbled blue cheese 1/4 cup pecans 1/2 pear, thinly sliced
For the dressing: Balsamic vinegar Olive oil Salt Freshly ground black pepper
Lightly toast pecans in a skillet or in the oven, then cut or crush them into smaller pieces. Toss all salad ingredients, including toasted pecans, together. » Continue reading this post...