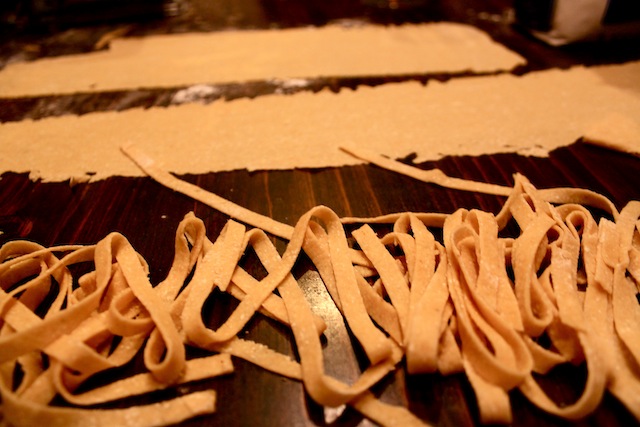 The dough speaks into your hands. It begs for touch, begs to be pressed and squeezed until the rocking of your hands is just the rhythm of breathing. It bends into your fingers, almost sighs as it twists into shape. Like a pliable lover, the dough responds to the guided pressure of a palm or the fingertips' gentlest roll. The hands feel when the dough is done; the soft and elastic transition from disparate pieces to one yielding whole. The moment is indescribable, intuitive. And when the dough is done, you gently cover it and let it rest, somewhere safe and warm.
Last night, I rolled out dough for pasta. I heard my roommate say my name. "Are you ok?" she asked and pulled me back into the room. I felt my face loosen from its consternated knit and the rhythmic pounding of my hands slow to slackness. My knuckles rested casually on the dough, the touch a reminder of presence, and I laughed.
"I was somewhere else," I said, and she laughed too. She went back to her phone conversation, and I began to roll out the dough again, but it was colder – stiffer, as if the break had ruined some fluid climax. As if it wanted forgiveness from my hands.
I've been kneading bread, pizza, pasta – and as my hands work into dough, I understand it's just a metaphor for that other word, that I am needing, too – gentleness, patience, touch.
A friend of mine said, "My gift to the world is smiling." And I realized, we don't project nearly enough love into the world, especially in New York, where the train you need to take is always imminent, the line too long and slow, time too divided. Maybe that's why I'm kneading. It's nothing but time and some muscle, like love displaced into food, though for me, food is always love. » Continue reading this post...