Apparently I have a reputation for really liking kale. I don't know where it came from or what I've done to start it, but my love is apparently well known. I'm not ashamed. I do love kale. I'm hitting the talking-about-kale bandwagon a bit late. According to the internet, kale's trending days have come and gone – it's so last year's green. (Although The Guardian seems to think that kale popsicles are going to be big in 2014…) But I don't love food because it's trendy; I love it because it's delicious. I love the way crisp and chewy kale plays off shaved parmesan, chopped dates and lemon dressing in a raw salad, the way the curled leaves trap salty pancetta bits, the way a kale chip crunches apart in your mouth, or the way a bitter wilted leaf is the perfect foil for chili flakes and a soft, rich egg.
That's what I want to talk to you about right now. The perfect combination of flavors: The heat of chili, the bite of briny feta, the warmth of a fried egg and the all-things-are-better-with-bacon quality of bacon supported by a base of hearty green. Kale makes all this possible.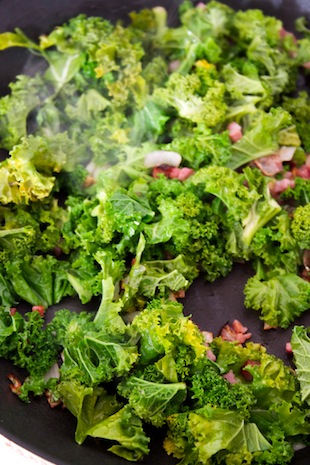 I first discovered this magical combination (or at least the basics of it) back in 2009, when this blog was in its infancy and I was just starting to shop and cook regularly for myself. Of course I wrote about my discovery back then, and of course I didn't have the consideration to write down the recipe. (The gall. The gall.) So I'm making up for the error of my ways now, and sharing a dish that's seen me through a lot of tight budget days and a lot of lazy lunches. Cheap, tasty, and quick. Gimme those greens. » Continue reading this post...