After all this talking about Colombian food, the least I can do is leave you with a recipe.
One morning in Santa Marta, as I was recovering from a particularly retch-worthy day before (don't drink the water…), we breakfasted on arepas e' huevo. A typical arepa is a flattened, relatively bland disc of dough that's been cooked in a skillet with just a little oil. Then, it's topped with a slice of white farmer's cheese and spicy ají.
But an arepa e' huevo is something entirely different. This is an arepa, deep fried once, then stuffed with a raw egg and deep fried again. Double deep fried. Waistline death by delicious excess.
I watched a few YouTube tutorials on making these arepas, and decided that it was going to be either impossible or phenomenal. Though watching someone deftly slip an egg into a tiny arepa glistening with hot oil is supposed to inspire you with confidence, it had the complete opposite effect on me. So I told the friend coming to dinner that depending on the way the experiment turned out, we might just be having ají for dinner.
In the end, inviting a friend to dinner turned out to be my saving grace. There's too much to coordinate on your own – making sure the arepas don't stick together in the oil, holding one open and dropping in the egg, sealing the hole shut with dough and frying it again. But the process is fun, and at the end of it, you've worked up quite an appetite.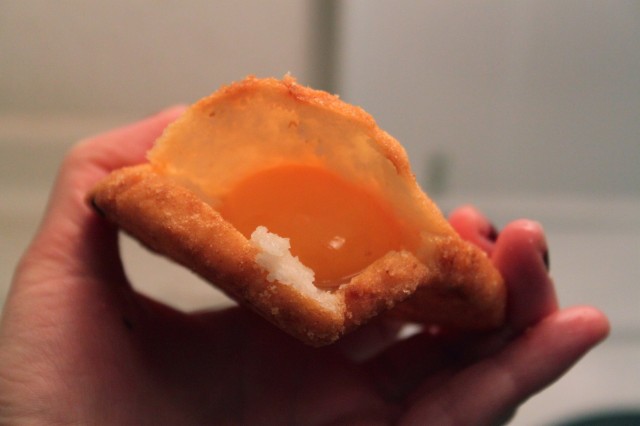 My dimly-lit Berlin kitchen might be pretty far from a breezy seaside town on the Colombian coast, but just one bite of these delicious, rich, and dense arepas brought me right back.
Arepas e' Huevo
For the ají: 2 chiles 1 yellow onion 3 tbsp. » Continue reading this post...